Misty Morning
Chris Barber & Bob Hunt
Timeless Records CDTTD641
Released July 2002
It's probably best to think of Misty Morning as a sort of transitional CD. It was recorded after the last of the recordings made solely by the eight-piece band (Cornbread, Peas and Black Molasses: Timeless CDTTD628) but almost a year before the band permanently expanded to the eleven-piece Big Chris Barber Band (its first CD being The First Eleven). For the Misty Morning CD the regular band was augmented by three members of Bob Hunt's Ellingtonians: Bob himself on trombone, Mike "Magic" Henry on trumpet, and Nick Payton on reeds. Bob and Mike joined permanently when the Big Chris Barber Band was formed a year after this CD was recorded.
This was an exciting time for the Barber band. As Paul Adams points out in his typically interesting and informative notes, the arrangements were changing almost daily as new opportunities offered by a seven-man front line were explored. All of the tunes on the CD had been recorded at least once before -- some of them, such as "When The Saints Go Marching In", many times -- although we have to go back more than fifty years to the pre-Colyer Barber band for the only previous recording of the title track. However, all of the arrangements are fresh and there seems to be a renewed vigour in the band reflected in every tune.
All in all Misty Morning is an excellent CD foretelling some of the exciting music to come from the Big Chris Barber Band.

Personnel: Chris Barber, Bob Hunt (trombone), Pat Halcox, Mike Henry (trumpet), John Crocker (clarinet, alto sax), John Defferary (clarinet, tenor sax), Nick Payton (clarinet, alto sax, baritone sax), Paul Sealey (banjo, guitar), John Slaughter (guitar), Vic Pitt (bass), Colin Miller (drums).
Recording date & location: December 11, 2000 at the Victoria Hall, Hanley.
Music:
Misty Morning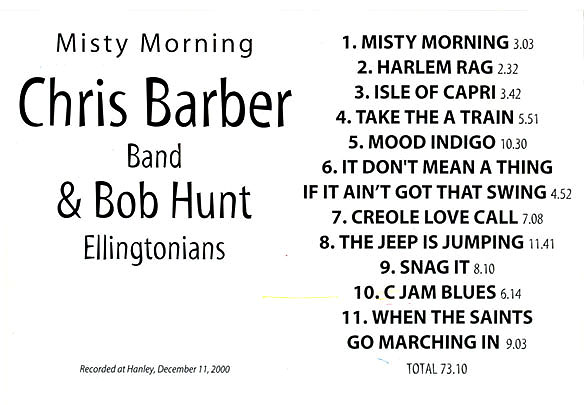 Previous cover || Next cover || Covers page