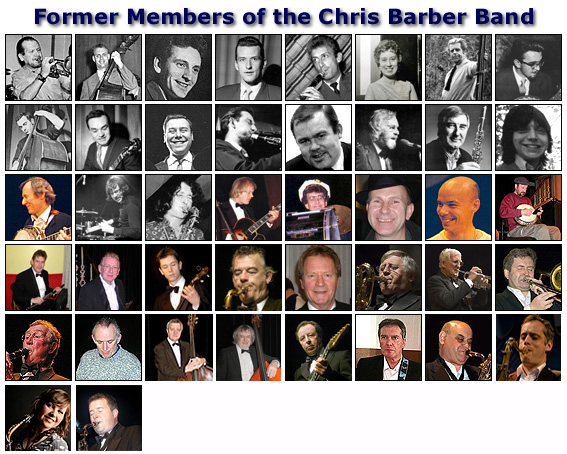 "Pat Halcox -- the man whose trumpet sound is as warm as his much-loved self"
Digby Fairweather, BBC Radio 2, 1998
Pat Halcox, trumpeter with the Chris Barber Band since its formation on 31 May 1954, retired after playing his last gig with the Big Chris Barber Band on 16 July 2008. Pat and Chris were together in the band for 54 years -- the longest continuous partnership in the history of jazz, exceeding even that of Duke Ellington and Harry Carney (48 years between 1926 and 1974)!

On this special tribute page, we highlight some of the main aspects of Pat's outstanding and unique career in jazz, and we have also reproduced all the greetings sent to Pat via a message board.

How Pat Halcox Joined the Band,
By Chris Barber

The band actually started in 1952, when Monty Sunshine and I got together. We were both students at the time: Monty was studying art at the Camberwell, I was studying music at the Guildhall, and we didn't do any work at all on our studies. We met every afternoon, talked about jazz in a restaurant in Soho, and drank innumerable cups of tea. We were both, at the time, leading amateur bands, but we felt that we had to get a band that played all the time, played every day, and maybe we could get up to a decent standard of performance. And that meant a professional band.

At the time it was pretty unlikely to be able to make a living playing jazz, but we thought we were going to have a try anyway. We knew of one or two other musicians of a like mind – not many, because, really, most of the amateur musicians wanted to stay that way and carry on and have a professional job and just play every now and then for fun. In my amateur band I had this young banjo player called Anthony James Donegan: Lonnie had his own amateur band as well, so he played twice every week. He was dead lucky. In his amateur band he had bass player Jim Bray playing, and he wanted to play all the time. Monty Sunshine was leading the last knockings of the Crane River Jazz Band with Ron Bowden on the drums; Ron was already living on the two quid he earned a week.

So that was a band with trombone and clarinet, and banjo, bass and drums only, not a regular formation. But we thought, well, surely there's no legal penalty for playing without a trumpet or piano if you haven't got one, and we rather fancied having a go, so we practised every Saturday afternoon, and it got better each week. We began to get very good.

And then we met Pat Halcox, who played with a band in west London, an amateur band, and he said he'd love to join us because he fancied the idea of being a full-time musician. So he came along, and it was great, immediately, fantastic, extraordinarily good. We were very pleased about this and we began planning what we were going to do. We had a permanent invite from friends in Denmark. There was a good jazz scene over there, so they said, "If you care to come over any time, we can put you up in different friends' houses instead of hotels, and you can play in different jazz clubs every night and get your act together, so to speak." We were going to do that in March 1953: it was going to be the turning point. At the end of December 1952, it was the first time we actually played in public with the band with Pat on trumpet, in a jazz club in Soho, and – I wouldn't say it myself, but I have some independent witnesses, who heard it and say it was extraordinarily good – so we were very pleased with that. Anyway, came the 1st of January, 1953, Pat came to us and said, "I'm terribly sorry, my parents have convinced me that I really should finish my studies and get qualified before I take this risky step and become a professional musician. Do you mind if I don't turn pro with you?" So we thought, "Oh God, no trumpeter."

[Chris then goes on to talk about Ken Colyer's return from New Orleans, his joining the band, and the volatile relationship that developed between Ken and the five other members of the band, culminating in Ken's firing of the rest of the band, or the rest of the band inviting Ken to leave – whichever story you believe.]

... So off [Ken] went.

Luckily for us, the next day we found out that Pat Halcox had finally decided that chemistry was not for him at all, and he was going to be a musician after all. It was great. So the jazz world's gain was Glaxo's loss! Seriously, that was it, Pat joined from then on, so you know the whole story; I find it interesting – I can remember it all, like it was yesterday, or the day before.

Transcribed from Chris's introduction to a concert recorded in 2003. You can listen to a sound file of the complete introduction by clicking here.


Pat Halcox's "Autobiography", written in about 1961

We always had a piano at home, and, although neither of my parents were particularly musical, there's always been an interest. They tell me that when I was four years old I would sit at the piano and pick out phrases and actually copy out music, even before I could write. So they sent me to a series of lessons that resulted in my passing an exam when I was four and a half. This was too good to last, of course, and I soon slowed down to a more normal rate of progress. In fact, by the time I was six, I'd stopped playing altogether, and it wasn't until I was nearly fifteen that I found out what a social asset playing the piano could be.
When I did start again, I'd become involved loosely in jazz. I would try and rattle out 'Cow Cow Boogie'. Pete Johnson's 'Roll 'Em Pete' was the first disc in my collection. I've always been fascinated by Boogie and the Blues ever since. It's funny how the first influences stick hardest.
I first tried playing jazz in a band with Bob Dawbarn and a crowd of friends, including Mick Mulligan. It was one of those back-room-when-mother's-out sort of bands. We used to make some terrible rows.
A friend of mine worked at Boosey and Hawkes, and he'd bring home lots of battered old instruments. I finally chose trombone, because that was what we needed. When I got into the RAF I played trombone there as well. I told them that I could read trombone music, which I couldn't, so at first I had to sit at the back and fake. By the time that I came out as a fully competent trombone player I discovered that the band needed a trumpet player, so I had to switch again. As it happened it was a good job I did.
Leaving the musical side for a minute: I'd been training all this time to become a chemist, and I'd taken a job in a chemical laboratory, and was working away at nights, whenever my jazz would allow me. So, when I came out of the RAF in 1950, I went back to my chosen career of chemistry. Unfortunately for these studies a band called the Brent Valley Jazz Band was formed by my friend Colin Kingwell and myself, and it started to get odd jobs. We even went in for a talent competition organised by a detergent called Whisk, and got through a couple of semi-finals at various cinemas. We won enormous quantities of Whisk and five guineas, which we spent immediately in the nearest pub. After that I moved to the Albermarle Jazz Band - also playing in the West of London - and for about two years we played at Don Short's club at the White Hart, Southall.
| | |
| --- | --- |
| | |
| | Pat Halcox & Richard Burton |
I almost joined Chris during that time when he was forming the band that later was joined and led by Ken Colyer, but I still hoped to make a career out of chemistry, and so I turned down the opportunity (or gamble as it was then) to turn pro, and had to wait until 1954 before I got my second chance to join Chris. Now I'm sure about what I want to do: play trumpet with the Chris Barber Band.
Looking back on the seven years that I've been with Chris, I think that one of the highlights was making the soundtrack for Look Back In Anger. I was absolutely fascinated, possibly because my strongest interest outside of jazz is photography. I'm working on building a darkroom in the house that I've just moved into with my wife. But of course there have been endless series of wonderful things with the band: New Orleans, the Hollywood Bowl, Denmark, Berlin, Sister Rosetta.
I suppose that my early influences on cornet were Muggsy Spanier and Tommy Ladnier. Now I like lots of people. In the early jazz club days I was a violent anti-modern, but now I like some of it. Mainly the people with roots, I think - Parker, John Lewis, Gillespie and Ellington, especially Ellington. I wouldn't say that I'm content with the way things are at the moment - no musician ever really is content unless he's lost all ambition, but I'm very happy with the way things are going. The Band is a happy place to work, and I love playing trumpet. That's why you'll find me creeping off to places like Wood Green to sit in with the Alex Welsh Band or Kenny Ball my nights off.
An Interview with Pat Halcox in 1991, by Julian Purser



Pat Halcox joined (or rather rejoined) Chris on 31 May 1954 at what is now the 100 Club, London, and has been with him ever since. When I asked Pat if the last nearly forty years seemed a long time, he said "Not at all really, I have enjoyed playing and touring with Chris". He first got together with Chris in 1952 as an amateur, but because he had trained as a chemist, thought he should give chemistry a go; later, when he heard the band perform (at that time The Ken Colyer Jazzmen) he wished he had stayed with the life of a musician. However, he was lucky: a second opportunity came up, and he re-joined. Now he's absolutely certain that the choice was correct.

Pat enjoys being part of a group and getting the best from the whole rather than individuals. He has enjoyed all the guests he has played with, and as a bandleader Louis Jordan impressed him: Louis knew exactly what he wanted and how to organize the band to play it.

Pat is happiest with the Band's live recording output, but albums like Echoes of Harlem and Elite Syncopations still remain favourites, as is Take Me Back To New Orleans, the record with Doctor John. He has also played and recorded away from the Barber Band, recording with Don Ewell, Art Hodes, and Wally Fawkes, and two albums of his own as leader: the first with The Pat Halcox All Stars, a band that started life originally as "Pat's Summer Band" (touring during the Barber Band's holiday break), and more recently a band of other friends, including Bruce Turner and John Beacham, playing tunes from Tin Pan Alley. The Summer Band existed in the late 1970s and early 1980s, with personnel including, at one time or another, John Crocker, Vic Pitt, Johnny McCallum, Pete York, Johnny Parker, the vocal group Sweet Substitute, Campbell Burnap, Roger Limb (of the BBC Radiophonic Workshop), and others.

Pat's musical tastes are catholic: classical, light music (Nat King Cole, Billie Holiday) and of course jazz -- from Bunk Johnson to Clark Terry via Louis Armstrong. Pat's most memorable moment is first hearing Louis in Paris in 1956. Other music he enjoys is that of Duke Ellington, Count Basie, pre-war Swing, Bechet, and Jelly Roll Morton. He does not get enough time to follow his hobby, photography. However, many of his photographs can be seen in the various band brochures.

Besides the Louis Armstrong memory, the other episode that stands out is the band's sell-out concert in the Deutschlandhalle, Berlin in May 1959 (Chris Barber International, Volume 1, Barber In Berlin). The six members of the band came out on to the stage to be confronted with about twelve thousand people in the audience, including about three thousand over from East Germany. The atmosphere was overwhelming. Another live performance that Pat remembers was the Washington concert for President Kennedy in 1962: the Band played between Duke Ellington and Dave Brubeck.

Pat enjoys travelling, and tours have taken him to many countries all over Europe, North America, Africa, the Middle East, the Far East (Hong Kong, and last year Japan, which he found most interesting), and also Australia, where he would like to return some day. In the meantime he is happy continuing to play and record with Chris and the Band.
Here is the first announcement in the British press of Pat's intention to retire:



Trumpeter Pat Halcox is nearing journey's end, having travelled a "million miles" in a lifetime of music. The London-born musician is retiring after 54 years with the Big Chris Barber Band, in a career of some 10,000 concerts across the world.

"It's quite sad really," he says, from the jazz band's latest stop in Dessau, former East Germany. "I'm not going to give up playing – it'll continue as a hobby rather than a job. But I've decided I've had my life on the road. It's time to relax a bit now – I'm approaching 80, after all."

His farewell this summer sees the affable musician looking back with fondness on a career which has seen him meet many of the musical greats. "One of the most memorable concerts was in the Dixie Jubilee at the Hollywood Bowl, in 1959," he said. "We were on with Louis Armstrong and Count Basie, and I remember watching them warming up just before they went on. It was lovely to feel we were as important as they were, even if we weren't top of the bill."

This sense of a band at the edge of things was also reflected in its important, if unheralded, role in British rock music. Chris Barber's love of the American blues saw him organise the first British tour of guitarist Muddy Waters – gigs avidly watched by a group of spotty teenagers who would later become The Rolling Stones.

And though Pat's own career has been slightly less high-profile, there has been a similar sense of transformation. "When I joined the band, I was a research scientist who'd decided to play the trumpet for a year or two to get it out of my system," he says. "Five decades later, I'm still doing it."


Chris Barber:
I can hardly imagine a concert without Pat by my side (or recently two steps to the right!)...... I know that his contribution to the Band's style and performance has been enormous and the possibility of not needing to explain what is needed (because he always knew!) will be seriously missed. We have enjoyed so many remarkable experiences together that I am sure that the record-breaking longevity of our collaboration will not be forgotten by either of us. Perhaps our occasional impersonation of 'The Odd Couple' will have been the more enduring! All the very best, Pat and Shirley, from Kate and myself.
Tony Carter:


The year was 1957. I was 14 years old and about to take in my first live jazz concert at Birmingham Town Hall. The band was Chris Barber's Jazz Band and there was a young Pat Halcox whose sizzling trumpet was leading the famous melodies of the New Orleans repertoire. I made a decision that night to take up the clarinet which led me ultimately into a life-long career in music. Who would have guessed all those years ago, that in 2001 I would be invited to join Chris's Band and, for the last seven years, I have been standing with Pat in the front line of The Big Chris Barber Band. During that time Pat and I have become established friends with a mutual love of Jazz, Food, Wine and a good yarn!! We have dined out regally in restaurants too numerous to mention and for the past eighteen months, together with bassist Dave Green, we have shared a car travelling the length and breadth of Europe, and if that car could speak it would tell of the warmth and sincerity that is Pat Halcox. Don't put the "Wild Thing" away yet Pat - it's only just beginning!!
John Crocker:


Can it be forty years since I joined the Barber Band? I had played big gigs with the Mike Cotton Band – the Beatles Christmas Show to name one – but here I was playing with guys who had set the traditional jazz world alight both in the U.K. and on the Continent. Of course one or two of the members who had become heroes to thousands of jazz fans, for example Monty and Lonnie, had moved on, but here I was playing with Chris, the man himself, and Pat Halcox who launched a thousand jazz careers in Britain and abroad, such was his influence on anyone intent on playing traditional jazz trumpet. During the period of my time with the band I was aware that Pat's playing embraced many aspects, from an early New Orleans influenced style to mainstream, as anyone who heard his superb All Stars Band in the 70's and 80's will appreciate. Everyone will surely know this and so I need not enlarge on the musical side anymore, for having driven more miles and kilometers together over the aforementioned 40 years I also appreciate the man himself for the warm, sincere person he is, not forgetting that he is loads of fun and great company. In closing I would like to thank him for helping to make my time with the Chris Barber Band so enjoyable. I would like to wish him a very happy retirement (but don't but that trumpet away yet) and to say thank you for being a very good friend and for the music.
Norman Emberson:


Dear Pat, So you are finally hanging up the old boots! Well I remember, as a callow youth, turning up for my first gig with the famous Chris Barber Band, shaking at the knees and wondering what I was doing there. You took me under your wing and taught me most of what I know about playing in a band and furthermore surviving on the road (the concrete bitch as John Slaughter would say). Whenever people comment on how I smile on stage, keeping up the good old plastic grin whatever nasty stuff is hitting the fan, I tell them Pat Halcox taught me that. Thanks for your support and comradeship over those years and finding with me those great local Restaurants: not to mention the morale-boosting stickies. I know that you will sorely be missed by not just the band, but all the fans everywhere, as you are quite simply irreplaceable. My one consolation is that now you wońt be on the road all the time perhaps we can get together more often. Norman & Claudia.
Richard Exall:


After joining the band way back in 2004 I found myself thrown into close proximity with Pat, as we were to share the driving in one of the band vehicles. His consistent enthusiasm, support and encouragement did much to help me acclimatise to the conditions and rigours of touring. I was constantly amazed at his memory of towns, roads and venues, and how easily he found his way about in obscure environments. I guess after fifty years there are not many places Pat hasn't been to. Although Pat has had immeasurably more experience than me; being a shining light on the jazz stage for over half a century; I've always felt that he has treated me as a friend and an equal, which is typical of his unassuming, modest nature. Needless to say, his trumpet playing has been inspirational, and still retains its individuality and character that has made him so popular. I will miss Pat's conversation, knowledge and daft humour as well as his beautiful trumpet playing. Thanks Pat, for all you've done.
Joe Farler:


I feel privileged to have spent the last two years on the road with Pat. His love of the music and his sheer enjoyment of playing live concerts has been an inspiration. You only have to see his smile on stage to be reminded that it's possible to be enthusiastic even after a hard day's travel, or any other touring hiccups. To sustain that after all the years is amazing and so admirable. On stage he is the total musician, and off stage, he is great company, so at ease with it all, and with a great sense of humour. Research chemistry's loss was, without doubt, jazz music's gain, and it has been an honour to be part of that. I wish you well, Pat.
Jackie Flavelle:


Hi Pat my old friend. The ten years we toured together were among the happiest in my life. The St Patrick's Day celebrations were all most memorable and so many other great memories. Enjoy your leisure, if ever anybody deserved it, it is you. You are beautiful. Love, Jackie xxx
Dave Green:


Since joining Chris in February last year my travelling companions have been Pat Halcox and Tony Carter. It's been a joy to be on the road with both of them but, and I'm sure that Tony would agree when I say this, particularly Pat. As everybody knows, Pat is a living legend of the British jazz scene; his playing career dates back to the early fifties. In fact the very first live jazz concert I saw as a teenager was The Chris Barber Band at Wembley Town Hall with Pat and the great Dick Smith on bass. Over the years our paths haven't crossed too much due to my playing in the more modern (for want of a better word) sphere of the music. I do, however, recall the memorable occasion when, during my happy years with Humph's band back in 1978, Pat substituted for Humph who was ill at the time and flew with us to Prague for a concert and did a brilliant job. For me it's been a pleasure and a privilege to have played and been in the company of one of the nicest guys and unique trumpet players for, as it has turned out, the last eighteen months of his tenure with Chris's band. Thanks a million Pat. Lots of love. Dave Green.
Mike Henry:


Having worked full-time with the Big Chris Barber Band since 2001, it has been a joy and a privilege to play next to one of the legends of Jazz, Pat Halcox. His playing is so warm and lyrical and yet he has a cheeky side to him as well. I have loved every moment and it will be sad to lose him in our 'Trumpet section', but life is for the living and Pat has a few places to go and see in his retirement (you would think he was sick of traveling by now, but no!!!). The world has been a happier place for all the joy Pat has brought in his playing to the millions of his fans (plus one!). Here's to a Legend – Pat Halcox.
Bob Hunt:


When I was a young pianist back in the 60s, it was the magical and exciting sound of Pat's trumpet which prompted me into harrassing my father into buying me my first cornet. Pat and I often joked about the fact that he started on trombone, and I on cornet, and how it may have turned out had we both stuck to our original horns! Always a pleasure to be with, both on and off the stage, Pat is the only person I have conversed with non-stop whilst driving from London to Germany without even a lull in the conversation! A star in every respect!
Colin Miller:


I first met Pat at the Civic Hall, Croydon in 1956 (I still have the programme). At that time the band had an approach to stagecraft that none of the other bands possessed. The first 7" single I bought was 'Bobby Shaftoe' and 'The Martinique' with Pat's firm lead trumpet. Little did I know then that 50 years later I would re-record 'Martinique' (with Pat) in the new 6-piece band. While I was with the band Pat introduced me to the delights of afternoon trips to cafes for coffee and cake - usually involving Pat, John Crocker and Paul Sealey. Not easy to stay slim with that routine!! Also not everyone knows that Pat is an excellent photographer and has a wealth of material which probably constitutes a pictorial history of the band - I have tried for years to get him to publish a selection! This could be a project after retirement. All the best, Pat, I'm sure we will still see you around.
Richard Oliver:


Well done Patrick!! It's time to enjoy doing what YOU fancy doing every day! I only did 25 years or so with you and enjoyed (nearly) every minute of it! Remember your 50th Birthday Breakfast party? Remember 1st. time in Abu Dhabi with Bill Jeff? Remember New Orleans on the "Natchez"? Remember the Granada catching fire and blacking out Calais Harbour? Remember "Palace of the Republic" first time round and crossing Checkpoint Charlie with the Band in full uniform? So many wonderful memories, so many of them unprintable!! All the very best to you and Shirley in the coming years. You know the address and phone No. The Guest room's ready. Leave the trumpet at home. Richard and Betty Oliver.
Vic Pitt:


Pat made my years with the band very enjoyable with his dedication to the music and great sense of humour. I will always remember his encouragement when I first joined the Barber Band. We had some great times together, not only with Chris but also "The Summer Band". It was for me an honour to be involved. In my early years as a teenager I listened to Pat and Chris – the 54 band. I never thought one day I would be part of it. Pam and I would like to wish him a very happy retirement.
John Service:


I'd just like to say that for me Pat was one of the reasons that I wanted to get into playing jazz. His great cornet lead on the New Orleans Joys 10" LP was and still is inspirational and he has just continued over the years to be one of jazz's unsung, modest heroes. Pat always had an encouraging, enthusiastic word for me when I came to concerts as a teenager and I found him the perfect gentleman at every occasion. Now that I have the chance to play with him every night on stage, he knocks me out at some time during each performance with his phrasing and harmonic ideas. It has been a great pleasure to play alongside one of my genuine heroes - thanks Pat for your encouragement, friendship and support over the years and for all the pleasure you've given me both as a fan and a musical colleague.
John Slaughter:


It's a long way down the road since we first met in 1964 when I joined the Band. I can remember Pat helping me sort out which way round my duvet should go in the hotel, as I had never seen one before, let alone stayed in a hotel. Since then in the forty-odd years we have been on the road together Pat has always been there to help me out with the odd problem, musical or personal. I have been privileged to be on the same stage with Pat, be it some Jazz Club with a stage big enough for a trio to The Berlin Philharmonie with a stage big enough for Von Karajan and his lads. It's going to be very sad not to have you around, Pat. Enjoy your retirement, Pat. You have certainly earned it. Cheers, John.
Mike Snelling:


As a young teenager, I was a keen follower of the Dutch Swing College and the Chris Barber Band. My first experience of the Barber boys was in the Alexandra Gardens in Weymouth where I clambered onto the stage at the end of the concert to get nearer to my heroes. I have always been a great admirer of Pat's trumpet style, a mixture of blistering attack and subtle understatement. To play alongside him in the band, especially the six-piece numbers, has been a great experience for me. Pat is always so supportive and encouraging and his warm presence and easy manner makes him a great companion away from the bandstand. His contribution to British Jazz has been immense. He and his family deserve more time together but their gain will indeed be our loss. Good luck Pat and thanks for the memories.
John Sutton:


I first met Pat in 2000 when I was with the Pasadena Roof Orchestra and we toured the U.K. with the "VIPs of Jazz" tour. Now of course since joining the Chris Barber band and working with him on a regular basis I have got to know him. One of those rare trumpet players who always play the right thing. Quite sparse, but that's his style; with Pat the gaps are just as important as the notes, and he ALWAYS swings. There won't be another one like him. And what a lovely chap, always happy and cheerful and always young. I hope Pat will come back occasionally and do a guest spot. Have a long and happy retirement, Pat, you deserve it. Cheers, and with fond memories. J.S.
Mike Whalley (Lighting & Sound Engineer):


When I joined the band in 2005 Pat made me feel very welcome with that ever-gleaming smile. I even had the pleasure of his company on the few occasions he travelled in the van with me. I think there's a story for every mile he's travelled over 54 years. It has been great to watch and hear him on stage and more recently to be turning his microphone down 'cos he's playing too loud! It seems that his playing hasn't wavered over the years and he's still 'got it'. Thanks for everything and don't stop playing Pat, it'll alter your smile!
Ian Wheeler:


Pat Halcox and I first met in the early nineteen fifties and played together on a number of occasions. At that time we even talked about forming a band. But this was not to be. He got the call to join the Chris Barber Band that Ken Colyer had just left. Shortly after this, I joined Ken and stayed for some years. After I left Ken, it came about that I joined Chris Barber and was thus teamed up with Pat again. This association was to last a total of some 28 years in two periods. Pat's partnership with Chris has survived some 55 years and it is surely one of the longest in jazz history. In that time he must have influenced many aspiring trumpet players with his fine lead and inventiveness, as well as pleasing millions of people who have listened to his performances over the years. Well Pat, now that we are BOTH retired, maybe we could at last form that band, were it not for the fact that we live so far away from each other. Anyway, enjoy your retirement, I know you won't stop playing..... See you around. Ian.


Approximately seventy photographs covering Pat's 54-year career with the Chris Barber Band.
Click here or on any of the photos below to begin viewing the Photo Gallery.




Here is a selection of recordings made by Pat with the Chris Barber Band, beginning with the first recording on July 13 1954 and ending with the most recent commercially available CD. We have tried to select excerpts that represent the many roles that Pat has played in the Band -- as lead trumpet, as soloist, and as accompanist, his sound ranging from lyrical and smooth to exuberant and gut bucket. No short list of this kind can do full justice to such a long and productive career, but if you would like to recommend additional tracks to what we have here, please send an e-mail message to edjackson@shaw.ca and we will do our best to fulfill your request -- JP, AW, & ELJ.
| | | |
| --- | --- | --- |
| | New Orleans Blues | July 13, 1954 |
| | Down Home Rag | October 10, 1954 |
| | Ice Cream | October 30, 1954 |
| | Making Whoopee (suggested by P-O Ringquist) | October 30, 1954 |
| | Diggin' My Potatoes (piano by Pat; suggested by Ray Green) | October 30, 1954 |
| | Diga Diga Do | January 13, 1955 |
| | Trouble In Mind | March 3, 1955 |
| | Tishomingo Blues | March 9, 1955 |
| | Baby | September 16, 1955 |
| | Yama Yama Man (suggested by John Cooper) | December 15, 1956 |
| | Savoy Blues | December 9, 1957 |
| | You Took Advantage Of Me | December 9, 1957 |
| | Pretty Baby (suggested by Andreas Wandfluh) | March 1, 1958 |
| | Climax Rag | May 23, 1959 |
| | Gotta Travel On | May 23, 1959 |
| | What's I'm Gotcha | May 23, 1959 |
| | Mountains of Mourne | December 8, 1959 |
| | Blue Turning Grey Over You | March 1, 1960 |
| | Soudan | March 1, 1960 |
| | On The Sunny Side Of The Street | September 16, 1960 |
| | Blueberry Hill | September 22, 1961 |
| | Maple Leaf Rag | June 7, 1962 |
| | Original Charleston Strut | July 3, 1962 |
| | Mountains Of Mourne (suggested by Les Dixon) | July 7, 1962 |
| | Some Of These Days | July 7, 1962 |
| | Jazz Lips | September, 1962 |
| | I'm Gonna Move To The Outskirts Of Town | December 15, 1962 |
| | Wrap Your Troubles In Dreams | November 5, 1963 |
| | Makin' Whoopee (suggested by John Service) | November 26, 1968 |
| | Everybody Knows (suggested by John Service) | June 10, 1970 |
| | It's Tight Like That (suggested by Helge Lorenz) | April 2, 1972 |
| | New Orleans Wiggle | February 7, 1974 |
| | When It's Thursday Night In Egypt (suggested by Ray Green) | September 9, 1986 |
| | Immigration Blues | October 3, 1986 |
| | Stardust (suggested by David Withers) | May 16, 1988 |
| | Working Man Blues | May 17, 1990 |
| | Wabash Blues | December 13, 1996 |
| | Some Of These Days | February, 1998 |
| | It Don't Mean A Thing If It Ain't Got That Swing | December 11, 2000 |
| | Lead Me On | 2003 |
| | Can't Stop Now | 2007 |


For about six months after it was announced that Pat would retire from the Big Chris Barber Band, a message board was maintained on the Barber website, allowing fans and friends to send greetings to Pat. All the messages received via the message board have been copied below. If you would still like to send a message to Pat, please use the following address: edjackson@shaw.ca; I will then post your message at the end of this page -- Ed Jackson
| | |
| --- | --- |
| | A typical "fan moment": Kjell Wiklund and Pat at Stevenage, May 29, 2008. |
Messages Posted on the Message Board (to be updated frequently).
Ray Green: A real gentleman. We bumped into Pat in Germany during the day time, having stayed with road manager Richard Oliver the night before, in 2000, and he took us along to a Chinese Restaurant, (where several others were eating...) then for a cuppa in a department store. Pat apologised that he didn't have a car handy to take us around! We don't speak German and this was just so kind and typical. On the way back to the hotel, we bumped into Rod Mason and his wife, who were going to the concert that night, to celebrate Rod's 60th birthday, and we were therefore invited to share in the cake and celebrations after the concert... Double bonus. Summer 2005, we were in the UK, unplanned, for Mum's funeral. We nipped over to Hunstanton for a break and to see the band. Bumped into Pat as we walked out of our (grotty) accommodation, and spent the afternoon with him - and more cups of coffee. A real star, a real gent and a fantastic musician. Hope to catch up again Pat. Big hug from Paula too....
Peter Austin: Well it just seems so . . . from my first LP (the 10" Sacred and Secular"), concerts in Weymouth . . . the Alexandra Gardens with Sonny Terry and Brownie McGhee then later concerts at the Pavilion (I remember a sunny evening there talking to Pat,Graham and Dick in the bar. Pat kept wanting to sing "Come Outside" which was big that summer. Not sure whether he was directing the lines to a very,very lovely Swedish girlfriend I had at the time . . . I could tell Graham was definitely impressed) . . . and then more recently at The Stables in Wavendon. A lifetime it seems . . . well almost. My favourite recording . . . I still go for "Climax Rag" I think on the Berlin LP . . . such a powerful lead . . . but backing Ottilie on "Backwater Blues" got me too. Oh there are just so many . . . fabulous. What else is there to say . . . . maybe thank you for so much great music.
Keith Payne: Dear Pat, I have seen you with Chris dozens of times over the years. On my 21st birthday on 19/01/64 you were playing at the White Lion Edgeware a marvelous night. My fondest memory is of the Pat Halcox allstars tours. I was a friend of John Crocker from his Mike Cotton days, and one night his wife Jean spent the eveening with my wife whilst I went with John to the Crown at Amersham. Your band was playing and Mike Hailwood was in the audience. An unforgetable night. I have two tapes of the Pat Halcox / Pete York allstars I took from BBC Radio Jazz club. I,m sure you have copies( if not I can send them to you). Magic moments for me are your solo on Soudan on the Copenhagen Concert, and also on Brown Skin Mama from the plus one minus one CD. I hope your farewell tour has plenty of dates in the UK. I WILL GET TO AT LEAST ONE OF THEM! Thank you, thank you and enjoy retirement. How about a Halcox / Crocker band for fun. Best Wishes.
Uwe Giesecke: Dear Pat, bye for now, hope to see you at least once again during your farewell tour. With your retirement the band will lose again one of the real faces! Good luck and stay wealthy.
Marion and Malcolm Aitken: A special big thank you and hug from the family for being at the 70th party on Sunday. That was the first we knew of your retirement so feel very privileged that you were with the band for this event. It was a perfect celebration of 53 years of hearing you in far flung places and we now look forward to seeing you at local venues when you sit in with old friends. God Bless and enjoy a well deserved retirement.
Jon Holden: I saw Pat and the big band for the first time last night -- a great player, and a great performer. Happy retirement!
F. S. Petersen: Happy retirement Pat, remember your concert in Odd Fellow Palaet in Copenhagen 1955, I was briefly speaking with you and Monty Sunshine.
A. J. Barth: Thank you Mr. Halcox for playing the trumpet in the Barber Band for so many years. You really are one of the best trumpet players I've heard all those 50 years.
Eric Ingram: So many great and lasting memories. Thanks, have a long and healthy retirement.
Joyce & Jim Edney: G'day Pat, best wishes, hope you manage a holiday in Brisbane, enjoy your retirement.
Stuart Roderick: Hi Pat, Saw you and the band last night at Newark, and as always, enjoyed a first class show. I am sorry that you are retiring - the band will not be the same. Like many in the audience last night, (corny as it sounds), I really do remember the halcyon days of the Dancing Slipper in West Bridgford, and other venues in the area. Your brilliance remains undimmed, and I will be consulting the gig list to see you perform again before you call time on your outstanding career. I wish you a long and happy retirement.
Roger Keyworth: Many thanks for a lifetime's entertainment - first heard you live at Brands Hatch in the early sixties and have managed to catch you and the band somewhere most years ever since!
David Kenny: I have followed you since 1954, introduced my wife Helen to Jazz by seeing you at the Free Trade Hall in Manchester to celebrate my engagement in 1964 and in 1989 saw the band in Chelmsford to celebrate 25 years and the Band played Magnolia's Wedding Day for us!! I have so many memories of all the band members but especially you. Will see you again before you leave, possibly at Gawsworth Hall like last year. God bless and good luck for a happy and long retirement. Thank you for all the pleasant memories over fifty-four years. Much love, Helen & David Kenny.
Cees Heegstra: Dear Pat, to say thanks for all those years is by far not enough to express what I feel right now. I'm sad and glad at the same time: sad because the Barber Band will never be the same anymore.... and glad and grateful for these 54 years. Your playing was the "musical key" for the unique sound of the band and therefore cannot be replaced!!! My wife and I hope that your retirement may last for ever and of course in good health. We love you Pat! Greetings from Cees (drummer of the Stable Roof Jazz and Blues Band, and "the dentist") & Greetje Heegstra , The Netherlands.
Terry Wines: I was introduced to your & Chris's music when I was about 10 or 11 years old by my Mum & Dad who were both great fans of you both & the bands. Mum is 85 now & still listens to your music. In the 50 odd years of me listening to records & attending the concerts all over Britain from Peterborough to Margate, Weston Super Mare & Corby & St Ives, Bedford, Nottingham, Bristol, etc., YOU Pat have always been the "Rock" of the band: steady, reliable, such a super nice chap, affable, talkative, always a pleasure to hear & see you play.... Oh, and I play clarinet & guitar - tried the trumpet & trombone but didn't seem to get on too well! I play a lot of Blues stuff - good old Chris & you introduced the Blues guys into Britain, and I'm as big a fan of Skiffle & Lonnie. THANK YOU (and Chris). Please enjoy your retirement safely & keep well & take care!! Terry Wines.
Linda McCutcheon: Dear Pat, I am writing this on behalf of my uncle Leslie Woolcott who is now in a nursing home. His one enjoyment in life is his Chris Barber DVDs. Today I put one on and he mentioned your name. He has followed your career starting in the White Hart Public House in Southall his home town and we always take him to our local theatre the Beck in Hayes when you are appearing. I know he would want to wish you a very HAPPY RETIREMENT and to say thank you for all the happiness that you and the band have brought him through your music. Have a Happy and Healthy retirement and 'thank you for the music'. Kind Regards, Linda McCutcheon - Leslie's niece.
Nina Grosse: Dear Pat, Fondly do I remember my growing up in Ulm with the Chris Barber Band playing at the Theaterball. For many years, I would bake an applecake in the afternoon of "the night" and then head down in my ball gown (tray in hand) to the theater straight to the downstairs podium where all of you were. Seeing the fun and joy you had on your faces was very contagious and I caught the "jazz bug". Thank you. Ever since I moved to British Columbia, I hoped you, Chris and the band would one day make it out here. I am sad to hear that you are retiring, but I wish you all the best for the time ahead. You have had a big impact on my life and I still have and play the signed records. If you ever venture into this part of the world, let me know. Best wishes, Nina.
Chris Robins: Hi Pat.... Very best wishes on your retirement. Our paths have crossed many times (not that you would remember seeing so many people - there are a couple of pictures on the site of us at a Hastings concert) but I have very fond memories of you and your time in the band. 'The band' was my introduction to jazz and you played your part in that - many thanks for that. You had a few gigs at Andover in the past. I'm sure all the past team from Andover would pass their best to you: Mike, Val Hanson, Nina, Jean, Don Vincent, the Twins, and many more. Best regards – Chris.
Garry McKendrick: Thanks for the memories, from St Andrews Halls to Cromer Pier via Ibrox Stadium, and the wee dram we shared at the Holiday Inn Glasgow. Have a happy and long retirement.
Roy & Marian Hands: Thank you Pat for many hours of pleasant listening on C.D. and live shows over the years. You will be missed.
Alan Smith: My warmest congratulations on all the superb performances I have seen, and all the 78s, 45s, 33s, cassette tapes, and CDs in my collection. Since my 1st at Manchester Free Trade Hall in 1957(?), all the way to a recent, smaller but brilliant, night at Uppingham, you have been charming, skilful, enthusiastic, spruce, modest, and totally professional. Fantastic! Although I would have been content to hear the same 1957 sound each time, you and Chris keep adding such variety that I am even sadder to hear of your retirement. But you've thoroughly earned it, and I wish you all the very best. Hope you enjoy the remaining gigs, especially Northampton, on Sunday, where I am delighted to say I shall be on the front row!
Tine Pas: Dear Pat, thank you for your long friendship and pleasure you have given us with your music. The girls are also saying thank you. Hope to see you this summer, give my love to Cheryl, Tine.
Ed Jackson: Like so many of your friends and fans in the UK, across Europe, and around the world, I was saddened – selfishly for myself – to hear that you have decided to retire from the Chris Barber Band. On the other hand, I know how hard you have worked and how much you have done since joining the band all those years ago to help create the distinctive Barber sound, to provide unlimited entertainment in your concerts and on records, and to inspire so many young (and now not-so-young) people to pick up the trumpet or another instrument and learn to play for themselves. If anyone deserves a long and happy retirement, it is you. I personally have met you only a couple of times, but I well remember the welcoming warmth with which you talked to me (Bristol and Worcester a few years ago). I've been a fan of yours for close to fifty years, and I can't count the numbers of hours of pure enjoyment that I've had listening to your playing over that time. Please accept my best wishes for a long, healthy, and happy retirement.
Gordon Solomon: Enjoy your retirement Pat, See you in Alnwick shortly.
Norman Hill: Dear Pat, I discovered a disc, CB 1956, which I picked up at Potters Bar, Herts, last February. Haven't played it ! Thought I'd have a look on the web, see where y'all are, when I can see you next; and find you're packing it in! I'm glad I found out, and so glad too, that, after all these years, I was able to have a few words in the Wyllyot's that night. I wish you all the best, Pat, in joining the long and happy retirement club. You'll find you have less time than ever be back blowing in no time! Thanks for years and years of great entertainment and here's to years and years of what you want. Norman Hill, Hitchin, Herts.
David and Claire Bell: As we came away from the concert at Stevenage last Thursday, Claire said "I feel like sending him a card". So we were pleased to find this message board to send an electronic card to wish you well in your retirement and to thank you for the music! We have chatted with you a couple of times after concerts in Stevenage and in Harlow in recent years, but did not get the chance to talk this time. All we could do was sympathise with Chris about the problem of filling the hole that you leave in the band. We shall miss that great trumpet playing, but we shall also miss the obvious good humour and respect for other players that we see when you are on stage. Have a great retirement - but play the occasional gig, please.
Bernard Flegar: Dear Pat, Just recently I again had the pleasure of enjoying your mastery at two concerts. You are a complete role model, not only for trumpet players, and not just for musicians but for everyone: your kindness and politeness and sunny disposition your whole life through are unique. Your ability to enjoy yourself on stage every night and to make everybody present, fellow musicians and the audience, feel good, is a gift. I will miss you terribly. And so I want to thank you for everything. I'm looking forward to the concert next week in Hanau - just mustn't think that this might be the very last time. Please stay healthy, lots of luck & love. Bernard Flegar, Ulm, Germany.
John Edmund Cooper: Thanks so much, Pat, for the years of splendid music. I started listening to the band in the 60s; those famous opening notes of Climax Rag at the Berlin concert in '59 awoke me to the silvery precision of your playing. Beiderbecke sounded like bullets shot from a bell, apparently, and the description is not inappropriate to your style, but perhaps without the implied violence! I did not see the band live, though, until a couple of years ago in Bristol and then several times since. Anne and I have so much enjoyed the rich texture of the big band, but it's always a special delight when the six-piece numbers come and you drive them along. We are thrilled to have tickets for Gillingham on 16 July. Travel on to happy retirement, and once again many, many thanks!
Jürgen Bockholt: Hi, Pat! Ich schreibe Dir aus Hamburg (mein englisch ist leider nicht so toll, deshalb auf deutsch) und habe Dich und die Band seit 1965 regelmäßig gesehen und gehört. Mein retirement habe ich selbst gerade hinter mir (es spielte hierzu eine tolle Buxtehuder Dixieband). Ich höre gerade eine eurer cd's und mir geht hierbei immer noch das herz auf. Vielen, vielen Dank für die Freude die Du mir über die Jahre bereitet hast. Für die Zukunft alles Liebe, Jürgen.
John Lowry: Dear Pat, Thank you for many years of happiness in listening to your music with Chris and the Band. You kindly signed my autograph book when I was a 14 year old schoolboy in 1954 at the Free Trade Hall in Manchester and have always taken the trouble for a few words at numerous concerts both in the UK and Germany. Your distinctive tone and superb technical mastery have always been an inspiration. Look forward to seeing your future informal gigs. Hope you are able to enjoy a little more time to yourself. Very best wishes for the future. John Lowry.
Bert Pauw: Dear Pat, The jazz will certainly miss you! So will I because since my early childhood I am a fan of you and the band. Certainly the original band is my favorite. You and Monty gave it that special sound. I treasure my EP from 1955 with your and Chris' signature I got from you a few years ago in Rotterdam. All the best, Bert, The Hague.
Walter Henne: Dear Pat, In the early 70s I first met you playing with the Chris Barber Band. We did many Jazztime Ansbach concerts together. Besides those we met in Biel/CH, in Erlangen, in Nuremberg, in Heidelberg and and and... It was always great to see you again, talking to you and listening to your fantastic trumpet. By the way, do you remember the "Herrmehl Special "? It is a pity that you are leaving the Chris Barber band, but the good news is that you will still play as a hobby. I will do a Radio program about you on the Radio 8 Jazzhouse. A CD with that will be mailed to you. I hope I still have your correct address. All the best and thanks a lot for everything. Yours, Walter.
Charles and Diane Tancock: Well, I usually look in here about once a month to keep up with the news of the 3xBs from the 60s era when it was a magical time to grow up in England. I am very lucky and privileged to have met Pat when he and the Band toured here in New Zealand in 2000. I had never been able to see the Band in England so I am very happy now ... I am glad you are going to still play the trumpet as a "hobby" now. That's the best way; I always think as retirement isn't about putting your feet up and doing nothing. You look so well Pat after all the years of touring... it's so amazing... life is a gamble sometimes and yours has paid off so well in that you have entertained millions of people over many years.. It's certainly helped me through times of stress listening to you and the Band all those years. What more can my wife and I say but to Thank you from our hearts and wish you all the good luck you deserve. Kindest regards, Charles & Diane Tancock.
Alwyn Dean: Thanks pal for the music and the memories. Except for a brief stop you made in Perth W. Australia once I've not seen you all since 'The Dancing Slipper' days (1960) at West Bridgeford (over the garage). Thank goodness for tapes and cd's eh. I believe there was a bloke called Barber with you there and some banjo player off the street called Donegan. This was around the time this Donegan bloke played in pantomime at the Theatre Royal in Nott's and I can still see the genuine affection he had in his eyes when singing 'over the rainbow' to Cinders, ah' but that's another story I think. A pianist you had touring with the band one time was Graeme Bell, an Australian and he answered my query about Aus' by saying it was a "Hell of a lot of **** all". Over the past 40 years I have found this to be so, trad-wise anyway. See Ya Later... Alwyn.
Tony Caffry: Hi Pat, Followed yourself and the Band since the very start! About 10 years ago I was walking up the street to 'The Little Theatre' in Paignton, Torbay, having travelled 60 miles to attend a CB gig for my 'N-th' time since '54. You were taking the cool night air for a quiet breather 1/2 an hour or so before the start of the gig. We chatted for only 5 minutes or so in the cool darkness about life in general, as we slowly walked the couple of hundred yards to the theatre. You didn't mind my intrusion into your thoughts for those few minutes, which I will always remember. Keep blowing! Best Wishes, Tony Caffry (just a fan!).
Sue from Frankfurt: Hallo Pat, maybe you remember me, it is me from "Schlachthof" /"Suedbahnhof" Frankfurt. I wish you all the best for your retirement, so you can spend more time with your family. I`ll never forget you and I am glad to got to know you. All the best, Sue.
Frank from Frankfurt: Didn't like your music when I was young. It was my father's music. Anyway I came to love it later. And actually it wasn't so different from the rock music I grew up with. There was a solid band to give it a frame, and a solist cum superstar to make melodies stick (remember Monty on Ice Cream). Went to see you play many times with Barber. Sometimes with my father and sometimes on my own. Great music every time, and your trumpet always there to give it that extra feeling. I certainly won't miss your farewell concert in Hanau. And of course I'll try to drag my old man along. He'll love it.
John Ryan: I toured with Pat for 13 Years.... He taught me how to be COOL... The nicest guy to be around on a day to day basis ... a great musician .... we had a lot of fun.... "give 'em the lights Pat" ..... Love John.
Wout and Will: Our dearest Pat. I was quite shocked when I saw that you are about to retire. We do agree with you that after rolling so many miles on the road it will be a blessing for once to be boss over your own calendar and your own watch. What we feel very sorry about that we found out so late that there won't be a chance to come and see you before you say goodbye. We do wish you all the best and thank you so much for all the years of your friendship and your music. It won't be the same to go and see the band now. From what I saw on the site I also saw that Bob Hunt's name was missing in the line-up. Now you are gone. We will see a lot of strangers on stage. Though the music probably will continue to be good as ever, it won't be the same. Lots of love to you. Wout and Wil.
Jon Kingman: Pat, You have made millions of people happy for many years. You deserve a great retirement, and many years of it. I am listening to you on my computer as I write this, as I often do. Would love to hear from you! The very best to you, Jon Kingman, Humble, TX.
Elin Jensen: Hej Pat, It was really nice hearing you again and saying hello to you. I was not aware that this was in fact your last tour in DK, but I think you said something about it during the few moments we spoke. Now I hope that you will enjoy a long and well-deserved retirement. Love from your old fan and friend Elin in Copenhagen.
Derek Hinchliffe: It's a long time ago that I first saw you appear with Chris. The last time I saw you was some years ago in Poole, Dorset, when Lonnie Donegan made a guest appearance. A great concert. This year we are looking forward to seeing you in Gillingham for the Gillingham festival. We have the tickets and look forward to being there and seeing you perform with Chris on your farewell tour. Good luck for the future Pat and wish you the best of health. Regards, Derek & Maggie.
Brian Harvey: Hello Pat, This is just a note to say a rather inadequate thank-you for all the good times. I hope we don't lose touch. Take care - Brian.
Barrie Marshall: When I first heard the Chris Barber band (Whistling Rufus) I fell like a ton of bricks for the playing of Monty and bought a clarinet on the strength of it (I am still playing). When Rock and Roll came along it killed Traditional Jazz off in my part of the world. In 1980 I was asked to join a band and at once started playing my old Chris Barber albums to familiarise myself with some tunes again and of course play along. It was here where I first realised what a great player Pat Halcox is and when I listen to the band I get the greatest pleasure out of listening to the Halcox trumpet in ensemble and solo work. As far as I am concerned all is perfection, feeling, swing, phrasing, creation of lovely ideas, a great lead, balance in everything, each solo is a perfectly conceived. I hope he does not stop recording. You won't will you Pat. Thanks for all the pleasure you have given my musical soul over the years.
John Westwood: So you're going to stop tearing around the world with the most consistently successful band in British Jazz. Shame. It wasn't until I read Chris' words recently that I realised that you had once contemplated making a living in the world of medicines. I played, briefly, with Chris' first amateur band (the recordings still exist, and I'm proud to still have copies of them!). What he says about 'going pro' is very pertinent; you obviously came to the same conclusion as me at that time. Difference is that you made the right decision, and took up the cudgel. I didn't. I spent the next three decades in sales - and with GSK, too! I didn't make a lot of money, and had very little fun. Can't guess at your financial fortunes, but I do know that you've had a lifetime of making really great music. Millions around the world get huge pleasure from listening to your recorded efforts, and some got to hear them 'live'... an even greater treat. Congratulations on making the right crucial decision all those years ago, and thanks for your huge input into this great music of ours. Please don't stop blowin', though; keep the flag flying whatever you do! Every good wish, John Westwood, Alicante, Spain.
Bryan Yates: Have a good and happy retirement. Have time to listen to all the jazz you have missed whilst working too hard and thank you for all the pleasure that your music (& that of the various bands) have given me over the past 54 years. First saw you live in late 50s, in Manchester. Thanks again and all the very best.
Ken Doran: Can't believe it. You have been my inspiration for years, in fact, since I first heard you with the Barber band in 1953. What am I going to do now? Where do I turn? I suppose that I'll just have to try out some of my own ideas or alternatively follow your example and enter the realms of retired trumpeter. Thanks for all the wonderful hours of happy listening. The band really will not be the same without that distinctive and very individual style which you developed over the years.
Chris and Lisa Mitchell: Hi Pat, Where have all the years gone? From the Florida club in Wardour Street, the Marquee in Oxford Street to the all too few meetings in Switzerland, it was always good to see and hear you, with all the different line-ups that was the Chris Barber band. We both wish you a long and happy retirement (or should we hope, a semi-retirement ). Thank you, dear Brother, for all the good times. Lisa and Chris Mitchell, Switzerland.
Richie Burns: Just want to say thank you Pat for many years of good playing. I met you in Exeter many years ago when I was 14. You had the time to talk to me along with the rest of the band. Been a fan of yours ever since. Enjoy your retirement but don't stop playing. Kind regards, Richie Burns, Drummer.
Peter Frutig: Dies (Biel 21.06.08) das letze Konzert das ich erleben durfte. Die Nachricht machte mich ein wenig traurig. Irgendwann hat halt Alles ein Ende. Ich bin glücklich, Sie noch einmal erlebt zu haben Ich wünsche Ihnen eine gute Gesundheit, Alles gute im Ruhestand und danke Ihnen für die vielen schönen Jazzstunden. Peter Frutig (CH).
Keith Tolley: Many, many thanks, Pat, for all the marvelous music you've given over the years - from the Pavilion Theatre in Weymouth in the early 1960s to the Lowry Centre in Manchester a couple of years ago. Enjoy your retirement - you've earned it!
Knud Daugaard: Dear Pat, Thank you for everything. I was 10 years in 1954 - and have followed you and Chris since. Fantastic. Hope yoúll enjoy the "trumpet-wine" I gave you in Odder in June 2008! I have heard you - and the Big CB band - in Århus, Skanderborg, Horsens, Kolding, Vejle, Copenhagen, Middelfart, Berlin.... Big love from Knud Daugaard (Denmark).
Alan Bateman: I have been listening to Pat with the Chris Barber Band since I was a kid. When I took up the trumpet at the tender age of twenty six, I used to play along with Pat on various recordings and try and pick up a bit of technique from his phrasing. Some eighteen years on, I am constantly reminded of Pat's influence because many of those recordings and phrases are stored away in my brain and occasionally override my own creative thinking when I should be concentrating on my own ideas. Nothing wrong with that though!! Keep blowin' Pat and congratulations on 54 memorable years of loyal service.
Doug Potter: Thanks Pat. Listening to you gave me my Jazz ear back in the late 50s; after my family, Jazz is my second huge love. Doug Potter, age 66, happy in retirement, hope you will be too.
Christer Svenson: Dear Pat, Thank you so much for your wonderful playing during so many years and for your electrifying good spirits, together a major work of real jazz! Best wishes for a very long future from Christer in Sweden.
Pam & Dave Wintersgill: Hi Pat, I first saw the Band in 1956 at Oxford, we met at Oxford in1958. We have seen you and the Band on many occasions at various locations in the UK. Will see you at Sonning on Sunday. All the very best in your retirement for you and Shirley. Regards, Pam & Dave.
Caroline: Dearest Pat, I am so happy for the endurance and patience you've shown Chris! I am very sorry I will not be able to make it to any of your last official performances (it's a bit far for a weekend!) but will hopefully see you and Shirley later this fall. You'll most certainly be missed. Congratulations on your fulfilling career. With love, Caroline.
Dave Wyatt: Having been a devout fan of the various Chris Barber bands since 1954, I've greatly admired your playing which I consider was largely the reason for that unique group sound no other band could capture. It was a pleasure to meet and have a drink and a one -to-one chat with you at a jazz club here in Newcastle upon Tyne some years ago. I found you to be a great guy, diplomatically listening to my ramblings on the subject of jazz! I was, of course over the moon to be meeting someone who had given me so much pleasure through great recordings and concerts. Since that time, whenever you have noticed me in a concert hall foyer among the crowd, you have always given me a greeting. That's a good memory (and the sign of a gentleman) considering the time lapse since that chat and the thousands of other "fans" you must have met! Anyway, have a long and happy retirement Pat. Your dynamic, melodic and highly accomplished lead trumpet will be missed by Chris and the band as well of its thousands of admirers. Happily, we still have all those great recording of yours to listen to! - Dave Wyatt, Newcastle upon Tyne.
Mike Hurley: Still have some of the 1954 78s - not played very often now - because I now have the Decca sessions cd. I was still at school when the band formed and have seen you live in many places, but not for some years as I now spend most of my time in Turkey. I have very fond memories of some great music - and hope you have a long, happy and well deserved retirement. The only regret I have is that my copy of the Croydon 25 year concert has been 'borrowed'. I can't seem to find it still available (preferably on CD) and of all the recordings I have it's the only one to have been taken, I guess that is a fitting comment on the music. If it can still be bought would you be kind enough to email me. The one I lost was actually autographed by the band about a year later but I don't reckon I can repeat that but the music would be enough. Thanks for all of it over the years and good luck to you. Mike Hurley.
Jockel: Dear Pat, I hope and pray that your health and condition is excellent for the next fifty years. I think you are a really friend and a original gentleman. Thanks for the music. Your coachdriver from Berlin.
Ron Hosler: Hi Pat, What a pleasure and a privilege it has been to know you and to enjoy your playing. You have been an inspiration to so many trumpet players over the years. My biggest thrill in music was to duet with you when you guested with the Dave Morgan band at Reading. I thank you for always making time to chat with my wife Pat and I, and to all the thousands of fans you have in the world today. Have a long and happy retirement. All our love, Ron and Pat, also regards from Dave.
Leif Antonsson: Thanks for many unforgettable moments. Since the first record I bought "Wild cat blues a EP from PYE" 1959, you have been one of my real first idols during the year. As young man I did have Louis Armstrong at first, until the time I heard your "living" and beautiful trumpet, then it was everything. For me you are the first trumpeter all time in the world! Later in the years I have had the pleasure to enjoy your playing live during your tours in Sweden, it has been unforgettable. Wherever you continue to play I think your listeners are blessed. Thank you for so much, Pat. Leif - Surahammar/Västerås/Sweden.
M.A. McMillan: Happy memories, lovely man. Shelagh and Mac.
George Turner: Hi Pat, What a let down! I really hoped you would be blowing a storm beside that Barber man forever. But alas that could not be and although I sensed a while ago that your retirement was imminent, being forewarned has done nothing to lessen the blow. So, with rather moist eyes, I'll just say: Thank-you Pat for the many hours of entertainment you have given me throughout my life (I am 72) - at concerts, on records, and on CDs. God Bless and many happy days ahead. The whole jazz world will miss you, but none more than us lot in Shropshire. George Turner.
Alain Andrey: Thank you for all the fabulous moments listening and talking to you, and all the best for the next part of your life. Hope to see you some time again in Switzerland. Alain.
Les Dixon: Hi Pat & Shirley. Can it be that long since we first met? I cast my mind back to those early days on Boxing Day in The Grapes [as it was then]. Sitting in with you was a sheer joy. I never played better. There will never be another Bod. Since then I have followed the band's progress and changes and this still gives me the biggest thrill in music. This morning I played Mountains of Mourne. Your playing on that is the greatest example of thoughtful trumpet anyone could hear. Magic. You are the man. I do hope we can keep in touch. Stay well and enjoy your new career. With our love, Doreen, Les, Suzanne & Martin.
Marion Aitken: Dear Pat, The standing ovation at the end of a truly great concert, the cheers, and the love for you expressed by the audience, was a wonderful experience and everyone present could not have failed to be affected. Your time with Chris has been my whole adult life and although many refer to 'my misspent youth', I would not have changed a thing. You are very special to people around the world and, apart from being a fine musician, have touched us all with your humour and warmth. You have that golden ability to make people feel they are special. Thank you seems inadequate but we have had the best of you and now it's Shirley's turn. God bless you both. Have a great holiday. See you soon. Marion.
Julian Purser: What a great evening at Gillingham last night, what a way to say 'Thank You' Pat, from us all for a lifetime of wonderful music. The warmth of the audience for you was so very evident. You have travelled the world, North to South, East to West, giving listening pleasure to every one. Do you remember in 1978, you were deputising for Humph in his Band for a concert in Prague? At the end of the first number you expected Bruce to announce the next number, but nothing happened, till Bruce quietly reminded you that as you were playing Humph's part, it was your job the do the announcing. Or the time in 1984 when we were all staying in the Amsterdam Hilton at the end of a Dutch tour, and it was discovered that one pay phone was working but did not take any money! So naturally we all telephoned home, one after the other, but you went one better than the rest of us, and after phoning home you telephoned Trummy Young in Hawaii! Thank you and Shirley for all your kindnesses and friendship over many years, and I am sure that we will have the pleasure of seeing and hearing you in the future. Enjoy your holiday, we will keep in touch. Julian.
Bill Ward: I have been privileged to see the band many times over 50 years and was so very pleased to be able to attend Gillingham for your finale. Sure look forward to seeing you as a guest many more times. Thanks for a good long innings.
Brian and Margaret Rendle: Watching you perform live (and on DVD) and listening to you play with the band on vinyl, tape and CD for over 50 years has brought us both immense pleasure. It has always been worthwhile driving some distance (with the odd overnighter) to hear you play with Chris and the Band. The couple of occasions when you have had time to chat with us before the show will not be forgotten and just proved, again, what a really nice person you are. Have a very long and happy retirement, Pat.
Bruce Gwynne: Pat; many thanks for the many wonderful years of music you and the band have given me and others like me. I first saw you in the late 50's in the Guildhall, Plymouth, whilst I was still at school. Since then I've been moved around quite a bit, but have always tried to catch the band whenever you've performed reasonably near. Have a wonderful retirement, but don't put your trumpet in "mothballs".
Trevor Foster: Hi Pat! I would like to wish you a very happy retirement. My brother and I first saw you with the Chris Barber band in October 1954 in Belfast and as you know this had a big influence on our playing for the next 50 plus years. I think the highlight was when you guested with us some years ago at the Queen's University festival. As Solly's review said, '' Every jazzman has a few precious memories, moments of recall when something very special happens, the very odd session with the magical ingredient when, from the start, every component dovetails, and a near perfect night ensues. Such an experience was on Monday night at the Guinness Spot.'' We have had many other sessions together over the years equally memorable. Thank you Pat and good health. Trevor and Rodney Foster.
Gordon Bull: Dear Pat, I have been following the band since you joined in 1954 and have been to numerous concerts from then until now. Your playing has been the bedrock of the various bands under Chris's leadership and you will be sorely missed. Thank heavens I have so many recordings of you to remember you by. You have brought joy to so many fans. Have a long and happy retirement.
Val and Noel: Thanks for all the pleasure you have given us over the years Pat. We've heard you playing from Liverpool to Aberdeen, in Gillingham for your last night and many places in between. We met you and Shirley by the marquee a couple of hours before you played at the Gillingham Festival and you very kindly chatted to us and signed a photo taken last year. We'd traveled down from Liverpool especially for your last night and it was just great to meet you. You have always been very gracious when we have met, taking time to talk to us. The standing ovation and cheers of the audience were very special last Wednesday and showed how people felt. You are a gentleman Pat and it won't be the same without you. We hope you and Shirley enjoy your holiday and have a long and happy retirement.
John & Val Duffin: I would like to echo and endorse the comments of our friends Val & Noel. Pat is an exceptional performer and musician playing at the highest level for such a long time. He has managed to retain his individual personality and friendly manner which is so welcome today. We have managed to catch most of the visit up "North" and have never been happier than to see that bright smile light up the stage when performing with Chris. Good luck to him and Shirley, a delightful lady, who as she says has looked after him well for so many years. Thanks for the signing and spending the time with us on your most important day. John & Val Duffin.
Tim Machin: I first saw the Barber band at the Winter Gardens, Margate, some time in the late 50's and I went to as many concerts as I could ever since. I promoted concerts at Bedford School in the 80's and early 90's and came to realise that Pat was not only a super trumpeter but also a perfect gentleman! Nothing was too much bother and he was very enthusiastic about bringing jazz to a new generation. Many thanks, and enjoy your retirement!
Jim Tancock: Well Pat, it's been a wonderful run for you and Chris. I do hope you will enjoy your retirement. You are a very nice guy to meet. Remember I am the one who loaned you a pen when you were stuck in the middle of autograph signing at Auckland, New Zealand in 2000? You are a true professional anyway and I laugh when the young musicians always make a big fuss about a reunion after say 10 years. Us more senior guys were better made then. Anyway enough of the fluff and I truly do wish you all the very best wishes in your journey. Hip Hip Hooooray for Pat.
Roger from Wegberg: From the Il Rondo in 1960's Leicester to the Tonhalle in Duesseldorf you given us fabulous music and immense pleasure - and will continue to do so with the CDs and DVDs. Good luck in your retirement and Thank You.
Ken: Pat, Just to wish you a well deserved retirement [Pleased to have you join us!] Have been a follower of the CB Band ever since the old days at the White Hart, seems like yesterday but a bit longer. Thank you again.
John Moore: Dear Pat Halcox, Sorry to see you go. I suppose you have lost your 'puff' like myself ! . . .and that lovely 'bell tone' that carried the band ! The last time I spoke to you was in the Waterfront Hall Belfast. At least I have most of Chris's records and can still picture you playing in the Ulster Hall way back in the 50s. What a wonderful career you have had. Keep having the odd blow! Best wishes.
Roy and Diane Holmes: We have followed the band since 1956, and have enjoyed the concerts held in Birmingham every year just before Christmas. We call it our Christmas pilgrimage having lived in Scotland for 20 years and now living 4 years in Italy. We are sorry we haven't had a chance to see you playing in Italy but we would like to send you our many many thanks for the pleasure your playing has given us over the years. We would like to wish you a long a happy retirement. Mille auguri per la tua nuova vita - best wishes for your new life. Tanti saluti Roy and Diane.
Nic Dyer: We met at school in 1941 so I imagine I've known you longer than most. In those days you played piano, boogie was a favourite of both of us. I recall you inviting me to a 'session' in Chiswick one rainy night, and could I bring a drum along? That was when I learned that a motorcycle was not the best transport for a drum - I split the batter head on the way home. That was the Bob Dawbarn gig you mention in your autobigraphy, with Mick Mulligan. However you were a Trad man and I was a Swing enthusiast so our paths diverged. We met up again when we moved to West Sussex and you and Chris were at Claire Hall in Haywards Heath. You were the same person I remembered from school days and I am pleased to say that we have managed to keep in touch ever since. Have a good retirement, you deserve to put your feet up and let others do all the travelling. Good luck old friend - from another oldie.
Lothar Brendel: Dear Pat, Thank you for your wonderful work all over the years with the Chris Barber Band. After the Deutschlandhalle 1959 concert I decided to play traditional jazz in your band style. Our band does it now in the 47th year. (www.sir-gusche-band.de) I would like to send you your unreleased solo performance (Blue turning grey) from the 1959 Berlin concert, but I cannot attach it on this email. Best regards, Lothar Brendel.
Paul Lagerberg: Dear Pat, Being on this site almost by accident, I was shocked to see that you have retired. I, as a Dutch fan of the Big Chris Barber Jazz and Blues band (or is this a combination of multiple band names?), always liked the way you played. I wish you all the best in your future life. Paul.
Wolfgang Windel: What a shock - Pat Halcox has left the Chris Barber Band! Between my first concert (in Hannover, Niedersachsenhalle) in 1962 and the last one (in Elmshorn) 2008 were 98 more - that means that I have to thank you for exactly 100 concerts, 100 great moments, 100 autographs, 100 smiles and speeches after the concerts, 100 unforgettable evenings with 100 different girls (okay, may be one or two less...). And 100`s of fotos I made from you and the band. You and your trumpet made my youth, you and your trumpet made my age. More than 10 x 100 78`s, 33 1/3, 45`s and CD`s are great souvenirs. I`ll miss you, Pat! Have a long, long life. Be as happy as you make a million of people - like me. Hope to see you again! Wolfgang Windel.
Birgit Windel: Dear Pat, A couple of minutes ago my husband told me that you will never perform. It's very, very sad, because nobody can replace such an extraordinary musician like you in this band. I remember, when my husband invited me to a Chris Barber concert almost 20 years ago. I must confess that I didn't know at this time Chris Barber and I had no idea about this kind of music. I`m born in 1962 and grew up with ABBA and Discomusic. After this concert, I was enthusiastic about your music and became a big fan, especially of you. I will miss your way to play trumpet, your charming smile and its very sad to see and feel never again your pleasure to make music for the audience. Sorry for my bad English, but it was an urge for me to write you. I want to end with an famous ABBA-song: "Thank you for the music" Pat Halcox. All the best for you. Birgit Windel from Hamburg.
Achim Lichtinghagen: Hi! Thank you for your music, I listened to it since decades. Remember the Dixie Club in Witten. You told me in 2007 in Essen, that you still have got a button. I visited your gigs in the 70s. Now I got tickets for Chris`s concert in Essen in Oct. 2008. I'll miss you. Wish you all the best.
Uwe Maltzen: Natürlich darf der Dank an Pat aus der "Freien und Barber-Stadt Hamburg" nicht fehlen. Schon seit 50 Jahren haben wir so viele schöne, beschwingte Stunden mit ihm hier in Hamburg erlebt. Nicht nur als Zuhörer, auch hautnah !!! Vielen Dank dafür !!!
Dave Challice: I have only just heard about your retirement today, 14th Sept, and I am supposed to be a fan. Like all of my generation (60s) you enlightened and made the 50s for us and you have been pretty instrumental in making the succeeding 50 years quite good as well. With the other retirements of Ian Wheeler and John Crocker, you do realise don't you, that our generation will stil be talking about you even though we shan't see you again. Too many memories to recollect here but I still like the caricature of you in the 100 Club that was there when I last visited the place some decades ago.
Martine: Hiya Pat. So sorry to learn you left the band. I didn't get a chance to come and see you on your last tour, although I did see you shortly after John Service joined so it was still this year but I was hoping to see you in Denmark since that's where the Chris Barber band took off so a very fitting place to say goodbye. I will not only miss your playing but also your voice which I thought had a beautiful warm "glow" and the best in the band in its many forms. Have a Very Happy Retirement and I hope to come and see the band again when you'll be the guest player. I would so much like to have heard the skat version of Ice Cream which I never saw live. Be Happy always. BB. X X X
Lutz Eikelmann: Dear Pat, I have always enjoyed your trumpet playing on countless records with Chris Barber or a few others like the recordings you did with Sonny Morris or Don Ewell etc. Although a younger Jazz fan (and musician!), born in 1967, I had often the pleasure to listen to your concerts between 1988 (I guess I heard you the first time live on stage in Krefeld, Germany, but Ím not totally sure!) and present time... wherever, in Hamburg, Sägewerk in Möhnesee, Cologne, at Royal Albert Hall (concert: "Skiffle - The Roots Of British Rock") etc etc etc You have brought so many enjoyable moments of listening pleasure to me, they are countless, and I wanna thank you for that. I remember one concert we played together in summer 2003, when you played with Chris at the Jazz and Blues Festival Balver Höhle in Germany and I played as guest of Ben Riniás Ken Colyer Memorial Band in the same concert before the Dutch Swing College Band followed by you and Chris Barbeŕs great band. I also remember a little chat we had together in Beckum in January 2002, where I had the honour to announce The Big Chris Barber Band as a compere. During that night we both talked a lot about some of your old mates like Sonny Morris, Ian Wheeler and especially Dickie Bishop. Well, however, I want to thank you now for your great work in your career and I send you my very best wishes and very best regards for the new era of your life! May this era will always find you in the best of health and best of happiness. When you look back to the past, please be always aware how many joy you have brought to millions of people. And your recordings will enjoy us in future, too. You will never be forgotten, Pat! Til we meet again, sincerely yours, Lutz Eikelmann.
Vanda Singleton: Dear Pat, I first attended a Chris Barber concert in the 1960's at The Spa Pavilion, Felixstowe, I think it was, when I was in my teens and I have been a fan ever since, as is my husband. We have attended many of the Band's concerts through the years and I was perusing the website for tour dates when I read of your recent retirement. My first thought was "It won't be the same without him"! I was sad, but not really surprised, as you've certainly earned a rest. So a big thank you for your contribution to a marvellous band which continues to bring us much enjoyment and we wish you all the best for a long, happy and healthy retirement. Kind regards, Vanda and John Singleton (P.S. We'll keep looking for that concert!)
G McGill: Thanks Pat for all the great music over the years. I always looked forward to you coming to Belfast to guest with the Apex Jazz Band in years gone past. Enjoy your well earned retirement. P.S. Don't stop blowing!
Alan Peacock: From one analytical chemist to another -- good luck with the future.
Stan Marsden: Just think, Pat, my old pal, if the Quintones had been successful, neither of us would have had a life of playing! Talk to ya later - when I get your email address I'll send you THE photo. So long for now, "Marzy" (Saratoga Springs, NY). P.S. Better than working, though.....wasn't it!
Peter Bird: May I thank Pat for fifty unbroken years of pleasure. The last time that I saw the band was in Birmingham, Christmas 2006, and I was totally amazed at the vitality of the man. I had the pleasure of speaking to him after the concert, along with Chris, and his loyalty and devotion to his music was amazing. His contribution to the British Jazz scene is immeasurable and, thanks to modern technology, will never die. May I wish him a long and happy retirement.
Terry & Margaret Potter: Thank you for all the enjoyable evenings since 1954 with the Chris Barber Band, enjoy your well deserved rest now.
Peter Rampton: As a result of seeing you play in the Chris Barber Band on numerous occasions, I was inspired by your superb cornet playing, because most nights of the week I was playing along with the band to the Barber records that I had. I have continued into my late 60s to enjoy your playing and it has been marvellous for me. Thanks a million Pat and have a long and happy retirement.
Paddy & Jayne FitzGerald: Hi Pat, I have only just found out about your retirement. Jayne and I will miss you when the band visits Llandudno!!! We first met you & the band in Newcastle under Lyme Theater in the Round in the late 80's when we stayed at the same Hotel (just up the road from the theater, I cannot remember the name). We used to travel from Trearddur Bay on Anglesey! I still am an avid "Trad Jazz" fan. I first saw the band at the Festival Hall during the festival of Britain when I was still a student. I can remember one of Lonnie's banjo strings parting company!! I must say that I really preferred the smaller real jazz band playing trad tunes. May we wish you and your wife a long and very, very happy retirement and long life. Many thanks for all the hours of happiness and enjoyment you have given Jayne & myself over the years. Very Sincere best wishes.
Jens Messtorff: It's been a surprise to us when we heard of your retirement. We were planning to run another interview with you on January 15th in Bremen but now it will happen without you, regretfully. But it's been a great honor for us to meet you in Soltau almost a year ago! Thank you for your wonderful music, Pat! Ute & Jens Messtorff.
juergenmeise: Dear Pat! All the best to you ... it's all what I can say. Jockel from Berlin.
Dieter Elger: I never will forget the Barber Band with you and all the other musicians and friends. Sincerely, Dieter.
Charlie Koopmann: Thanks for all the years of great music. We'll miss you.


The Chris Barber website and archive team would like to acknowledge the tremendous amount of help we have received from Mike Henry in constructing this page. Thanks, Mike!

Former Members of the Band page || Pat's original page when he was still a member of the Big Chris Barber Band || Menu page