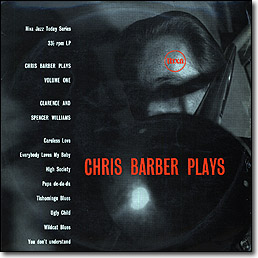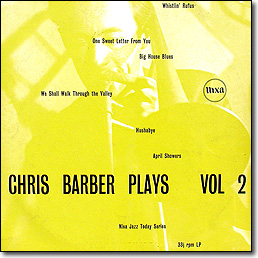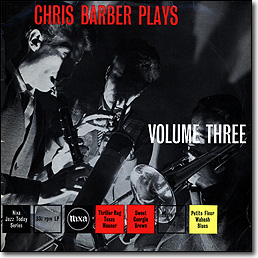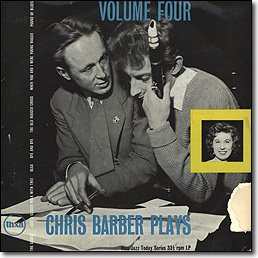 Click on each cover to see a larger version,
as well as the back of the LP cover

Chris Barber Plays, Chris Barber Plays Volume Two, Chris Barber Plays Volume 3,

and

Chris Barber Plays, Volume 4

LPs:


Chris Barber Plays: Nixa NJT 500; Recorded in March 1955.
Chris Barber Plays, Volume 2: Nixa NJT 502; Recorded in March & April 1956.
Chris Barber Plays, Volume 3: Nixa NJT 505; Recorded in October 1956.
Chris Barber Plays, Volume 4: Nixa NJT 508; Recorded in August & September 1957.


The four 10-inch LPs in the Chris Barber Plays series were recorded over a roughly two-and-a-half-year period, from the first track in the collection ("You Don't Understand", recorded on 3 March 1955) to the last four (recorded on 12 September 1957). The first LP featured the band's original front line of Chris Barber (trombone), Pat Halcox (cornet), and Monty Sunshine (clarinet), a line-up which remained stable throughout the Chris Barber Plays set, and indeed for a few more years after that. Lonnie Donegan was on banjo for Volume One, with Jim Bray on bass and Ron Bowden (who, like the tree front-line players, remained in the band over the four records) on drums – although he left soon after Volume Four was recorded.

All of the personnel changes between Volume One and Volume Four took place within the rhythm section, and more specifically the bass and banjo chairs. Jim Bray was the first to leave, being replaced for a short time by Micky Ashman, who is listed in the sleeve notes as the bassist on all of the tracks on Volume Two. However, Dick Smith, Ashman's replacement, has recently noted that it was he who in fact played the bass on "We Shall Walk Through The Valley", and of course Dick continued to occupy the bass chair throughout this series and for several years to come.

After staying with the band for the recording of Volume Two, Lonnie Donegan, as almost everyone knows, left the band in April 1956 to capitalize on his success with "Rock Island Line" and the burgeoning skiffle craze. Dick Bishop's tenure as banjoist with the band (his first of two – the latter occurred in 1971) lasted just seven months, but long enough to play banjo on all of the tracks on Volume Three, with the exception of the monster hit, Monty Sunshine's feature "Petite Fleur", on which Bishop played electric guitar. (He had also sung the vocal on Volume Two's "We Shall Walk Through The Valley".) Eddie Smith, who replaced Bishop just in time for the first Chris Barber In Concert 12-inch LP (recorded on 15 December 1956 at the Royal Festival Hall), was the banjo player on Volume Four, and contributed what was then a rare banjo solo to one of the tracks, an extended version of "When The Saints Go Marching In".

Recording of the first LP began within a few weeks of Ottilie Patterson's joining the band, in time for her two features ("Ugly Child", a tongue-in-cheek novelty song from the 1920s, and "Careless Love"). Surprisingly, Ottilie did not take part in either Volume Two or Volume Three, perhaps because at this time she and the band also recorded eight tracks for a pair of EPs entitled That Patterson Girl. She played a large part on Volume Four, however, contributing marvellous vocals on "The Saints" and "Just A Closer Walk With Thee".

In total, there are 27 tracks on these four studio records, which together provide an excellent collection of musical snapshots of the development of Chris Barber's Jazz Band – in personnel, repertoire, style, and confidence – during the mid-1950s. Some of the tracks have been widely available on compact disc, perhaps most notably "Petite Fleur", which was originally released on Volume Three and has been reissued many times. Others, such as "Papa De-Da-Da" and "Pound Of Blues", are rather more "obscure" because until recently they escaped the attention of companies reissuing selections from these early Barber classics. However, along with the four 12-inch LPs from the same time-period, Echoes Of Harlem and the series of three Chris Barber In Concert "live" LPs, all are now available in a six-CD box set from Castle Records, The Nixa Jazz Today Albums. The selections listed below (each linked to a roughly sixty-second excerpt), are a deliberate mix of the rare and the familiar.

One final feature of this four-LP set worth noting is the excellent sleeve notes contributed by Brian Rust. Rust had been Barber's friend for many years and by this time was a well-known jazz writer and critic whose work included an excellent booklet for the National Jazz Federation about Chris Barber's Jazz Band. You can read scans of the sleeve notes for all four Chris Barber Plays LPs by clicking on the cover of each LP reproduced to the right. However, because of the difficulty of reading the small print made necessary by displaying a 10-inch-wide sleeve on a computer screen, we have also produced a text-only version of the sleeve notes on a separate web page.