Ken Colyer's Jazzmen: New Orleans to London (1953)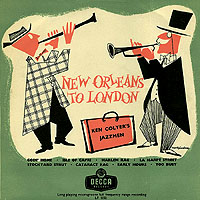 This is one of the most exciting records ever issued by a British jazz band. Added to the lively quality of the recording, is a performance that is full of enthusiasm, ideas and rhythm. New Orleans has really been brought to London at last for Ken Colyer, drawing on personal experience, has recaptured the spirit of New Orleans jazz and got nearer to a genuine performance than any British band has ever done before. The first noticeable thing is the absence of the piano, an instrument which was never used in the very early bands. The clarity achieved by this arrangement more than makes up for the absence of a popular instrument which, unfortunately, usually has a clogging effect. The emphasis is on ensemble work – as it should be. They achieve a degree of relaxation and of easy rhythm that is rare in a white band, British or American. The solos are unobtrusive because they fit so well into the general spirit of the music, and the total effect is that of one of the best co-ordinated groups that has yet been recorded. One of their best effects is heard in the very fine use of derby and cup mutes by the trumpet and trombone when backing up the clarinet solos.
Ken Colyer on trumpet plays an authoritative lead with very able backing from Chris Barber whose trombone playing is of the very best tailgate variety, and Monty Sunshine whose clarinet playing is a triumph of clarity and appropriate ideas. This is a front line of experienced players all of whom have led their own bands, and whose mutual understanding is a miraculous thing only very rarely achieved in jazz. Tony Donegan on the banjo, was another bandleader, and his group also included Jim Bray, the bass player with the Ken Colyer Band. Ron Bowden on the drums, who used to play with the Monty Sunshine quintet, completes a rhythm section which gives the front line all the support and encouragement that they could possibly demand.
Ken Colyer must feel very gratified to have achieved this wonderful result for his life has been wholeheartedly devoted to New Orleans jazz. He started playing the trumpet ten years ago, learning entirely from gramophone records. He joined the Merchant Navy soon after this, which gave him an opportunity to meet many famous American jazzmen during his travels. He left the service in 1948 and formed his first band with his brother, Bill Colyer, a band which had a considerable success on radio and television. Also in the group were Monty Sunshine and Ron Bowden.
In late 1951, Ken Colyer rejoined the Merchant Navy with the intention of reaching New Orleans so that he could study jazz at first hand. He travelled around for twelve months, visiting New Zealand, Africa and Australia before he finally got there. He spent four months in New Orleans meeting and playing with some of the living creators of real jazz – George Lewis, Emil Barnes, Johnny St. Cyr, Paul Barbarin, Ray Burke, Sharkey Bonano, Lizzie Miles and many others. He returned to England in March 1953 and, fresh from these fruitful contacts, joined and led a group already formed by Monty Sunshine and Chris Barber. This became Ken Colyer's Jazzmen, and after a tour of Denmark and Sweden, they took up residence at a famous London jazz club, to become one of the country's best traditional jazz groups.
Their repertoire includes original rags, blues and spirituals, and at least one face-lift applied to a popular song – in this case, Isle of Capri. Goin' Home and La Harpe Street are original compositions by Ken Colyer and it is this last tune, together with Harlem Rag which provides one of the most integrated moments on a record which is full of good things.
We can be certain that this is the genuine spirit of New Orleans jazz; but even more important is the fact that it sounds new, for this group has a style all of its own which is original and alive. It is this re-interpretation of the tradition which serves to keep jazz a vital and intriguing music.

Chris Barber's Jazz Band: New Orleans Joys (1954)
This is New Orleans jazz – a tradition of music rather than a form, and as distinctive a tradition as English folk-music or Spanish sardanas. And like all traditions there can be no tampering with it; it is as big a failure to be deliberately archaic and merely copy what has gone before as it is to try to force new ideas on to an already perfect idiom. The only way to handle New Orleans jazz is to have an innate feeling for it and then to do your best, striving only for tightness of phrasing and rhythm. Because this can be heard on record almost as well as in actuality, it has been possible for British and European players who love the music sufficiently to produce a music full of the spirit of traditional jazz and, in some cases, of a standard to be considered amongst the best.
This record is an example. Here is a group of young players who can match their enthusiasm with instrumental skill and an almost uncanny knack of playing together, producing one of the most integrated sounds that has been heard on a jazz record. A previous record by almost the same group proved to be one of the most exciting jazz issues of the year in this country and this present record keeps up to those standards and adds something extra in the way of a couple of skiffle numbers.
Chris Barber was intended to be a mathematician and studied for this until a sudden enthusiasm for jazz quickly put all such ideas out of mind. He studied the violin first of all from the age of twelve but turned to his present instrument, the trombone, in 1948. He formed his first band in 1949 and a second which had considerable success playing music in the two cornet Oliver style in January 1950. This band kept together until January 1953, including amongst its players Dickie Hawdon on first cornet, now with the Don Rendell band.
The next band he formed with Monty Sunshine and shortly afterwards Ken Colyer was asked to join to lead it on trumpet The result is to be heard on the magnificent "New Orleans to London" long playing record (Decca LF1152), recorded on November 4,1953.
In June 1954, Ken Colyer and the band parted company, Ken pursuing his own ideas with another group which can be heard on "Back to the Delta – a New Orleans Encore" (Decca LF1196), and the rest of the band with the addition of Pat Halcox on cornet, sometime leader of a West London amateur band, made this record after six weeks playing together on July 13 1954. It was only just made as Chris was only two days out of hospital after two weeks with glandular fever. As well as Pat Halcox (cornet), Chris Barber (trombone), and Monty Sunshine (clarinet), the rest of the band is still the same – Lonnie Donegan (banjo), Ron Bowden (drums), Jim Bray (bass) and the band continues the same policy of dispensing with the piano, which gives the group a greater clarity to balance the loss of a very important voice in the line-up. The skiffle group which plays two very fine numbers on the session is composed of Lonnie Donegan (guitar and vocal), Chris Barber (bass) and Beryl Bryden (washboard), and Rock Island Line is surely one of the finest skiffle numbers ever recorded in this country. This newly awakened interest in the true Negro "race' music which Chris and Lonnie have been fostering for some years, opens up a whole new field of traditional jazz adding to the already vast repertoire of classic numbers. It is a music which a little skill and enthusiasm can produce with quite good results; in the hands of our present experts it becomes exciting beyond all expectations in consideration of its simplicity.
John Henry is the tale of a legendary folklore hero who built railway tunnels and killed himself with a new steam-driven tunnel digger. Rock Island Line is the story of some shady business on a railroad which "goes down into New Orleans".
The band numbers include Bobby Shaftoe, a convincing proof that any material such as this old English folk tune can be turned into an exciting jazz number, Chimes Blues – a King Oliver number which Jelly Roll Morton used as Mournful Serenade, in which Chris Barber's arrangement makes a very effective use of the brass in place of the usual piano chimes. Merrydown Rag is a Chris Barber original written in the classic ragtime tradition with an AABBACCDCC thematic treatment. Stevedore Stomp is an early Ellington number transcribed for New Orleans band, while New Orleans Blues is a Jelly Roll Morton piano number similarly arranged. The Martinique is a Wilbur de Paris number which he has recorded with his Rampart Street Ramblers (Felsted EDL87010) so there is a very interesting comparison of the two treatments of this 'Spanish tinge' style number.
This is a fine feast of jazz proving conclusively that the New Orleans tradition is by no means dead in England, and promises well for our future enjoyment.

Chris Barber's Jazz Band: Jazz Sacred And Secular (1954 & 1955)
Notes by Brian Rust
The story of Chris Barber's rise to pre-eminence among British jazz musicians is one of a mixture of sheer hard work and a sincere love of jazz music. While still at school, young Chris, who was born on April 17th, 1930, was bitten by the jazz virus, and after going through the usual stages of being fascinated by the current vogue for big-band swing, his taste matured early and he settled for what is now rather loosely described as "traditional" jazz. In his case, however, this did not mean a slavish imitation of semi-legendary New Orleans pioneers, however sincere a form of flattery that might be. Instead, having learned the basic facts of violin playing, Chris Barber applied himself to mastering the trombone, in between studying for his final examinations at school and collecting rare jazz records. (If I may indulge in a personal reminiscence for a moment, I can recall many a pleasant Sunday morning in 1947 and 1948 when Chris and I would play jazz records and discuss their merits and demerits, their origins and personnels, and it was from him that I obtained my first set of Kid Ory records, not to mention other much rarer items.)
Having a phenomenal memory for figures and the ability to work out complicated mathematical problems with the minimum of paper work, it was originally intended that Chris Barber should be an actuary. But his love of jazz led him to form his own band after sitting in with various semi-professional groups in London, at first rather shyly, later with the calm confidence that is his today.
When Ken Colyer, another of Britain's leading jazzmen, returned in the spring of 1953 from New Orleans, where he had studied and played with the greatest living musicians in the original idiom, he formed a band that included Chris Barber on trombone, Monty Sunshine on clarinet, Lonnie Donegan on banjo and guitar, Jim Bray on bass and Ron Bowden on drums. With this group, young Barber made many very successful appearances in public and on record, but neither he nor the other four men were entirely in sympathy with Colyer's "purist" ideas, and in the summer of 1954, they parted from him, and with Pat Halcox on cornet, formed Chris Barber's Jazz Band, which is how they appear on the record in this sleeve.
The ten tracks here presented demonstrate fully the quite unusual versatility of this band. Whereas most bands of this kind – with or without a piano – concentrate on "standard" jazz numbers that have been worked to death over and over again, Chris Barber sees to it that his men are capable of interpreting anything and everything suitable for adaptation to the requirements of his music. So it is that we find Irving Berlin's superlatively nostalgic White Christmas being made perfectly recognizable as a medium-tempo stomp, along with old English folk songs linked to the blues (On a Christmas Day), Negro spirituals with vocals by Lonnie Donegan (Precious Lord) and without vocals at all (Sing On), and something which Barber pioneered: the playing of Duke Ellington's often elaborate music by a six-piece band, perfectly balanced, and achieving a freshness and virility that characterized the original Ellington masterpieces back in the Cotton Club days of 1927-1931. Pat Halcox in no wise copies the late Bubber Miley's (or Cootie Williams') growl-muted horn. He simply gives his impression of their work through the medium of his own. Certain other "johnny-come-lately" bands have essayed this procedure with quite disastrous results. Chris Barber's band sounds perfectly at ease, as much with Ellington as with Berlin, or with any and every other composer.
Success is theirs, but success has brought its harvest of inevitable criticism, some well-meant, some obviously carping. It is sometimes said that the band has too much polish, that its music prances, or that it lacks drive. Analysed, these criticisms usually mean that the band plays crisply and in tune, that it has a firm, if light and easy beat, and that instead of generating a pulse like a steam-hammer (and with as much subtlety), it soars along fluidly. In these days of deliberately (or perhaps carelessly) playing out-of-tune like . . . well, we will name no names, the polish, neatness and attention to detail is no bad thing. "It is wonderful being able to play jazz and make a good living at it," says Chris Barber. Long may he continue to do so!

Chris Barber's Jazz Band: Chris Barber Plays (1955)
Notes by Brian Rust
Chris Barber was born on 17th April, 1930, and formed his first jazz band in 1949, having studied the violin, and subsequently trombone at the Guildhall School of Music. He also plays string bass. His present band was formed in 1954, and the unit, which includes in its repertoire spirituals, blues, marches, popular songs and Duke Ellington standards, has rapidly become one of the best-known British jazz bands.
The eight numbers presented on this record are all composed by, or associated with, the two unrelated Williams' from New Orleans – Clarence and Spencer. Spencer, the elder, was born in 1888 and Clarence ten years later. Both have written many successful popular songs, but it is as jazz composers that they are best known. Spencer lived for many years in England, in Paris, and when last heard of had settled down in Sweden. Clarence, on the other hand, has never left America; at present he owns an antique shop in Harlem. Spencer has made comparatively few records, while those for which Clarence was responsible run into many hundreds. You Don't Understand is a collaboration between the two Williams' and James P. Johnson, one of the doyens of the Harlem school of jazz piano. The number was written in 1929, and is in the form of a conventional thirty-two bar popular song.
Tishomingo Blues, named after a Southern township, was first recorded in 1928 by Duke Ellington and his Cotton Club Orchestra. The melody is in the blues idiom, though it does not follow the traditional twelve-bar form.
In Wild Cat Blues we have an example of Sidney Bechet's work as a composer. He recorded this number as a member of Clarence Williams' Blue Five in 1923.
Ugly Child was written as a parody by George Brunis, pioneer white New Orleans trombonist, on a song composed by Clarence Williams in 1916 – Pretty Doll. Ottilie Patterson sings the parody with tongue-in-cheek humour.
Everybody Loves My Baby has been a standard vehicle for jazz bands and commercial groups alike since it was written in 1924 and first recorded by Clarence Williams' Blue Five, with Louis Armstrong and Sidney Bechet.
Careless Love has its origin in Southern folk music and was first notated by Spencer Williams, who remembered hearing it as early as 1896 in Birmingham, Alabama, sung by a white washerwoman hanging clothing on a line. Careless Love is also known by the title Loveless Love which W. C. Handy bestowed upon it when in 1921 he published the song, adding a verse and fresh lyrics.
Clarence Todd was a coloured cabaret artist who often recorded with Clarence Williams during the mid-'twenties, sometimes under the name of Singin' Sam. Between them, they wrote Papa De-Da-Da and Eva Taylor, Mrs. Clarence Williams in private life, recorded it with lyrics about a handsome ladies' man from New Orleans. The Barber Band offer it in non-vocal form, but pay homage to its composer by concluding with the syncopated three-note phrase with which Clarence Williams' own version ends.
Lastly, High Society, which illustrates the Barber Band's flair for stirring marches. Porter Steele, a white musician, originally composed it in 1901, and it has since been played on record by almost every kind of combination. It has also been credited to such divers composers as Louis Armstrong, Armand Piron, Jelly Roll Morton and Clarence Williams, all of whom have written arrangements on the original march theme. It follows the pattern of John Philip Sousa's marches of the turn of the century, with a beautiful trio theme which has become a test piece for clarinetists.

Chris Barber's Jazz Band with Ottilie Patterson: Echoes Of Harlem (1955)
Notes by Brian Rust
Pursuing their policy of presenting to the discerning jazz enthusiasts old and new numbers played freshly and originally within the normal concept of the term "traditional jazz", Chris Barber's Jazz Band here offer eleven songs associated with Harlem in the 'twenties and early 'thirties.
Firstly, Doin' The Crazy Walk is a very little-known early composition by Duke Ellington. So far as can be traced, this is the first recording of the number ever made, for even the Duke himself never committed it to wax. It comes from the same period as such lively stomps as Stevedore, Double Check and Shout 'Em Aunt Tilly, and has a good-time rent-party sound about it.
Next, the better-known hit tune from the show "Blackbirds of 1928", with music by Jimmy McHugh and lyrics (not sung here) by Dorothy Fields, Baby. This has been recorded by, amongst others, Adelaide Hall, Ethel Waters and Lillie Delk Christian, the latter being accompanied by Louis Armstrong and his Hot Four. Pat Halcox is the featured soloist in this version, a special characteristic being the beautiful shading of his playing from pianissimo to mezzo-forte.
Following the almost wistful sound of Baby, we have another lively number by the same team of composers – Magnolia's Wedding Day. This is the first recording ever made in England, so far as is known. Although a show tune of the period, it has not staled with the years, a sure test of a good song.
Dixie Cinderella, which is a showcase for Monty Sunshine's inventive clarinet playing, is a hitherto unrecorded early number by the team that gave us Black and Blue, Ain't Misbehavin' and other tunes from the Harlem revue "Connie's Hot Chocolates" – Thomas "Fats" Waller, Harry Brooks and Andy Razaf. Chris Barber plays bass on this, and has a solo to demonstrate his skill. Notice his adherence to the melody line, which as usual with this group of composers, is strong and appealing.
Side One concludes with the first appearance on this disc of Ottilie Patterson, the brilliant blues singer from Northern Ireland. The New St. Louis Blues contains some somewhat little-known lyrics, to which Pat Halcox provides a moving obligato, and Monty Sunshine seems – without copying at all – to have Larry Shields in mind, for that pioneer white New Orleans clarinettist cast his 1921 recorded solo on this number in a similar mould.
Another vigorous Fields-McHugh collaboration opens Side Two. This is Here Comes My Blackbird, again hitherto unrecorded. Many of these Blackbird songs were written for the late Florence Mills, whose tragically early death at thirty-two in 1927 robbed the stage of one of its most attractive personalities.
Can't We Get Together is another Waller-Razaf production, though neither of them ever recorded it. Lonnie Donegan drops out for this version, the first in England, and everyone in the front line has something to say.
There have, of course, been literally dozens of records of I Can't Give You Anything But Love since its first appearance in 1928, along with Baby, in Lew Leslie's "Blackbirds of 1928". Among these was one by Adelaide Hall, accompanied by "Fats" Waller at the organ; there have been others by singers and players of every colour and nationality, from Duke Ellington and his Orchestra to Seger Ellis, of the high tenor voice, supported by Tommy Dorsey, Eddie Lang and others. This present version is a model of restraint. Ottilie Patterson reappears for a chorus and a half, singing with something of the style of Adelaide Hall, its creator.
One of the most interesting features of Sweet Savannah Sue, which follows, is the neat lead-in to his solo by Chris Barber. A single note repeated several times presages a finely-constructed half-chorus. This number, composed by "Fats" Waller in 1929, and recorded by him as a piano solo, as well as by Louis Armstrong, and other, lesser men, is seldom heard today. Even "Fats" himself had forgotten it when Hugues Panassie requested him to play it one night in Waller's apartment.
Porgy, dated 1930, is yet another Fields-McHugh melody, played here as a solo for trombone by Chris Barber. Ethel Waters sang this delightful number when it was first published, and the leader's horn here echoes the lyric quality of Miss Water's voice.
The selection concludes with Diga Diga Doo, the third number from "Blackbirds of 1928" (by Fields and McHugh, of course!) a tune which was originally part of Duke Ellington's repertoire of that period.
It is customary in some circles nowadays to shake an admonishing finger, as it were, at the manners and modes of the late 'twenties; but as this set shows, it was a period exceptionally rich in good tunes that time has dealt with lightly.

Chris Barber's Jazz Band: Chris Barber Plays, Volume 2 (1956)
Notes by Brian Rust
With Chris Barber's Jazz Band firmly installed as a popular fixture in the British traditional jazz field, comment about its history becomes superfluous, so let us consider the music presented on this disc.
Our opening number, Whistlin' Rufus, is one of the oldest tunes in the Barber repertoire. It was written in 1897 by Kerry Mills, a white composer of popular marches and cakewalks such as At A Georgia Camp Meeting and Red Wing. It had a great vogue in late Victorian and Edwardian England, long before the arrival here of Tin-Pan Alley's conception of ragtime. The great banjoist Oily Oakley recorded it in London in 1903 to the piano accompaniment of Landon Ronald, but by its nature it lends itself to treatment in the jazz idiom, with comparatively little solo work, relying more on ensemble passages to give the period flavour of an old-time dance band.
Big House Blues is one of the lesser known numbers associated with Duke Ellington, whose band recorded it in 1930 under the pseudonym of "The Harlem Footwarmers". It is a slow, moody, rather eerie piece in the idiom of The Mooche; Pat Halcox plays a growling muted cornet solo following the lead given by such masters of the style as Bubber Miley and Cootie Williams, and Monty Sunshine sounds very much like Barney Bigard, who was Ellington's clarinettist on the Duke's record.
The tune April Showers is usually associated with the late Al Jolson, who first introduced it in his show "Bombo" in New York in the autumn of 1921. It became a hit at once, and has passed into the category of standard popular numbers following several recordings by Jolson himself and by numerous dance bands such as Paul Whiteman's. It is very rarely heard as a jazz vehicle, however, and each member of the front line has a long solo in which to work improvisations that are really fresh.
One Sweet Letter From You was composed in 1927 as another popular tune, this time by Harry Warren, hero of hundreds of melodious and catchy numbers from Pasadena in 1924 to September In The Rain in 1937, and many more before and since. Kate Smith and Sophie Tucker each recorded it, each accompanied by a Red Nichols group, and there were again hosts of good, bad and indifferent straight dance versions at the time when it was a "plug" number. In 1945, the great New Orleans cornettist Willie "Bunk" Johnson made another recording, without lyrics, and since then it has been adopted as a standard jazz piece by traditional bands the world over.
Monty Sunshine is the soloist in his own charming Hush-a-Bye in which, accompanied only by banjo and string bass, he plays effortless variations on a most attractive melody. Though tender and sweet, it never cloys; it has sentiment, but no sentimentality.
Lastly, We Shall Walk Through The Valley is a traditional spiritual sung by Dick Bishop, one of the members of Lonnie Donegan's Skiffle Group. It begins slowly and in a sweetly sad strain, but after a few bars the band strikes up with a rousing march, which suggests that the number was originally one of the "funeral parlour" repertoire like Oh, Didn't He Ramble! Its simplicity and directness are worth a hundred wordy sermons.

Chris Barber's Jazz Band: Chris Barber Plays, Volume 3 (1956)
Notes by Brian Rust
Here is the fourth album of numbers from the Chris Barber book. Since the departure of Lonnie Donegan, the original banjo and guitar player, Dick Bishop has taken his place, and Dick Smith now plays bass instead of Mickey Ashman. Otherwise, the ingredients are as before.
Thriller Rag is an early number, sometimes credited to one May Auferheide. It has a beautiful archaic melody of which the band makes the most. There are scores of ragtime numbers like this, dating back beyond the turn of the century, which seldom receive attention; it is thus particularly to the credit of the Barber band that they include such material in their repertoire.
Texas Moaner is a 1924 composition by a rather obscure New York blues artiste named Fae Barnes, who recorded for Paramount during that year. She did not record this number, so far as is known. Laura Smith did, however; also Eve Taylor – the latter in the august company of Louis Armstrong and Sidney Bechet. It is an attractive blues theme.
Sweet Georgia Brown, a Tin Pan Alley creation of 1925, has always been a favourite jazz standby. Ben Bernie gets credit for having written it, and he recorded it with his Hotel Roosevelt Orchestra at that time, with Jack Pettis, late of the New Orleans Rhythm Kings, in the reed section. On this recording Chris Barber is featured solo, with much of the shouting timbre of a J. C. Higginbotham in his phrases.
Mention of Jack Pettis brings us to Bugle Call Rag, which Pettis recorded with the original Friars Society Orchestra in August, 1922. (He later made another version, in May, 1929; both were labelled Bugle Call Blues.) Since those early days, it has been the victim of every commercial bandleader's whim, notably Harry Roy's, and has also been attempted by other entertainers from cinema organists to mouth-organists. It is good to hear it well-recorded by an intelligent jazz unit. Note especially the three voices of the front line in the coda.
Sidney Bechet, composer of a hundred attractive melodies, has, in Petite Fleur, a true Creole tune, one of his happiest inspirations. Monty Sunshine acknowledges the composer gracefully, and there is a neat bridge passage for Dick Bishop's guitar, sounding rather like a zither and lending a wistful air to the performance.
The last number dates back to 1921. Wabash Blues, quite a creditable commercial blues, is another long-established favourite in the jazz repertoire. It was used as a theme tune for a New York production of the period, "Rain", and has been recorded by a gamut of bands, from the Benson Orchestra of Chicago to the Charleston Chasers.

Chris Barber's Jazz Band with Ottilie Patterson, Johnny Duncan and the Skiffle Group: Chris Barber In Concert (1956)
A blisteringly hot day in early summer; the trees in the Thames-side meadows shimmer in the haze; couples lolling on the warm grass by the towpath seem transfixed by the heat – or is it by the sight and sound of the steamer cruising upriver from Richmond, with two jazz bands beating it out on the scorched planks of the fo'cstle deck, half a hundred dedicated fans jiving on the poop and two hundred more dancing frenziedly amidships?
It is 1949. The London Jazz Club is indulging in Britain's first-ever "riverboat shuffle". And in the steamer's cockpit a freckled, straw-haired boy nervously raises a trombone to his lips, preparing to blow his first-ever note in public. Jazz on the river seems as daring and romantic to him as it does to the towpath couples under the beating sun; none of them realise that, in seven short years, jazz music will have come to be so universally accepted in Britain that it will occasion no comment if the biggest draw of all in the concert world should be – a jazz band. Certainly the freckle-faced boy, an actuary-in-training at an insurance company, has no idea that he will be the leader of such a band. Even though his name is Chris Barber.
And yet, when this LP was recorded, at a Royal Festival Hall concert in December, 1956, Barber actually was leader of the biggest musical draw in the country – a band so successful that, in the course of its nation-wide one-night stands, its Sunday concerts, its radio and TV and jazz club appearances, it had displaced the famous swing bands, the palais orchestras, the Latin-American groups, the traditional jazz units and all other opposition in the fight to win the public's esteem!
The links between Chris Barber, the diffident son of a statistician and a headmistress, who first played in public on the river in 1949, and Chris Barber the successful bandleader, a household name and owner of three expensive sports cars in 1957, were forged in the fire of enthusiasm kindled that sunny afternoon when Chris found himself blowing in the company of such famous jazzmen as Humphrey Lyttelton, Wally Fawkes and the members of the Dutch Swing College, all of whom were guesting on the riverboat shuffle.
It was very shortly after this, to quote Chris himself, that "my interest in jazz got the better of my mathematical concentration – and the insurance firm and I decided to part company..."
With Ken Colyer and Lonnie Donegan (both of them Show Business notabilities, too, today) he formed a band with the traditional two-trumpet lead employed by the late and great Joe "King" Oliver in the days of the beginnings of jazz. With this group, unashamedly based as it was on the New Orleans style of the early twenties, Barber went into intensive rehearsal in the winter of 1949, making his first public appearance as a leader in a jazz band contest run by the National Federation of Jazz Organisations at London's Empress Hall in the Spring of 1950. Six months later, he opened his own jazz club, named – and it is self-evident that he was still on a violently pro-Oliver kick! – the Lincoln Gardens Jazz Club…
Thus, for three years, he progressed – until, in March, 1953, broadened somewhat in taste, he broke the band up, immediately forming another, distinctive in that it used no piano, with the help of the clarinettist, Monty Sunshine, and trumpeter Pat Halcox. A co-operative venture like the former group, this band differed in that it hoped to turn fully professional and make a living out of jazz. Surprisingly, it made the grade – but in so doing, lost the name of Barber as leader, Pat Halcox standing down in favour of Ken Colyer and the latter taking over the leadership by virtue of his drawing power as a man who had actually been to New Orleans and played there!
For a year, the band prospered under Colyer's lead, and then he and Halcox switched a second time – the leadership again reverting to Barber. Since then it has remained practically unchanged – with one very important exception. An exception named Ottilie Patterson.
Since the band first heard the astonishing singing of this ex-art teacher from Ulster in August, 1954, when she was holidaying in England, since they first implored her to join them on the same night, Ottilie has won for herself a permanent and unshakable niche in the affections of the British jazz and Variety public by the authenticity and emotional impact of her fabulous blues singing.
Together with the Barber band, today she enjoys a successful routine as one of the country's top attractions of all time – a routine embodying two dates at London clubs, one day off, and four out-of-town dates each week.
This LP, marking the third Anniversary of the present Chris Barber Jazz Band, brings you, the listener, a typical example of one of these dates: with the exception of a couple of skiffle pieces, here is a whole concert captured on disc – a living example of just what good British jazz can be, and why the Barber brand of it, in particular, is so intensely successful all round the country…

Chris Barber's Jazz Band: Chris Barber Plays, Volume 4 (1957)
Notes by Brian Rust
Here is another representative cross-section of the Chris Barber Band output. As you will see, there are two selections by Monty Sunshine alone with the rhythm, and two featuring Ottilie Patterson. Out of the total of seven titles, three are sacred music, yet even the sternest theologian could hardly take exception to the tender simplicity of Old Rugged Cross, that favourite nineteenth-century hymn, played as Monty Sunshine does here. With only the slightest variation on the melody he transports it from being just another song of praise to being a reverent musical experience.
When the Saints Go Marching In is far too often heard pounded out at a viciously monotonous tempo, but here, complete with lyrics that give meaning to the performance, we have as fine a version of this enormously popular jazz favourite as has ever been heard. No-one knows exactly when it originated; the Kentucky hill-billy singers Frank and James McCravy have laid claim to this, but the truth will probably never be known.
Just A Closer Walk With Thee is a true Negro spiritual, brought to our notice first by George Lewis, the veteran New Orleans clarinettist. Here again, we have a relaxed, slow tempo with lyrics sung as sincerely as anyone could wish, with a doubling-up of tempo to finish with.
Of the secular numbers, the Barber band produces a composition of originality and charm in Pound of Blues. Slightly Ellingtonian, with the merest suggestion of modernism, this is one of the few examples of how jazz can sound fresh and new within the so-called "traditional" framework. (It really is about time we stopped labelling our jazz music, or at least, that we applied the correct labels. Surely the truth is that music is either jazz or it's not, and if it's jazz, then it's either good or bad jazz. This is a good jazz, and it can safely be left at that. It sings, it swings, it has all the oft-quoted Morton ingredients and yet it does not sound as though it had been raked up from the remote corners of some museum.)
The two colossi of what, if we are to keep labels, should be termed "mainstream" jazz, King Oliver and Louis Armstrong, were each responsible for one of these two numbers: Olga (introduced by Oliver in 1930) and Bye and Bye (introduced by Armstrong in 1939). Olga was originally recorded by Joe Oliver in May 1930, and has not been re-made by anyone since. It is offered here with a suggestion of the Duke, as well as the King; a fine relaxed piece of jazz, like Oliver's own.
Then we have When You And I Were Young, Maggie. Originally a rather morbid drawing-room ballad of the type that enjoyed a great vogue during the 'seventies and 'eighties of last century, it must have been attempted by countless singers, singly and in duets, trios and quartets in the intervening years, until Mezz Mezzrow smartened it up and showed the world in 1938 what a potent bit of jazz it could be. Monty Sunshine's version is nothing like the original presentations, of course; he examines the theme from all angles, never runs out of ideas and never bores the listener. Which may be safely said of this entire presentation.

Chris Barber's Jazz Band with Ottilie Patterson: Chris Barber In Concert, Volume 2 (1958)
Notes by Les Page
The scene is Birmingham, January 31st, 1958, and the enshrouding fog and bitter cold make a chilly welcome for the traveller on his way to the Town Hall. There, however, the enthusiasm of the waiting crowds help one forget the distasteful weather. The Chris Barber Jazz Band is again at the Town Hall, where we witnessed the first public jazz concert in this country a decade ago. Since then the capital of the Midlands jazz scene has welcomed Sidney Bechet, Eddie Condon, George Lewis, Big T, the M.J.Q. and Sister Rosetta Tharpe – the latter alongside the Barber Band, as well as British groups of national and local repute. And the audience has always been enthusiastic; occasionally demonstrably so!
Nearly a year ago I wrote in "Jazz Music" that the jazz band of Chris Barber can sell out any provincial concert-hall, so great is the demand by audiences outside London. My words were no less true on this present occasion and again it was "House Full". It is the same for Barber's appearances in other Midland towns, whether in concert halls, Sunday theatre dates at Smethwick and Dudley, or at the University's Jazz Band Ball.
Apart from the undoubted all-round technical ability of the Barber Band, I am convinced that much of their popularity is due to Chris's attention to details of presentation and to variety in programme planning. In other words, there is a balance between ensemble playing in the New Orleans tradition, and solo treatment of selected numbers which affords the opportunity to identify the characteristics of the individual musicians.
From their signature tune, Bourbon Street Parade, the band get away to a fine start with Kid Ory's famous Savoy Blues – often played but not before recorded by Chris Barber's Jazz Band.
And then Ottilie Patterson ... on this, her birthday to give us Moonshine Man and the beautiful Lonesome Road. Recently a German critic of repute called Ottilie "Europe's best female interpreter of the Blues", and we feel that after hearing her on this record the listener will agree.
Each of the front-line trio is featured on this record. Monty Sunshine plays an old music-hall song of years gone by, Bill Bailey Won't You Please Come Home, which compares well with his better-known versions of tunes associated with Sidney Bechet and George Lewis. Monty's claim to be Britain's No. 1 trad clarinettist is firmly staked. Pat Halcox gives us You Took Advantage Of Me, a popular solo which must confound those who belittle his progress and prowess. Then Chris Barber plays Sweet Sue as a solo for trombone and rhythm with the audience clamouring for more.
There have been numerous recordings of jazz concerts held in London halls. Indeed, Chris and his Jazz Band appear on Nixa with a Festival Hall recording made in December 1956 under the title "Chris Barber In Concert" (Nixa NJL 6), but this is the first time that jazz from a Provincial concert platform has been made available to the wide public on a major label, and it is fitting that it should be Chris Barber's fine swinging outfit, so popular with Provincial audiences, that bears the banner!

Chris Barber's Jazz Band: Chris Barber In Concert, Volume 3 (1958)
Notes by Derrick Stewart-Baxter
The popular entertainer, the best-selling novelist and the latest hit from Tin Pan Alley usually have one thing in common … none of them are as good as the publicity agents would have us believe. Thus when one finds a jazz band whose records are in great demand and whose concert appearances, both in this country and abroad, are sell-outs, one becomes suspicious. The jazz fan who has not heard of Chris Barber's band (if such a person exists!) would be justified in asking: "Popular with the general public – where's the gimmick?" Furthermore, he would be unconvinced if he were assured that Chris has no gimmick, unless one counts a great enthusiasm for jazz and a sincere belief that good music well played can attract the public.
The band base their music on the New Orleans pattern, around which traditional formula they have evolved a very personal style. Melodic and swinging, the group can be recognised the moment they commence playing. In a day and age when copyists are everywhere, Barber deserves full credit for originality. The front line possesses three most interesting soloists: Pat Halcox, trumpet, Monty Sunshine, clarinet, and Chris himself on trombone. This, coupled with a solid rhythm section, makes the Barber brand of jazz a very happy sound.
This L.P. is a memorable one for all Brighton enthusiasts for it is the first time a jazz concert has been recorded on the historic and world-famous Pavilion Estate (of which the Dome forms a part) conceived by John Nash at the request of the Prince Regent (later George IV). The Dome concert hall, originally part of the Royal stables, seats 2,100 people, is acoustically perfect and one of the most luxurious on the south coast. On this particular night the vast auditorium was packed with a most enthusiastic audience and the band was in wonderful form. "It was just one of those nights when we all felt good", remarked Pat Halcox afterwards.
A glance at the tunes will show just how varied is the band's repertoire – blues, marches and jazz standards, all are within the Barber field, and all come in for individual treatment. Ottilie's songs, for instance, include a spiritual – Strange Things Happen, a jazz classic – Pretty Baby, and two blues songs – Georgia Grind and that beautiful number, Careless Love. Miss Patterson has been praised by such great blues singers as Big Bill Broonzy, Brother John Sellers, Brownie McGhee and Sonny Terry, and it would not be an exaggeration to say that she is one of the very few white singers who can sing Negro folksongs without causing acute embarrassment to the listener. That such a rich and colourful voice should come from such a petite and retiring person is a constant source of wonder.
The band's contribution to this record reveals them at their best; the Dome has always been one of their favourite dates. Opening the programme with Bugle Boy March, an old favourite of New Orleans marching bands, the boys next give us a charming version of Wilbur de Paris's composition Majorca. The first half of the concert ended with a swinging version of Duke Ellington's Rockin' in Rhythm. Those who were at the show will be delighted to find it included here. My Old Kentucky Home is the famous old song by Stephen Foster – a very different version from the original! The concert finished with that good old standby Mama Don't Allow. This is a rousing rendition with Chris singing the well-known lyrics.
I like to think that if the ghosts of the Prince Regent and Madam Fitzherbert were wandering around the Dome on this particular night they, too, were tapping their feet and nodding approvingly to this gay and carefree music.

Chris Barber's Jazz Band with Sonny Terry and Brownie McGhee: Sonny, Brownie And Chris (1958)
Notes by Paul Oliver
"In our Skiffle groups we tried to play the folk music of the American Negro. Here are two of the great folk and blues artists who created the music we were attempting," said Chris Barber as he introduced to packed halls throughout Great Britain a smiling, light-skinned Negro who walked with a limp, and his tall, darker, blind companion: Brownie McGhee and Sonny Terry. Possibly only a small proportion of those responsive audiences were really familiar with the work of his two guests and none could have foreseen the thrilling experience that their music and song was to provide. A score of years of close partnership which has brought them from the dust roads of North Carolina to the bright lights of Broadway has enabled them to achieve an incomparable personal and musical harmony in which the simplicity of their folk origins has been retained whilst their techniques have been perfected. No one who heard them in person will forget Sonny Terry's crying, wailing, singing harmonica, his fluttering fingers and cupping hands, his whoops and hollers as he played and the sudden smiles that lit his otherwise impassive dignified features. Nor will they forget the disarming dexterity of Brownie McGhee's finger picked guitar work at once rhythmic and melodic, that warmth and feeling for his music which was expressed in every movement that he made.
Sanders Terrell -- SonnyTerry -- was born on his father's farm in Greensborough, Georgia on October 24th, 1911. His father played harmonica and Jew's harp and taught him to play these instruments, an education which was to stand him in good stead when two accidents when he was eleven and sixteen years of age rendered him almost completely blind. As a child he used to sing in the Hester Grove Baptist Church -- rocking Gospel Songs like This Little Light of Mine, and these he played on his harmonica when he begged in the streets. He worked in medicine shows, attracting the crowds with his singing and playing and with his "Buck and Wing" dances which he can still be persuaded to perform. Then in 1933 he joined the famous Blind Boy Fulleer -- Fulton Allen -- a folk guitarist and blues singer who worked the Carolinas in the company of George "Oh Red" Washington whose spirited washboard playing is to be heard on many of his records. Fuller had a varied repertoire which included I Want Some Of Your Pie, a blues which Sonny adapted as Custard Pie, his favourite song. The owner of a Durham department store J. B. Long acted as Fuller's manager and secured for the musicians a number of recording dates. News of J. B. Long reached Brownie McGhee via his harmonica player Jordan Webb and the two musicians finally met in Burlington in 1937.
Baptised Walter Brown McGhee, Brownie was born in Knoxville, Tennessee on November 30th, 1915, the son of a farmer and levee worker. An attack of polio at the age of four affected the growth of his right leg and the partial incapacitation caused him to devote much of his time to the piano and the guitar, which he played at the Solomon Temple Baptist Church in Venore, the township where he went to school. Later he sang in the Sanctified Church and in the Golden Voices Gospel Quartette: spirituals like Glory and If I Could Only Hear My Mother Pray Again which latter he was to record as by the Tennessee Gabriel. Leaving school after Ninth Grade he decided whilst still in his early teens to earn his living by playing and singing. In Minstrel Show and Carnival, roadhouse and juke he performed, wandering from Tennessee to Virginia and the Carolinas, adding blues-ballads like Betty and Dupree (Diamond Ring) to his rich store of folk songs and blues. When he met Sonny Terry and Blind Boy Fuller he was a folk singer of repute in spite of his youth.
Fuller died in 1941 but by this time Brownie and Sonny had joined forces. Both moved to New York; Sonny to participate in the December 1938 "Spirituals to Swing" concert, Brownie to visit his mother. Both lived in close association with the great Leadbelly, worked together and in the company of such blues artists as Buddy Moss and Champion Jack Dupree, appeared at concerts and folk song festivals and performed together or separately in stage productions including "Finian's Rainbow" and "Cat On A Hot Tin Roof". The maturity of their partnership is well demonstrated on Key To The Highway on which they play the form of blues that they have introduced to countless thousands of people through the years.
They are not jazz musicians, but it was Chris Barber's Jazz Band that enabled them to bring their music to British audiences and it is fitting that the band should provide the accompaniment on this, their first British recording -- a record which will serve as an excellent introduction for those jazz enthusiasts who have yet to explore the rich field of Negro folk songs.

Chris Barber's Jazz Band: Chris Barber Band Box, Volume 1 (1959)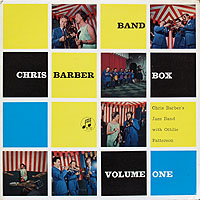 Chris Barber, together with his Jazz Band and singer Ottilie Patterson, forms one of the phenomena of post-war Show Business. Playing a music that, ten years ago, was considered by the bookers lucky to have an audience numbered in hundreds, he leads today a band which has proved itself the biggest musical draw in Britain. Having displaced the big swing bands, the Latin-y locals, the treacle-tuned dance bands and all other hot groups in the battle to win the public's favour, the Barber band proceeded, in 1957, to sell in this country the equivalent of close on a million 78 rpm discs. At the beginning of 1959, the band's record of Petite Fleur – a clarinet speciality featuring Monty Sunshine – had alone sold more than this number of copies, after roosting in the German Top Ten and fighting its way up to No. 2 in the fiercely competitive American Top Hundred sellers, besides getting into Britain's top five pops. Not bad going for a traditional trifle making no concessions at all to commercialism!
In Britain, the band is assured of a sell-out whenever it appears at clubs, concerts or dance halls, and of maximum audience reaction at every radio and TV "Exposure". Chris and Ottilie, as solo guest stars, were invited to Denmark in 1952 and Holland in 1955 respectively – and the band as a whole enjoyed enormous success in tours of Denmark in 1954 and 1958; of Holland in 1956,1957 and (twice) in 1958; of Sweden in 1958, and of Germany in 1958 and again this year coincidentally with the issue of this record. In addition, an immensely successful American tour of major dates in February and March of 1959 made it only the second band (and certainly the first ever traditional jazz group) to reverse jazz history and make the East-West Atlantic crossing!
What, then, is the formula for this success? How has what was once a minority appeal music come to be so formidable a force in the entertainment world?
One vital quality made this possible. Enthusiasm! Enthusiasm it was that inspired Chris Barber to form his first band in 1949, when he was still an apprentice actuary with an insurance company. It was fiery enthusiasm that drove him to give up his safe career in the City and turn professional musician to play the King Oliver music he so much admired; that permitted him to go through an agonising reappraisal and disband that first successful group because, in the end, he found the rigidities of strict New Orleans style too confining; and that enabled him to form another which, through many ups and downs, finally boosted him and his music to the position it holds in the business today.
It was the same quality of excited awareness that encouraged him to take on, in 1954, the then unknown singer from Northern Ireland, Ottilie Patterson, with the unshakable conviction that she would (as she did) soon win for herself a star position with the emotional impact of her singing. And it was enthusiasm again that prompted Chris to pioneer in this country the production of long-playing records taped "live" from concert appearances – so that the disc buyers could share with the audiences in the theatres that urgent immediacy, superb sense of showmanship and sheer creative excitement which is so peculiarly the Barber band's own.
"On this record, as on most of the LP's we ever made", says Chris, "we have tried to strike a balance of all the kinds of music we cover – a canvas that, from the jazz point of view, is as broad as we can find. This enables us to find an outlet for all types of playing, for we don't restrict ourselves to one example of the music: we'll play anything, if we think it sounds nice when we play it!
"The music on this disc thus ranges from 1904-1905 ragtime to 1958 Count Basie work; from early vocal vaudeville jazz to such modernities as John Lewis's Golden Striker. Monty plays a new Sidney Bechet number, Si Tu Vois Ma Mère; we managed to persuade Ottilie to make one of her rare visits to the keyboard to accompany herself on Squeeze Me because we think she plays pretty good piano.
"We put in the old Jay C. Higginbotham-Henry Allen speciality Give Me Your Telephone Number. We play Swanee River (Jive Around Stephen Foster if you like!) and there's even the Mary Martin number from 'South Pacific', I'm Gonna Wash That Man Right Out Of My Hair, in there…"
No trombone specialities? "Not really", says the diffident Mr Barber. "I prefer to get my kicks more on the arranging side. There were some quite tricky problems here. Hot House Rag, for instance, is a transcription from a piano rag to a band piece. So, in its very different way, is Golden Striker. Both of these, as you can imagine, presented some difficulty."
Both of them, however – like every single track on this record – are successful; both go like a bomb; both swing; both are entertaining ... and both display, in nicely judged proportions, that verve, élan, zest or what you will, which, coupled with its unerring sense of jazz rightness, makes Chris Barber's Jazz Band deservedly the most popular in the country.

Chris Barber's Jazz Band with Ottilie Patterson: Chris Barber International, Volume 1, Barber In Berlin (1959)
Notes by Brian Nicholls
Just across the road from the point where the grandstands loom over the Avus motor circuit in Berlin; where the roar of engines on the fastest race track in Europe held the Berliners in a grip of excitement at this year's German Grand Prix, stands the Deutschlandhalle – a vast stadium cum concert hall. Here it was that these recordings were made. I describe the Hall's position as Chris Barber describes it, not as in the normal city guide. Whereas you or I might give directions using pubs as landmarks, Chris orientates himself by means of the nearest motor racing circuits. And he confides sadly that the band was in Berlin only for a concert – and not the motor racing – on this memorable one night stand.
The Deutschlandhalle is rarely filled, for it seats a comfortable 12,000; yet for this night it was sold out completely in advance; and the audience included 3,000 East Germans who had crossed the border to see the band. The huge oval loftiness was filled with a suppressed and intense excitement as the start of the concert approached. In the vast central arena space, the seats filled quickly, and in the high banking to the roof, a sea of faces focused on the diminutive stage. Behind the scenes, Chris, imperturbable as usual, changed and warmed up and cracked schoolboy jokes with the rest of the band. Out front, another Briton who had travelled to Berlin for the concert was anything but unperturbed. Joe Meek, the balance engineer, had problems. Because of the size of the hall, the setting up of a detached, off-stage recording studio would have necessitated over 300 yards of cable for each microphone and a lack of contact with events on the stage that would have made serious recording impossible. A snap decision was made, and Joe and Peter Willemoes took over four seats alongside the stage, hoping to balance by ear and capture the atmosphere from a seat in the stalls. Their worries were increased by the fact that no rehearsals were possible – for one of the attendants had seriously damaged Dick Smith's bass carrying it through the hall, and the period set aside for rehearsals had been occupied by a frantic search for replacement of the instrument.
The appearance of the band on stage, and the roar of welcome that opened the show was therefore a moment of some apprehension for Joe Meek. But the measure of their success can be judged from final recording quality. Joe comments only that he ended the evening with the worst (technical) headache yet known in the history of mankind! Probably the atmosphere of the occasion seeped through the floors and walls of the concert hall to the band's changing rooms, for they opened the concert with a punch and intensity that usually comes only after a tentative warm-up number. Climax Rag came romping into the Deutschlandhalle with a sudden and unexpected impact that unified audience and band from the first few bars.
From that moment, the hall came alive, and every number lifted to a peak. As Chris admitted later, "The second half of the concert had to be an anti-climax by comparison. It all happened before the interval, when everything we tried came off and each number was full of those small moments of rapport that usually come only a few times in a session".
What you will hear on this disc is an almost complete transcription of that memorable first half – with the stark simplicity of Ottilie's unaccompanied start to Easy Easy Baby; the beauty of the chimes in King Oliver's classic piece; the tremendous rocking beat of Gotta Travel On; and, above all, the dynamic playing of Pat Halcox. This was the "on-est" of his "on" nights, and he emerges here as an exceptional trumpet player by any standards.
I think you will enjoy this disc, for it captures the heat and emotion of a tremendous concert. Apart from this, however, it is the latest recording of Chris and his Band at work. In a group where the standards are continually rising and where improvement is a natural joint endeavour, the latest recording is synonymous with the best to date.

Chris Barber's Jazz Band: Chris Barber Band Box, Volume 2, Elite Synopations (1960)
Here is the foundation of all Ragtime. Here is the genius whose spirit, though diluted and polluted, was filtered through thousands of cheap songs and vain imitations which have done much harm to the reputation of the real classic Ragtime.
These numbers are the American Creation and the marvel of musicians in all civilized countries. They are NOT NEW and they NEVER will be OLD. The oftener they are heard the better they are liked.
SIDE ONE
SWIPSY CAKEWALK (Joplin & Marshall) — Fine. But don't take our word for it. Hear it.
BOHEMIA RAG (Lamb) — Inimitable. The melody glides through a labyrinth of harmony with a surprise at every turn. A classic.
ELITE SYNCOPATION (Joplin) — The syncopations in the last part are actually frenzied.
COLE SMOAK (St. John) — Cole Smoak is a positive inspiration. Human language is not equal to the task or painting the interior thoughts of the soul. It is also certain that all souls do not slake their thirst from the same fountain. This number appeals to the writer in language unutterable. Would be pleased to hear from any who have heard the echo.
ST. GEORGE'S RAG (Barber) — This is a fancy flight of a cultured musician into the realm of popular taste. He has hooked the rabble wagon however to a star and moved the procession toward a higher peg. It is to your credit if you like St. George's Rag.
SIDE TWO
THE PEACH (Marshall) — Nothing finer. Intelligent and snappy.
THE FAVORITE (Joplin) — No abatement of demand. There will be a temporary stop to its sale when every family in the civilized world has a copy.
REINDEER RAG (Lamb) — Corrugated to a finish. Exhilarating.
THE ENTERTAINER (Joplin) — Joplinese and eccentric. Away up.
GEORGIA CAKEWALK (Mills) — Profound as Beethoven and thrilling as a country fiddler. Compared to others, like an oasis in a dreary desert of piffle.
CHRIS BARBER WRITES:
Ragtime is a musical idiom that was popular between 1895 and 1920 (having no connection whatsoever with a bandleader named Alexander!). It had a very great influence on jazz development but has been sadly neglected in recent years.
We had the honour of visiting New Orleans to give a concert in 1959, and we were fortunate to find a collection of original Ragtime sheet music at Bill Russell's little shop in the French Quarter, thus enabling us at last to prepare and record some authentic Ragtime-style jazz. All the numbers on this LP except Georgia Cakewalk and St. George's Rag come from this collection.
The descriptions of the tunes, the illustration and the panel underneath the title are all taken from the original Stark Publishing Co. sheet music, as is the cover of "Elite Syncopations".

Chris Barber's Jazz Band: Chris Barber International, Volume 2, Chris Barber In Copenhagen (1960)
Notes by Tony Standish
"I'm crazy about that band, that's a wonderful band... those cats wail just like coloured people."
Thus Muddy Waters, expressing an unsolicited opinion on the music of Chris Barber's Jazz Band. Muddy meant it – but there was a note of puzzlement in his voice, as if he could hardly believe that such a thing was possible! After all, Muddy Waters is one of the great blues singers – a Negro from the State of Mississippi whose background is that of American Negro music; to Muddy, as to the Negroes of New Orleans, jazz and the blues came naturally: a unique music created by ordinary people in unique circumstances.
But Chris Barber and his fellow musicians are young, middle-class, white and British. The environment in which they grew up could hardly have been more different to that experienced by the Negro working man in the Deep South. Yet Chris, and thousands like him, have learned to play in the Negro's musical idiom with conviction and authority, and their accomplishments have been recognised by men like Muddy Waters, Paul Barbarin and many other veterans. The folk music of one culture has thus been successfully transferred to another until, not only in Britain but in the entire Western world (and going East fast), the musical styles of the American Negro are functioning in a folk music capacity.
From Melbourne to New Orleans to Copenhagen, the name of Chris Barber has come to symbolize this new-old music – not only to teenagers but to intelligent people of all ages and from all walks of life. Finding little or nothing that speaks to them or for them in mass-produced "popular" music, they have discovered in traditional jazz a music which has simplicity and which deals straight from the heart in honest, direct and wholesome emotions. Joy and sadness are universal and in a world which for the most part has no folk music of its own, but needs one, Chris Barber's blues, stomps, rags and standards have found a willing and enthusiastic audience.
Such an audience is the one which applauds so vociferously here.
That everyone who gathered in Copenhagen's K.B. Hall on March 1st, 1960, was enjoying himself is immediately obvious from the fire and vigour of the music and the quick, responsive roars of approval from the fans. Beginning with the fast-paced Market Street Stomp and continuing through the meditative and brilliantly expressive Blue Turning Grey until the last rollicking strains of High Society, one can sense a feeling of rapport between performers and listeners – an atmosphere of give-and-take which is seldom achieved in the formality of a recording studio. The musicians are relaxed, and what they are saying is being heard, so they say it vehemently, with more conviction than they might otherwise command.
Pat Halcox is the model lead trumpet – one of the best in the world – balancing perfectly his role as a member of the ensemble against his considerable talents as a solo improvisor. Alongside him, Chris and Monty are satisfying amalgams of a variety of influences, with Ory and Jim Robinson (Chris) and George Lewis (Monty) forming cornerstones on which they have built, adding and modifying, until two individual styles have emerged. And, beneath the front line, the rhythm throbs industriously, propelled by Dick Smith's pumping bass. The end product is a hot, thrilling and, happily, infectious jazz sound – six cats wailing like coloured people ...

Ottilie Patterson with Chris Barber's Jazz Band: Chris Barber's Blues Book, Volume 1 (1960)
Notes by Chris Barber
I've heard the Blues in Mississippi,
Alabama, Georgia, North and South Carolina, Florida, Texas and Tennessee,
But when I heard of Blues in Ireland,
Well that was really news to me,
But the Blues sure do get around,
Oh, the Blues sure do get around,
Yes they even made the scene,
With the Wearers of the Green,
Yes the Blues sure do get around,
...... And here's Miss Ottilie Patterson
Straight from Belfast Town.
Lambert, Hendricks and Ross introducing Ottilie to the audience at the 1959 Monterey Jazz Festival, California.
The Press were equally struck by the incongruous blend of Ireland and the Blues. The San Francisco Examiner captioned Ottilie's photo "The World's Only Irish Blues Singer", while another San Francisco paper enthused on Ottilie's broad Southern States accent. In New Orleans, that same year, the "States and Item" claimed that she could "wail like a New Orleanian". "Yes the Blues sure do get around."
At Muddy Waters' club "Smitty's Corner", at 35th and Indiana, Chicago, the audience shouted for Ottilie to sing with Muddy's Band – a far cry from that students' dance in 1949 at the Belfast College of Technology, when she first heard Teddy Bunn's If You See Me Coming rendered by trombonist "Wild" Al Watt, startlingly dressed in white pants, red and white striped blazer and straw boater. That was Ottilie's first introduction to the Blues, quickly followed by lunchtime tuition in Boogie Woogie piano from Derek "Haggis" Martin – another student at the college. In the deserted club room of the C.I.Y.M.S. (Church of Ireland Young Men's Society) Ottilie absorbed the Blues and learnt the rudiments of Blues piano accompaniment.
Yes they even made the scene with the Wearers of the Green.
When Al Watt and Derek Martin formed a band in August, 1952, Ottilie joined it automatically, for these three were a dedicated trio. To Ottilie, the "Muskrat Ramblers", as the band was called, was a chance to sing only the pure Blues – something for which she had formed a taste during her debut with the Jimmy Compton Band in the previous year. Alas, the demand for jazz was small and the Muskrat Ramblers broke up. Ottilie came to London, Al Watt stayed at home and Derek Martin found his way eventually to San Francisco where he accompanied Lizzie Miles.
In London, Ottilie met Beryl Bryden, who in turn introduced her to the Chris Barber Band.
Yes the Blues sure do get around.
In those early days, Bessie Smith's records were the greatest single influence on Ottilie's singing; but it wasn't long before her own natural feeling for the Blues caused her to turn to the more basic Blues styles of the last twenty years for inspiration. The mood of the Twenties, which Bessie captured so magnificently, expressed itself in an idiom that, in terms of 1961, is anachronistic. A natural love and understanding of the Blues led Ottilie to the idiom of today, but, even in the first months of working with the band, the beloved songs of the Empress of the Blues were given a very personal treatment. The critics who complained that she copied Bessie too closely obviously didn't examine her singing in any depth, or they could hardly have failed to notice the personal inflections and the individual stamp.
The tunes on this LP range in style from the old fashioned majesty of Backwater to the R & B idiom of Ruth Brown's It's All Over and Mama, He Treats Your Daughter Mean.
Blues Before Sunrise is nearly as old as Backwater, yet nearer in origin to the Folk Blues, whilst Kid Man Blues was originally sung by Big Maceo – the favourite pianist of all the early Blues singers; Memphis Minnie wrote Me and My Chauffeur and Can't Afford To Do It – the latter being played here in the style of the Harlem Hamfats – a band led by Minnie's husband, Joe McCoy. Jim Jackson's K.C. Blues gave the world its first recording, in 1930, of many now famous couplets, and Trixie's Blues is, of course, the composition of Trixie Smith. Four Point Blues was specially written by our great friend from Chicago, St. Louis Jimmy, and the set is completed by two originals from Ottilie – Tell Me Why and Bad Spell Blues. Both are dedicated to Muddy Waters, whose singing with his band at Smitty's Corner was such an inspiration to us. A living proof of the immortal vitality of the Blues.

Chris Barber's American Jazz Band (1960)
Notes by Charles Fox
Coals, the Elizabethan proverb assures us, should never be carried to Newcastle. Similarly, so plenty of our contemporaries are wont to argue, it would seem madness to export jazz to America. Proverbs, though, have a habit of becoming outmoded, and this newly-minted paradox (to swop metaphors in midstream) is getting rather tattered. One has only to consider the reception given to British bands in the United States during the last two or three years to see that. What is really rare, however, is for a British jazz musician to visit the U.S. and there – with the full blessing of the American Federation of Musicians – to make records with a band of his own choosing.
Spike Hughes did it back in 1933. So did Nat Gonella six years later. But since then – with the rather special exception of Ken Colyer's private recordings in New Orleans – there has been nothing. Nothing, that is, until Chris Barber produced this album.
"Years ago, when I was listening to the great American jazzmen on record," Chris wrote recently, "I used to daydream about the record sessions I would organise: which trumpet player I'd match with what clarinettist; the rhythm section I would use with various front-lines." And Chris finally got his chance to make this particular daydream come true when he was in New York in 1960, at the end of a successful tour of America with his regular group.
One of his first choices was Sidney de Paris, best known today for his work with the band led by his brother, Wilbur, but in fact a trumpet player of extremely wide experience, a mainstay of the old Don Redman and Benny Carter orchestras as well as a veteran of 1920's small group jazz and star of numerous recording sessions in the 'thirties. The clarinettist is Edmond Hall, a jaunty, almost capricious performer who, for nearly four years, was one of Louis Armstrong's All Stars. More recently a starred player in American club jazz, Hall is another musician who spent most of the 1930's in a big band – in his case, Claude Hopkins' orchestra. Hank Duncan might be termed a lesser-known pianist, for although an active jazzman since the late 'twenties, he has been heard on few records. A vigorous exponent of the Harlem, or "stride" style, he plays consistently well throughout this LP, whether he's taking a solo, backing up Sidney de Paris's singing, or just keeping the rhythm section firmly in hand. Hayes Alvis, on bass, worked both with the Louis Armstrong and Duke Ellington orchestras and, at the time this record was made, was a member of the Wilbur de Paris band. It was Chris Barber's original intention to complete the band by using Jellyroll Morton's old drummer, Tommy Benford. But Benford, it transpired, was up in Boston, so Hayes Alvis brought along Joe Marshall, the drummer who took Jimmy Crawford's place in the Jimmie Lunceford orchestra and who later played with Johnny Hodges' band.
One of the noticeably good things about this disc is the trombone playing of Chris Barber himself. In this distinguished company he slips in some solos that must be as shapely and relaxed as anything he has ever put on record. The whole atmosphere of the music, though, is relaxed; its pattern not really tied to any particular style or period of jazz. The material, too, covers a wide field, ranging from Ma Rainey's See See Rider to the 1930 film tune, Sweethearts On Parade, including en route two examples of Spencer Williams' handiwork: Tishomingo and Baby, Wont You Please Come Home?, the latter written in collaboration with Clarence Williams; and also Down Home Rag, a composition by Wilbur Sweatman, an early Negro bandleader who won some notoriety through his ability to blow four clarinets at one time.
"I think we were all happy with the results," says Chris Barber. "Sidney de Paris even started strutting round the studio as his own 'Second Line' during the playback of Tishomingo Blues. Certainly this session gave me as much pleasure as anything we did on that American trip. But, after all, there's something wonderfully satisfying about turning a dream into reality."

Chris Barber's Jazz Band with Ottilie Patterson: Chris Barber International, Volume Three: Barber At The London Palladium (1961)
Notes by Brian Nicholls
This was a concert where the Band, the audience, the recording equipment and even the theatre (if this is possible) rose to the occasion. The London Palladium holds a kind of mystic excitement within its walls and ice cream-impregnated carpets, an excitement that can inspire or crush a performer. Just which it is to be depends entirely upon the stature of the performer. It is the best, and the most experienced, who overcome their nerves. They are faced by a sea of banked faces, a mental hangover from the advance publicity, and, ultimately, by the shattering efficiency of the technicians whose easy mastery of the huge stage highlights the slightest nervousness. So the Palladium starts one-up!
Accordingly, the decision to hold the Jazz News Poll Winners' Concert there was a tricky one. Poll Winners' Concerts, as a whole, tend to be tricky anyway. After all, jazz is a sensitive art form, hardly encouraged by the demands of a do-or-die "go-out-there-and-prove-you're-the-best" type of occasion.
However, since the Barber band romped home as winners of the Poll, everything was made easier; this, after all, is no ordinary band. At worst it is completely efficient; at best it is superb. And so it was that Phil Robertson, the band manager, opened the concert on Good Friday last. Unfortunately, his attempt to use the "Demon King" Trap was foiled by the management, and he had to come on from the wings! We were standing there with our fingers crossed.
Then, too, Chris had invited Joe Harriott to sit in with the band. This was a surprise and, at first, the sound was even a trifle awkward. Then, suddenly, the front-line parts fell into place. From the viewpoint of someone standing at the back of the stalls – where I was for most of the concert – two numbers stood out. First, there was the duet between Joe Harriott and Ian Wheeler on 'S Wonderful; then there was the full band version of Joe's composition, Revival. 'S Wonderful, I think, brought a realisation of Ian Wheeler's true stature. Matching each other, phrase for phrase, their duet was magnificent, a real show-stopper.
When I wrote the sleeve notes for the Berlin LP, I suggested that it was "Pat Halcox's disc". Well, this, I feel, must be called Ian Wheeler's disc. Yet, on reflection, this seems unfair to the complementary team of star musicians – and especially unfair to Chris. This concert was, after all, a tribute to his sincerity, to his ability. The programme demonstrates the range of his musical ambitions, the targets he has set the band. It also proves the completeness of his success. In fact, as a programme for a Poll Winners' Concert, it could hardly have been bettered. Here is a thorough demonstration of the Band's capabilities. Spirituals such as Lord, Lord, Lord lead to the New Orleans stride of Fidgety Feet, to Ottilie's slow blues, Too Many Drivers, and to the Swing Era 'S Wonderful. Then, through Ellington – Creole Love Call – to Joe Harriott's Revival. This is where Traditional and Modern Jazz really come together.
Looking back on this show, I find myself impressed more and more by the growing maturity of Pat's trumpet lead. Tense, yet quiet, he holds the band on Creole Love Call. But, when he wants to, he can play really explosive solos, full of punchy, dynamic phrases. Then there is Graham Burbidge's bass drum work on Just A Little While To Stay Here. This is the way he heard a street band drummer play when last the band visited New Orleans.
What else need be said?
Oh, yes. The extraneous voices, before, between and after numbers, in order of appearance, belong to Phil Robertson, Chris Barber and Jazz News Editor John Martin. I was the fourth scream from the left at the end of 'S Wonderful.

Chris Barber's Jazz Band with Ottilie Patterson: Chris Barber Bandbox, Volume Three: Best Yet! (1961)
Notes by Peter Clayton
You can learn almost anything from gramophone records: French, weight reducing, how to have a baby, shorthand, dance steps, acting. Even jazz.
For this is the language course we've all subscribed to, knowingly or not. It was from the gramophone that most of us in Britain first understood that it was indeed a language. What we did after that varied with the individual. Spike Hughes was very taken with the early Red Nichols, went on to play and arrange in the Ellington manner and now writes mainly about opera. Harold Pendleton tried to play the drums, but finally settled for running the National Jazz Federation. Brian Rust bought a lot of records and a trombone that he does not play and has now become perhaps the greatest jazz discographer in the world. Some of us stood round recognizing influences, making notes and hoping that it mattered. Chris Barber, and a small handful like him, went the whole hog and learned to speak it not only fluently but idiomatically.
When he first used to rake through the cardboard box full of old 78s (which was then all there was in Charing Cross Road of a shop which is now the jazz record centre of the world), he was a rather shy young man of hesitant speech and acute intelligence. He was an ardent collector then, and has remained one. But in between he has gained enormous musical stature, not as a "phrasebook" copyist, the danger inherent in approaching jazz through records, but as a player of fine sympathies, deep understanding, and a consequent real originality. The band he now leads is a superb unit, stable in its personnel and not a victim of the amoeba-like splitting which makes most of the jazz scene so bewildering to follow (and sometimes unrewarding to hear).
The band is now clearly reaching some sort of a peak in its achievements. It has absorbed the effects of the different phases through which it has passed and is now the meeting ground for a number of styles and attitudes. The elegant precision of ragtime has been mastered; the exultant vigour of Chicago Rhythm-and-Blues comes naturally; Joe Harriott sits in and has a blow; Chris contemplates the addition of a pianist, provided that it's John Lewis; a tinge of the old-style marching band is not forgotten; new colours come in, in the form of a second and third voice from Ian Wheeler, who now adds the soprano to his work on clarinet and alto.
Before this recording, I understand Ian had not played soprano for some time (though I don't necessarily believe Eddie Smith, who said: "Green, it was; and all coming to bits."). Two explanations are current for his neglect of the instrument – one, that he couldn't face the idea of what he thought would be the inevitable "imitation Bechet" comments; the other, that he found it was bad enough dragging two instruments around with him, let alone a third! However it is, he uses it twice on this LP: on If You Can't Be Good, and as featured soloist on Yvette. With a satisfying mixture of delicacy and strength he transforms this slender tune into one of the high-spots of the record. I always feel there is a note of anger in the soprano's voice, no matter who is playing (you don't have to go as far as Sidney Bechet: Charlie Barnet used to blow a very petulant solo on Pompton Turnpike), and it is just this suggestion of suppressed fury that makes this track so much more interesting than the standard, pretty clarinet solos which have been so popular lately.
But the distinctive sound of the band comes not only from variety of instrumentation. It happens also to be built-in, in the form of the remarkable interplay between trumpet and trombone. For Pat Halcox doesn't play an "orthodox" lead, and thus Chris does not put up an "orthodox" trombone buttress. Pat's lead is like no other: it combines great strength with unexpected lightness. Halcox, who seems less to stand there than to be suspended from above like a marionette, blows with a constant lyric joy. I'd call it soul if I thought everybody meant the same thing by the word. Anyway, you can examine it closely on I Can't Give You, for here, softly muted, he plays one half of what is, in effect, a lovely duet for himself and Ottilie Patterson. Anyone sound enough in wind and limb can make a noise, but it takes skill and feeling to produce such restrained lyricism. In the full band numbers, where most trombone players indulge in a sort of privileged shouting from the side, like court jesters, Chris usually plays a warm, singing line – a second strand in a bright thread.
These things, carried on a dancing rhythm section, are what makes the Barber band sound like no other band playing in Britain today. They give it a triple public – those who listen to all traditional bands and can't tell one from another, those who realize that this is a band with its own traditions, and a real jazz public who are not concerned with labelling it. It is thus able to win polls, earn a living, fill theatres, play good music and make LPs. You will enjoy this one.

Chris Barber's Jazz Band with Ottilie Patterson: Chris Barber In Budapest (1962)
Notes by Digby Fairweather
In 1983 Chris Barber – Britain's very own "King of the blues trombone" – has been leading a jazz band for thirty five years. Apply some of his own mathematic skills and you can work out that the same timespan, give or take a year, separated West End Blues and Hello Dolly for Louis Armstrong; East St. Louis Toodle-oo and The Sacred Concert for Duke Ellington. A short lifetime devoted to jazz and an achievement that in the golden days would have been toasted, bannered and fanfared.
It's still a remarkable achievement for a British bandleader who plays nothing but the jazz he loves. Doing that has caused more than a few careers to topple like chimneypots. But twenty years after the Liverpool revolution transformed popular music, Barber still fills clubs and concert halls, diligently illustrates every step of his musical progress on record, and easily retains his household name. Doing this alone suggests a degree in business studies as much as music, or maths, and Barber sure enough is an efficient and singleminded man who treats jazz as serious business and runs his band like a small bustling company, with drivers, road managers and a fulltime administrator to take care of promotion, advertising and date-sheets. Thus freed from the daily cares of bandleading he can stay close to the music.
The result of course is the mature musical policy which has distinguished Chris Barber's Jazz Band for thirty years. First, like Louis Armstrong did, he presents a show – a vital contrast to many jazzmen who forget Jimmy Rushing's dictum that "we are entertainers". Second, he keeps a constantly questing eye on the music, regularly refuelling the repertoire with new arrangements and – sometimes even more strikingly – reshaping old standard fare. Recorded examples from recently include the stately, galleon-esque Jazz Me Blues that he alone plays unaccompanied, a creeping Saratoga Swing so menacingly slow that it almost stops dead, and on a recent BBC video a Perdido Street Blues which loses fifty years in a brand new jazz-funk dress. Only Humphrey Lyttelton in Britain has brought such an interrogative gleam to the faits-accomplis of classic jazz performance. But possibly most important to Barber's musical philosophy – and success – is his belief that anyone can do anything, and that jazz and a traditional band is just one more way of playing any music he sees fit. To such a view, progression – and even popular music trends – are no longer a threat. Barber's view on this is decidedly American – Armstrong, Ellington and Herbie Hancock amongst countless others lived and live by the rule – and perhaps its most vital expression came with his formation, in the 1960s, of the Chris Barber Jazz and Blues Band. Barber himself was largely responsible for the British rhythm-n-blues boom which followed the Beatles, but its official incorporation into his music policy, and the striking progress he continued to make – recording with rock contemporaries like Tony Ashton, adopting an all-electric rhythm section, selecting repertoire from modern-to-avant-garde composers like John Handy and Joe Zawinul – echoed, at one conservative stage removed, the ideas of contemporaries like Miles Davis. It re-affirmed his credibility with a new generation of young listeners. And although it never quite turned Barber into a legend – perhaps because he lovingly returned to Bourbon Street Parade each evening – he guaranteed himself another thirty years of full houses. On his own musical terms.
In 1962 the jazz world was unknowingly on the brink of a popularity crisis. Barber was better equipped than most to deal with it, as his new band was itself a trendsetter. In just eight years they had instigated the Skiffle boom (via Lonnie Donegan), the first serious re-appraisal of ragtime (with "Elite Syncopations", fifteen years before Rifkin), the commercial concept vital to the Trad boom that three-minute jazz singles (like Whistling Rufus, a jaunty cakewalk) could still sell, and the idea later developed by Acker Bilk that a clarinet (played by Monty Sunshine) was just as saleable as it had been for Benny Goodman, twenty years before. By 1962 though – in a flare of publicity – Sunshine had been replaced by Ian Wheeler, Donegan by a cheerful cockney sparrow Eddie Smith, and the Barber band was at a second peak. Traditional jazz had – however temporarily – captured a second generation of teenagers soon to be pipered away to Liverpool, and on July 7th 1962 it rode high in the hit parade, flooded radio shows like "Saturday Club", "Easy Beat" and "Trad Tavern" (a Saturday evening showcase for which Barber had assembled a riff-roaring signature tune) and mingled uncomfortably with pop stars like Helen Shapiro in uncomfortable films like "It's Trad, Dad!" Barber alongside his fellow king-Bs, Kenny Ball and Acker Bilk, reigned supreme. And only a clairvoyant could have paid attention to the fact that on June 6th 1962, thirty one days before this record was made, the Beatles had auditioned for George Martin and E.M.I. Trad was soon to end not with a boom but a whimper, and for Barber alone the best was still yet to come.
"The Eastern block was tremendous" recalls Pat Halcox, Barber's trumpeter of thirty years. "I think we were probably the first to go out here, and the audiences were marvellous. Still are! We did concerts in Budapest and two other towns, and the studio album on the same trip. I seem to remember it was very nice". It was and is, as you'll hear. Halcox's marvellously assured trumpet lights the ensemble like a flare (he also sings engagingly on Ice Cream) and the leader is up with him playing with that immaculate time-sense, note placement and blues-imbued attack that is Barber's best. The shouting trombone and carefully-conceived vocal touches are typical too on Lord, Lord, Lord: so is the lovingly authentic reading of Mood Indigo (listen for Halcox's historically accurate vibrato, strong Dick Smith bass, and a quite unexpected and appropriate key change). Ottilie Patterson sings with creamy Irish charm on Mountains of Mourne and on the rolling good time of Mama, He Treats Your Daughter Mean! which calls back visions of the Marquee Club at its rockin' best. 1962; for Chris Barber one of thirty-five very good years.

The Chris Barber Band with Louis Jordan and Edmond Hall: The Best Of Both Worlds (1962)
Notes by Peter Clayton
Sitting amid the seedy splendour of the now defunct Chiswick Empire, waiting for Sister Rosetta Tharpe to come on and do her stuff with the Barber band, I heard a voice behind me say: "I wonder why they've put her on with Chris Barber". By "they" he was clearly referring to that unapproachable body which cancels trains, digs up roads and raises the price of bread. It seemed a fair question at the time.
But this was in 1957, and I knew little about Chris in those days, and nothing whatsoever about the mechanics of "bringing in" a visiting artist. (I suspect also that I couldn't afford a programme, for it might have enlightened me on those points.) It wasn't until much later that I came to know that the only "they" in Chris Barber's life is Chris himself. Almost alone among British traditional jazzmen, he has for years been in the habit of importing American jazz people to tour with his band. Sister was simply an early visitor in a line which has included Big Bill Broonzy, Sonny Terry & Brownie McGhee, Jimmy Cotton, Muddy Waters and the sinister and splendid Sonny Boy Williamson. The idea behind these tours has been two-fold – to give British audiences a chance to see artists they wouldn't get otherwise, and to do the band good by working with died-in-the-wool jazz musicians. They also have the beneficial side-effect of bringing variety to an otherwise very stale scene.
The autumn of 1962 produced two very distinguished guests. One was the lyrical New Orleans clarinet player Edmond Hall; the other was Louis Jordan, an exciting, driving singer who'd had a number of very big hits in the 'forties, when he led a band known as his Tympani Five.
As a guest with a basically traditional band, Jordan was an intriguing choice. Not only is his whole musical style well removed from the New Orleans and Chicago sounds on which British traditional jazz is based, but he happens, in addition to his singing, to play hoarse, headlong alto sax. As you may know, many traditional jazz fans look on the saxophone (expect for the soprano version) as an instrument of torture; to them it's like the scraping of a knife on an enamel plate, and causes them actual physical discomfort. In inviting Jordan over, Chris was clearly obeying his own impulses, and not concerned with "images", purism or other unnecessary restraints. He assumed, rightly, that many people would remember those jaunty vocals and that gritty alto from the 1940s recordings. He also assumed, again rightly, that those who didn't know them would go for Jordan when they did hear him.
Had things gone as planned, the contrasting and satisfying tracks with Edmond Hall wouldn't be on this record. Jordan was not available for the start of what was planned as an extensive European tour. But Ed Hall, with whom Chris had already recorded in the States, happened to be free, so he did the Continental part of the trip, and Louis Jordan the British.
If I may digress, I should point out that Ed Hall couldn't have appeared in England anyway. It's his misfortune to be merely a marvellous clarinet player, Since he doesn't sing, tap-dance, or do a paper tearing act, he's classified as an instrumentalist. And that means that if he's to appear here, a British jazz musician has to go to America in exchange and play there as someone's guest soloist. Easier said than arranged. So British fans never saw Hall; and it's only because a recording studio was hired while he and the band were in Germany that you can hear him with Barber now.
Hall's jazz experience is quite wide. Born in New Orleans in 1901, he's not simply a New Orleans musician, with all the technical limitations that can sometimes mean. He started to play the clarinet when he was 17, worked in a number of typical New Orleans outfits, and went to New York in 1928. He moved comfortably into the bigger-band days of the 'thirties, for a while doubling on baritone sax in Claude Hopkins' band. He worked later with Lucky Millinder, Red Allen and Teddy Wilson, and can be heard on a few records with Billie Holiday. He had a band of his own for part of the 'forties, and spent three years of the next decade touring the world with the Louis Armstrong All-Stars. His life since 1958 has been one of strenuous retirement. Although his tone is perhaps more edgy than some of the earlier New Orleans clarinettists, he still has their gift for melody and their sinuous grace.
He also has a genial personality and an engaging sense of humour. At a pre-tour rehearsal one day I heard him giving advice to Ian Wheeler, the Barber band's clarinettist: "If you're in the middle of a solo, and you can't think what to do, try this" – and here he produced a series of impressive runs – "it sounds as if you're blowing a whole storm, but you're doing nothing."
Louis Jordan's from the State of Arkansas, where he was born in 1907. He played alto and occasionally sang in Chick Webb's band in the 'thirties, when Ella Fitzgerald was with the band. His Tympani Five came into being at the end of the 'thirties, and although it had something of a novelty flavour about it, it played a very vigorous, extrovert and genuine form of jazz, pointing in the general direction since taken by the rhythm and blues bands. If you can get hold of them, his mid-forties hits – Choo Choo Ch'boogie and Is You Is Or Is You Ain't My Baby are little gems of contemporary popular jazz.
The three sessions from which this LP is made up are nicely contrasted. The Louis Jordan tracks have a bubbling zest about them which is quite different from the toddling imperturbability of those with Edmond Hall, while the purely band titles differ again from the other two.
Jazz criticism is full of the word "catalyst", by which the writer always refers to those musicians who are not jazz greats themselves, but who seem to bring about the right chemical reaction between their colleagues to produce good jazz. This would fit Chris Barber, were it not for the fact that he's less passive than a mere catalyst. He is the active element which brings the ingredients together in the first place, stirs the mixture, provides the vessel in which the always effective reaction can take place. And in so doing brings welcome life to a part of British music – traditional jazz – which many others are content to allow to stagnate.

Alex Bradford / Chris Barber: Pop Gospel Live In London (1963)
Notes by Barbara J. Gardner
Someone once said, "Why should all the good music belong to the devil?" Many people have claimed the utterance and it has been often quoted. Implicit in the remark are numerous assumptions and implications. First, it suggests that when music pulsates with an irresistible rhythm and stimulates the mind and body, it is good music. Second, it suggests that secular, popular music of native Americans has these qualities and further, the implication is that this secular music is imbued with wickedness and sin.
The national characteristic of Americans to apologize for good fortune and condemn good feeling is a universal enigma. The world shakes its head and checks its tongue at the Infant Giant who economically dominates the earth but is a fumbling, insecure slave to the art of living.
The emergence of the obvious blending of secular and religious music is a major indication that the stumbling babe is about ready to walk like a man. That which feels good can also be good.
This album aside from being a spinning example of this fact also exhibits a number of other contrasting highlights.
Jazz is an acknowledged American product. Dixieland is one of the original schools and has its roots deeply sunk in American southland soil. Yet flourishing strongly in England is a group of English musicians playing this music with the dexterity and familiarity of a New Orleans native. Headed by trombonist Chris Barber, this unit immerses itself into the spirit of the music and allows itself to be swept along with musical abandonment.
The Bradford Singers, sparked by their fiery leader, plunge into the gospel mood with authority and fervor born of intimate acquaintance with both the subject and the style. They sing their experiences, their fears, their hopes, their disillusionment, their dreams – in a word – they sing their life's song.
There are moments of embarrassing truth here. But this country is now learning that truth is often embarrassing. There are moments of prophetic wisdom. There are moments of infinite tenderness and fearful hope. And then there pervades throughout, an uncrushable spirit.
In good musical taste, exhibiting the expert handling of music by expert musicians and singers, this album should easily become an American classic.

Chris Barber And His Jazz Band: Folk Barber Style (1964)
Notes by Peter Clayton
Chris Barber was born in 1930, the year of my epoch-making discovery that you could play a record with a pin, or your fingernail if you felt like it. He liked classical music and learned to play the violin. If an English male is going to get smitten by jazz at all, it usually happens about the time his voice starts to break. Chris got in early by discovering Coleman Hawkins and Body And Soul when he was twelve. He became a record collector, a trombone player, and a student of the double bass at the Guildhall School of Music. Since he was also a natural mathematician, somewhere in this sequence he started to become an actuary. That's the man who calculates, on behalf of the insurance people, the odds against your being gored by a platypus, or whatever. But jazz proved more attractive than the Law of Probabilities. And, against all the laws of probability then operating, more profitable.
For this brings us to the fifties, when, to everyone's surprise, the British public began to get a liking for traditional jazz. It also developed an insatiable thirst for one of its by-products – skiffle. The embodiment of this latter music was a banjo player called Lonnie Donegan, and it just so happened that he was a member of Chris' band. Chris Barber, playing what he'd always wanted, suddenly found himself an enormous success.
You must know that for anyone who wants to play jazz in Britain, success can be a very hazardous thing. The grimmer purists see it either as a fall from grace or look on the public's interest in 'their' music as an invasion by trippers of a very private beach. Barber, a sensitive man in many ways, is mercifully untroubled by all this. He goes his own somewhat conservative way, doing what he wants to, playing the music he knows best. Simply by doing that, the band has earned for itself seven trips to the United States; and that, as the song says, can't be bad.
I first met the members of the band in the old Marquee Club, a fully clothed Turkish Bath under the Academy Cinema in Oxford Street. Chris himself is shortish, shifts from foot to foot as he plays, takes about a year to get to know and likes motor racing. Pat Halcox, his trumpet player, has been with him since 1954. He's one of the gentlest people in the world. A trifle absent-minded, utterly charming as a person; as a musician, slightly erratic but usually lyrical and moving. Smokes a special Dutch pipe so short it threatens to burn his nose. Ian Wheeler, clarinet, alto and soprano, is new. He's been with the band a mere four years or so. Makes model aircraft, and spends quite a lot of his time trying to get the flakes of balsa cement out of his fingertips. Eddie Smith plays banjo, occasionally guitar. A wide, square man; with hinges down one side, he'd make a serviceable door. Dick Smith is a quiet, ridiculously good-looking bass player. You hear him to particularly good advantage on this record, not as a soloist but as a very strong anchor man for the rhythm section. Graham Burbidge is on drums. Likes fishing, collects guns, and claims to be able to out-draw most television sheriffs.
And that would be that, were it not for the fact that the band has, since 1955, sported the most charming of paradoxes – an Irish blues singer. That's Ottilie Patterson, otherwise Mrs. Barber, who is heard here on two wordless vocals – Banks Of The Bann and On Top Of Old Smokey. She also plays the introduction on Streets Of Laredo, using a melodica, a sort of sophisticated descendant of Adrian Rollini's goofus.
The tunes are traditional. You may know vocals – Banks Of The Bann under a variety of other titles. Ottilie sings, and Pat plays very stately trumpet on this one. It ends as it began, with Ottilie's wordless voice over quiet drums. Alabamy Bound is a neat swinger, with Graham keeping up a busy, shuffling rhythm paced by Dick's bass. Midnight In Moscow (Moscow Nights in more literal translation) has an unexpected and highly effective Slavic opening provided by clarinet yearning over banjo and bowed bass. If the end of the tune sounds unfamiliar, it's because this is the correct version. Chris' trombone solo develops into a duet with Pat.
Tom Dooley has Pat playing very straight and clean and a typical terse solo from Chris. I've already mentioned the melodica opening on Streets Of Laredo, but anyone who knows the theme of the song (and who doesn't) will appreciate the funereal flavour of the first chorus. After knowing so many vocal versions of Midnight Special, it was very interesting to come upon this purely instrumental one. Both Chris and Pat are muted for part of the time here, and Ian has a short, very hollow clarinet solo. So Long, It's Been Good To Know You is treated as a springy jazz waltz, with a suggestion of soul throughout and Ian Wheeler this time on alto.
The band makes an appropriately sprightly march of When Johnny Comes Marching Home, with clarinet striding away into the distance at the end over insistent drums. Wimoweh, that strange little African tune, again demonstrates Pat's strong tone and his gift for phrasing before he cuts loose on perhaps the most jazz-like outing on the album. On Top Of Old Smokey gives us a double whack of Ottilie's wordless singing; once handling the melody, later filling in round the other instruments. Kisses Sweeter Than Wine evolves into a set of blues choruses sandwiched between statements of the well-known melody. Ian on alto here. Then follows my particular favourite. On Ha, Ha, This A-Way Chris and the rhythm section are slowly joined by the rest of the front line. During a solo from Chris, Pat blows pretty figures behind him, and these gradually evolve into a good old-fashioned jazz stop-chorus. Goodnight Irene is played at what must be its slowest ever tempo, and is an outing for Ian's rarely played soprano. Eddie Smith claims that Wheeler leaves it unplayed for so long that it grows a green mould. Nothing mouldy about it here, though. To go out on, the band chooses to remake one of its earliest successes – Bobby Shaftoe. A shapely performance of a sprightly tune, it shows how even the squarest type of folk melody can be adapted to the traditional jazz line-up. This is an album of pure entertainment. No gimmicks; original treatments; sensitive musicianship; great tunes. I really must get rid of that wind-up portable.

Chris Barber, Ottilie Patterson and the Blues Band: Good Morning Blues (1964)
Notes by Patrick James
Let us suppose, just for a naive moment, that there exists a schoolmaster 'hip' enough to hit on 'The Blues' as the subject for an essay. Young Peregrine Muddleton-Brown (for instance), a fairly average sort of slacker in the fourth form, thinks about it in a vague way over the weekend. Finally, the 'telly' is switched off and he can't put it off any longer. Gnawing his pen, he searches for inspiration. After awhile his ball-point traces out these classic words: "There are many kinds of blues..." For once you can hardly blame him. An art practised by both Ma Rainey and Jimmy Witherspoon, Sleepy John Estes and Joe Turner, Jimmy Yancey and Thelonious Monk, could hardly be introduced in any other way. Probably no one knows this better than Chris Barber. The many-sided nature of the music has been a source of wonder and delight to him for many years now, and his interest in it has done much towards the understanding, or at least acceptance, of the blues in this country. For instance, no matter what Rhythm and Blues means by the mid-sixties, it was first introduced to a mass audience in Britain by Chris in 1961. This was during the run of the BBC programme "Trad Tavern" when Chris insisted on using Alexis Korner to back some of Ottilie Patterson's Chicago blues numbers.
He did this because he knew from first hand how they should be treated, and that Alexis could do it. From this came the notion of Korner's first blues band, and out of that in turn sprang almost the whole of Britain's fiercely contested R & B scene.
"This LP", says Chris, "is a record of our encounter with the blues"; and that episode was only one of many. As far back as 1949-50, Barber had an Oliver-style, non-professional band which was very blues conscious. Since then, most of his encounters with the blues have been much more direct. In half a dozen or so working trips to the United States the Barber band gravitated to places where the blues could be met live and at full strength. It was the impact of Muddy Waters in person in Chicago which really led to the band's evolving preoccupation with rhythm and blues, as well as to the first of Muddy's many appearances in Britain. There have been many similar instances.
This LP sums up some of this more recent entanglement with the blues. The shaky cornet lead, the church parade drumming and the galvanised iron clarinet sound of blues à la New Orleans Revival were left behind long ago. This is today's much tougher approach, and for further proof that Barber style blues is not music in pickle, there is the unexpected but wholly successful presence of Jimmy Deuchar and Ronnie Scott on some of these tracks. Some years ago such a meeting would have seemed as likely as a friendship between those two great Joes of politics, Stalin and McCarthy. Most aspects of blues from big band to country/Chicago are here, and the record begins with a vocal from Chris on Good Mornin' Blues. As well as Eddie Smith on guitar you will hear (for the first time on record, I believe) the electric guitar of John Slaughter, the young Middlesex-based musician whom Chris acquired in the late summer of 1964. Morning Train (in full, I'm Going Home On The...) brings in Jimmy Deuchar on trumpet and Ronnie Scott on tenor. The unfamiliar surroundings of a little blues band seem to encourage a degree of earthiness not always associated with modern players. The piece closes with a fade, not because they couldn't think of anything else, but, as Chris says "like all trains do".
Bad Luck Blues is Ottilie's by both performance and authorship. The blues is a medium which turns people into poets, and here the line "Every day I read the papers, and every day I read bad news" has an almost classic ring about it. Ian Wheeler's the wailer on harmonica. Wheeler's back on alto for the next, an instrumental called Mary-Ann. The tremendous sound of Dick Smith's bass, by the way, is achieved by using a contact mike on the instrument and the sort of amplifier favoured by the beat groups. Who's Been Here Since I've Been Gone?, which became Organ Grinder's Swing at one point in its career, is sung here by Chris with Leroy Buddy's original lyrics. Frankie and Johnny, one of the relatively few long narrative songs cast in the blues form, is a straightforward outing for Ottilie Patterson. While she was singing it, she may well have remembered that this was the song with which she won a Carroll Levis talent contest in Belfast when she was twelve. Finishing Straight is a mainstreamish riff-based number which Chris and trumpeter Pat Halcox cooked up for a short commercial film of the 1964 British Grand Prix at Brands Hatch.
Side Two opens with Hamp's Blues, in which the soloists actually accompany themselves. The basic riff was recorded by the band, with Ronnie Scott and Jimmy Deuchar. The soloists then recorded on top of this, and include Wheeler on harmonica, Ronnie, Jimmy Deuchar and John Slaughter. Deuchar's enormous crying tone is particularly fine. If Have A Ticket, Lord, Can I Ride? is sung by what might be called the Barberettes – Ottilie, Pat Halcox and Chris – and is a swinging gospel number of the kind the band has indulged in for a long time. Gospel song and jazz aren't the same, say the real gospel singers, but they certainly have a remarkably similar flavour. The Great Bear, dedicated neither to astronomy nor to Doctor Johnson, I gather, but to Winnie the Pooh, is a band number in the older form, though this time with the addition of two pianos. There's piano on When Things Go Wrong, played by Ottilie, who ought to do it a lot more often ("I'm shy of my piano playing in public", she says). By double tracking, Ottilie also manages to sing with herself. Double tracking for Chris next, on his own Sweetest Little Baby. Note also John Slaughter's crisp, snapping guitar solo. Ian Wheeler has an alto feature in the now classic Jeep's Blues, originally a vehicle for Ellingtonian Johnny Hodges. John Slaughter shares the honours here. Finally, we come to a good old shouter for Ottilie, who takes the record out in tremendous style with Back To The Country.

Chris Barber / "Kid" Martyn: Collaboration (1966)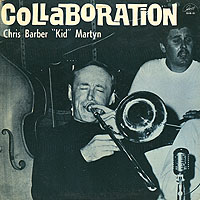 This is one of those "spur of the moment" sessions in jazz where anything could have happened ... a likely yet unlikely mixture of musicians. Of course the great linking factor is that all the men on these sides are "Jazz Musicians" first and last, and it is a known fact that jazzmen can always fit together. However, here we have a session from two bands acknowledged in their field ... the Kid Martyn Band which remains one of England's few bands to play music in the older vein and tradition and, on the other hand, the Chris Barber Band which has set its own traditions in music. This session is not so sifted to engulf either of the bands' own personalities, and, forgetting the solo pieces, the listener can see which way each number is leaning ... for instance, the tunes Any Old Blues and Barber Shop Blues have a distinct Barber flavour whilst in particular Maryland has that definite Martyn beat about it from start to finish. This number in fact was suggested by Pat Halcox who remembered a version he and Barry Martyn played unaccompanied at a party on their tour of Switzerland in January 1966.
It would be seemingly impossible for any other two bands in their respective fields to have joined forces so well, for, altho both leaders have their own ideas on jazz, they have very much in common and have a great respect for each other's music; knowing that each could never compete on the other's ground. Other things also in common come up on examination ... both men have led their own bands over the years and have always stuck to their ideals. Both have held steady personnels for the most part of ten years in music and both have toured with visiting U.S. artists. Chris recorded a memorable session in the States with Sidney De Paris and Edmond Hall, whilst Barry has recorded with Kid Sheik, Capt. John Handy, George Lewis, Emanuel Paul, Kid Thomas and other pioneers of New Orleans jazz. It wouldn't take a crystal ball to see that ten years from now they will still be with their own music, "straightforward jazz."
CHRIS BARBER is one of the original English jazz musicians and about the first to take a band and make it into a professional organization without altering his music. His personal background is told so many times elsewhere it seems pointless to re-hash it all again here. He is at all times a perfectionist and whilst he has a strong musical personality he is a most "reasonable man" that will always be ready to give ear to other people's suggestions. Jazz music in England owes much to Chris Barber.
BARRY KID MARTYN is perhaps the first English musician to consciously avoid all European influences on New Orleans music and concentrate on the genuine article entirely. He is capable of relaxing the most tense of sessions and of causing even the stiffest of rhythm sections to run as if on ball bearings. Martyn is undoubtedly the first European to give traditional jazz drumming a voice of its own.
PAT HALCOX has one of the most individual trumpet styles and is recognized on all of his records within a chorus or two for his fantastic range and intonation. He is also one of the most natural people in the jazz fraternity this side of the Atlantic.
IAN WHEELER has for years been one of the most highly rated of reed men and since joining Chris he has had plenty of opportunity to develop his terrific alto style.
GRAHAM PATERSON has for years been a corner point in the Martyn band rhythm section. He was the first to .point the direction of English New Orleans style piano players.
STUART MORRISON, who is one of the few to drive a band in a manner similar to Lawrence Marerro without actually sounding like the master, is a well known character on the London scene.
BRIAN TURNOCK can fire a band from the word go and has come into prominence since he joined the Martyn Band in February 1966.
There we have it ... the morning of June 9th, 1966, saw these men walk into Assembly Hall in North West London with slightly apprehensive looks as they had never worked together before. You can hear for yourself how long it took for them to reach common ground, and without doubt this proved to be one of the most exciting sessions of British Jazz Music.

Chris Barber and his Jazzband: MOB -- The Chris Barber Convention (1967)
Notes by Chris Barber
The sleeve notes for MOB are in French. What follows is an exact English translation published on a subsequent re-issue LP.
GETTING INVOLVED IN JAZZ
You have to be very careful when you start talking about being emotionally involved in jazz. That playing is an emotional experience is true and hardly needs saying. The difficulty begins when you try to work out exactly what emotions are involved. We all know something of the romantic side of jazz history, how in the beginning a lot of it was a sort of protest, how it was almost the sole means of expression of a systematically deprived people. So it would be easy for me to remember the things I've read and say that, for me, to play jazz was an act of defiance, a gesture against authority, a way of releasing pent-up feelings or something like that.
For a Sidney Bechet or a Bunk Johnson, with the Negro's long ancestry of slavery and exploitation behind them, that might have been no more than the truth. For me, with a comfortable background of English professional life, such a claim would be so much special pleading. So to get at an answer I am forced to talk about the European's attitude to jazz in general, and my own gradual absorbtion into it in particular.
Anyone who really wants to can in time come to play jazz of one kind or another, but very few white men, and certainly no Europeans, were ever emotionally forced to create and play jazz. All of us on this side of the Atlantic, and a large number in America itself, came upon a music which had already, long ago, been fashioned out of somebody else's joys and sorrows. There it was, ready made, and all we had to do was decide.
To this extent those earnest but wrongheaded souls who insist that jazz stopped somewhere about 1930 are right. By then the special reasons and conditions which compelled its originators to create it in the way they did had almost disappeared. From being a local dialect it had become a language which could be learned by anyone with enough sympathyand understanding. Of course the newcomers sensed the emotional drive of the older players, and to a large extent caught it themselves, but the emotions became more personal and therefore almost as numerous as the players.
I have said that there has to be a decision. But for me, chance had to play a big part first. As a small child I had an instinctive liking for classical music. The occasional dance record by Lew Stone or Roy Fox which came into the house, I deliberately and rather spitefully broke. I was taught to play the violin, and must have been thoroughly intolerant. It took the war to cure me of that.
With the BBC's single programme on for most of the day in order to catch any news bulletins that were going, I was 'exposed' for the first time to a constant stream of light entertainment. I gradually came to like some of what we would now call pop music.
In 1942 I was packed off to a boarding school in Royston, and by my twelfth birthday in April that year I was asking for gramophone records. "Jazz records", I said, "Joe Loss and Eric Winstone".
My father knew nothing about jazz, but he knew better than that, so he looked in the current issue of the Gramophone, read the reviews, and the result was that I received, among other things, one of the jazz classics of all time — Coleman Hawkins' Body and Soul. A little later I discovered the Louis Armstrong Hot Seven records, and just simply liked them, without wondering why, and certainly without troubling myself over what sort of emotional response they evoked. A boy of thirteen is merely fond of what he likes.
I also grew up with a flair for mathematics, and it was this which appeared to have settled the question of my career before the encroachments of jazz became too big to ignore. I trained to be an actuary — one of these people who calculate the odds on which insurance premiums are based — and I wouldhave earned a livelihood and some satisfaction from it if I had stayed on. But though I left the law of probabilities still intrigues me, and in the middle of a performance I still indulge in a certain amount of mild speculation on the workings of chance.
For instance, Pat Halcox, the trumpeter who has been with me continuously since 1954, might fluff a note or stumble momentarily over a phrase. He will recover so quickly that scarcely one listener in a thousand can be aware that anything has happened. But I will know, and realize that the split-second amendment has altered the whole course of his musical thought, at least for the time being. By how much? I wonder. What had he meant to do? and how much better is what he actually did?
It is in solos that jazz musicians are said to reveal themselves. I am fairly excitable, yet my sense of precision and order dominates. I think tidily and logically, and I believe I play that way. I start to shape the first few notes of a solo in advance, but from that first phrase grows everything that comes after. The points have been set, you might say, but it isn't even that simple, for the direction I take may be altered at any time by what somebody else does, so that other people's feelings as well as my own emotions, technique and shortcomings are all working away at once, bending the music about.
And then there's the audience. If they applaud you uncritically when you know you've got an 'off night, you feel that your 'on' nights must be wasted. But later on you're grateful, for often their encouragement at the beginning can switch you from 'off to 'on'. So people who don't play at all contribute their share to the music.
We are all involved, one way or another — emotionally, physically and technically — with the laws of chance stirring things up just for good measure.

Chris Barber And His Band: Battersea Rain Dance (1967 & 1968)
Notes by Mike Hales
Let us not talk of 'trad' and banjos and things. Let us yet think of music and musicians, of mop tops and soul men, of jazz giants and fading, even dead, blues masters. Put aside, if you will, all thoughts of clarinets, trumpets, and trombones, standing side by side and belting out in two-beat time. Consider instead guitars and trios, keyboards, and big, swinging bands, brass and oversize groups. Imagine an eclectic ensemble embracing pure pop, progressive pop, big band jazz, small group modern jazz and trad jazz. Think of the multitude of ideas which stream in insular courses rarely merging, ever inward-looking and always scornful of their fellow musical travellers.
Gradually, almost imperceptibly, the invisible barriers between pop, classics, jazz, folk, blues, soul, and Gregorian chants, are being crushed as music and musicians bring to the fore their ideas gleaned from their experience. Music and musicians like this album and Chris Barber's Band. Chris is not, as many would still believe, just the mouth behind a tromboneful of Trad. He's a musician. So are Pat Halcox, Barry Jenkins, Ian Wheeler, Graham Burbidge, Paul McCartney, Duke Ellington, Joe Harriott, Curtis May field, Vic Briggs, John Crocker, Stu Morrison, Jackie Flavelle, Brian Auger, Viv Prince, Charlie Mingus, and John Handy. These, and their influences, have combined and have been combined into an album of music. Just that. Listen to the band.

Chris Barber's Jazz Band: Chris Barber In Berlin (East German version, 1968)
Notes by Liam Keating
(In the absence of a translation of the original German sleeve notes and the difficulty of securing an accurate scan, we are reproducing instead the notes written for a much later CD re-issue, Live In East Berlin.)
Of the many bands that rode the crest of the 'trad' wave in the mid-fifties,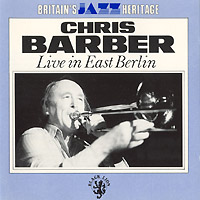 Chris Barber's is one of the few that has moved with the times and remained to this day in a position of prominence. Of course Chris had been around for some time before he started reaping the rewards of that particular boom. He formed his first band back in 1949, at the age of nineteen, but it was with the group he took with him when he left Ken Colyer in 1954 that he achieved his first successes. Since the trad days Barber has been continually aware of the musical scene around him, always ready to assimilate anything he felt could be successfully augmented into the band's repertoire.
At his roots though, Chris has always had strong ties with the blues, and it is no accident that it was usually his band that accompanied visiting American blues artistes appearing in England. This affiliation to the blues, and his past predilection towards the music of the New Orleans revivalists such as George Lewis, has helped widen his audience to boundaries well outside the usual jazz following. The Barber Band is known throughout the world - first touring America in 1959 and subsequently becoming a major attraction throughout Europe. The reception the band received at this concert in the Friedrichstadt Palast in East Berlin shows that the Barber reputation for good music is by no means limited to the western side of the Iron Curtain.
The introductory I Never Shall Forget brings the band on to the stage one at a time before steaming into Royal Garden Blues. Chris plays the first real solo of the concert, followed by Pat Halcox and John Crocker (on clarinet), with John Slaughter's guitar solo really catching the audience's response. The seldom played Harlem Bound contains a fine trombone solo by Chris leading to a marvellous trumpet solo by Pat Halcox. Barber's admiration for the New Orleans of George Lewis can be discerned on Over In Gloryland, where John Crocker's clarinet solo pays appropriate obeisance to the legendary elder statesman from Dauphine Street. (The vocal chorus puts one in mind of those far off days in the London jazz cellars when beer was a lot cheaper - but almost inevitably not available!).
One facet of the continuing widening of the Barber repertoire is the involvement with early Ellingtonian material. Clarinettist Barney Bigard composed Saratoga Swing for the Duke Ellington orchestra, which first recorded the tune in 1929. The tune is ideally suited to the relaxed "slow drag" treatment. There are solos by Halcox and Slaughter and a clarinet interlude by Crocker very reminiscent of Bigard and leading perfectly to the wailing entry of the full band. Chris, who up until now had been content, for the most part, to assume an accompanying role, featured himself on Hoagy Carmichael's Lazy River. His interpretation of this classic jazz perennial brings to mind the lyrical trail blazed by J. C. Higginbotham. He uses the mute to telling effect, to contrast dramatically with his open playing over stop-time.
John Crocker, successor in the chair held by Ian Wheeler for so many years, is featured on St. Philip Street Breakdown. John's clarinet playing on this twelve bar blues more than justifies his new tenancy and his dramatic construction over the final choruses shows more panache than seemed evident in his predecessor's playing at that time. Jackie Flavelle's bass solo is a splendid contrast, and it is interesting to note that his quote from Rock Around The Clock is not lost on the audience - although Loch Lomond seems a little too abstruse for them!
I don't know how many of this particular audience were familiar with Battersea, few I would suspect; therefore the paradox of performing a dance to evoke rain on that fair section of London may not have been apparent to them. What would come across though, is the infectious feeling of fun on Battersea Rain Dance. No more than a repeated riff, the simple background highlights Crocker's soaring alto, Barber's growling trombone and, most effectively, Pat Halcox's wailing, muted trumpet.
Another title that benefits from a slow tempo is the well worn old war horse Makin' Whoopee, with contributions by Jackie Flavelle and Pat Halcox. The trumpeter uses this showcase to play a lyrical solo enhanced considerably by a smooth, soft tone that might be described in German as gemutlich - but whatever the language the results are stunning, something to return to time and again.
As on Over In Gloryland Chris features titles that are associated with the memory of George Lewis. Wildcat Blues brings John Crocker's clarinet to the fore in a splendid reworking of one of the Barber band's best known works in Germany. On Sweet As Bear Meat, by Johnny Hodges, the growl trumpet of Pat Halcox goes back to the days of Bubber Miley, balanced to a certain extent by John Slaughter's guitar with its distinctly modern flavour. Crocker's alto solo is interesting for, although stylistically it dovetails into the rest of the instrumentation, there is a passing tonal resemblance to the sound of Charlie Parker. Jackie Favelle sings in unison with his improvisations - a technique pioneered by Slam Stewart in the 'thirties, although Flavelle plucks the bass strings, whilst Slam would use a bow when singing.
Along with the blues the Barber concert programme usually features something in the Gospel category. The front-line forsake their instruments to join together in a haunting vocal rendition of the soulful God Can Do Anything. There are too, gospel overtones in Revival, with Barber's preaching trombone playing against the rest of the band in a call-and-response setting. This number works by moving up to several climaxes, each one breaking away to another build-up over shuffle rhythm, until the whole band is drawn into an ultimate, exciting peak.
The excitement engendered at the close of the concert must have permeated through the walls of Friedrichstadt Palast and into the strassen of East Berlin. I bet there was many akatze who repeated Goethe's immortal phrase in praising Shakespeare's works (freely translated): "They're the greatest man!"

Chris Barber's Travelling Band: Get Rolling! (1968 to 1971)
Notes by Bob Dawbarn
It must have been 1948 when I first met Chris Barber. He was young, earnest, jazz-crazy and leading a band of dedicated musicians. Today, he is older, earnest, jazz-crazy and leading a band of dedicated musicians......
Chris may have been a "Longtime Travellin'", but the experience hasn't changed him much. He still knows more about jazz than anyone I have met and is unlikely to pass up an opportunity to talk about it - if you come across a donkey minus a hind leg the chances are it has taken part in a discussion with Chris on the relative merits of Jelly Roll Morton and Charlie Parker. The only change I have noticed is that his determination to commit suicide by driving racing cars at an indecent speed has, if anything, strengthened.
If Chris has changed little over the years, his music has. Or broadened might be a better way of putting it, for Chris has never thrown over his original heroes. His pleasure in traditional jazz has remained as great, though almost the whole of jazz and most of the best of pop music has won his seal of approval.
Mind you, he never was one to stand still musically. He had a lot to do with the popularisation of that curiously British phenomenon, skiffle. He was the first to bring legendary blues giants to Britain from America. It was his weekly sessions at the Marquee club which launched the rhythm-and-blues craze in Britain - and out of that came virtually all of what we know today as beat music. So, I was wrong to be surprised when I caught a concert by the band a couple of years back and found he had something new to offer. What was it? After listening a great deal to Chris since then I'm still not sure, though there are plenty of examples on this album. It was as though Chris had found an alternative route for jazz from the one which the Boppers took in the mid-1940s. This Barber music has its roots in traditional jazz but it incorporates elements as widely different as Soul music and Eastern European folk. What emerges once the elements are mixed is uniquely Barber. It is original and it most certainly excites. At the same time Chris continues to serve up his own brand of traditional jazz - like a gentleman tramp it manages to be both rough and clean. The rare thing about it all is that Chris and all his musicians are equally enthusiastic whichever music they are called upon to play. There is no feeling that they revert to their trad image for economic reasons. They do it because they love to play it as much as they ever did.
On this album you get the full range of Barber today. On three sides it is the regular Barber band - Chris (trombone), Pat Halcox (trumpet), John Crocker (alto sax, clarinet), John Slaughter (guitar), Stu Morrison (banjo), Jackie Flavelle (bass and bass guitar), Graham Burbidge (drums) - on the remaining side Chris, Pat, the two Johns and Jackie are joined by an assortment of friends. The live tracks, incidentally, were recorded in concert in East Berlin and at the Marquee in London.
This is the way it goes:
Get Rolling: The basic Barber five plus Pete Robinson, Steve Hammond and Colin Davy. Lots of rolling piano, wailing alto. It's the modern equivalent of the Jump music of the 1930s.
Shoeman The Human: The line-up is the Barber front line, guitar and bass guitar plus Pete Robinson (from the Quatermass group) on piano, Paul Buckmaster (ex-Sounds Nice, Third Ear Band and a man who has done arrangements for Leonard Cohen) on cello, and Colin Allen (from Stone The Crows) on drums. It's a witty piece with Crocker veering towards the avant garde and nice, straight, almost classical trumpet.
Bone And Bread: This has just Chris and John Flavelle with Pete Robinson (piano), sessionman Steve Hammond (guitar) and Colin Davy, who used to be with Chris Farlowe, on drums. Don't bother to try categorising it. It's just modern music and it really builds the riffs into an exciting climax.
Long Time Travellin': For one thing this proves Chris can sing. Pete Robinson (piano) and Colin Davy (drums) are the guests who fit into a joyous, rocking atmosphere.
Everybody Knows: Back to small band swing music. Crocker shows off his modern leanings and the first of the trumpet breaks before Halcox's solo is a gem. Chris displays his agitated, pushing style on trombone.
Spanish Castles: Another surprise. A delightfully atmospheric piece with nice muted trumpet and fine trombone building to a great shouting climax.
London Blues: Back to basics for this one. A neat arrangement with nobody pretending and glorious fruity sounds from Chris in low register.
I'm Gonna Sit Right Down And Write Myself A Fiver: It sounds Wallerish, but isn't! The title is an in-joke of the composer, altoist Joe Harriott and refers to the old routine when times were tough, of writing a song in exchange for a cash advance from a publisher.
Cortina Run: The title is descriptive and Chris obviously used the petrol with the added ingredient. It's fun and the highspot, for me, is more of that Crocker alto.
New York Town Blues: A Barber standard with Chris vocalising, nice jumping Crocker alto and touches of Halcox mute. Crocker is surely the most underrated saxophone player in Britain today. He is certainly the most versatile sounding equally at home in traditional, mainstream or modern idioms.
Shout 'Em Aunt Tillie: I don't know who Aunt Tillie was, but she was a lively old bird. The opening guitar has touches of Wes Montgomery. Listen to the way Pat Halcox builds the excitement over the shuffle beat. Crocker is on clarinet this time and there is a relaxed solo from Chris.
Sweet As Bearmeat: If your feet don't move to this one, then you're dead. It jumps all the way with Halcox growling and grumbling through his solo. Listen to the walking bass behind the guitar choruses and Crocker's alto once more telling it how it is.
Jeeps Blues: Taken very slow, this is a feature for Crocker at his most lyrical. He pays tribute to the Johnny Hodges original but goes entirely his own way. Note some nice Slaughter guitar, too.
Ubava Zabava (A nice party): This is what I mean by the new Barber music. It has been a concert tour de force of the band's for some time now and gets better every time I hear it. The changes of theme, mood and tempo build via clarinet, through Halcox and Barber at their very best to the remarkable Slaughter guitar solo. If he was in one of the heavy rock groups, Slaughter would be a household name. He plays modern blues the way so many contemporary guitarists think they play it.
Well that's it. And if you don't agree with me that today's Chris Barber Band is one of the freshest sounds on the whole music scene then you can just go jump in the nearest lake.
Bob Dawbarn
Regular listeners to the band will remark the absence of Ottilie Patterson from this album. At the time of recording these tracks, Ottilie was busy preparing a new departure of her own, an album in which she sings her own compositions to orchestral accompaniment. The album, entitled "Spring Song", is released on the Polydor label. We are hoping to welcome Mrs. Barber back to the recording fold in the near future.
Chris Barber

Chris Barber: The Chris Barber Jubilee Tour Album (4) With Ray Nance And Alex Bradford (1974)
Notes by Alun Morgan
When a musician celebrates a quarter of a century in music (and as a recording artist) before he reaches the age of 45 it is perhaps an indication of early maturity, perspicacity, precociousness or maybe a combination of all three. In 1974 Chris Barber attained Silver Jubilee status as a reward for his zeal and continuing musical ability. From his early beginnings on violin as a child he has now become a skilled multi-instrumentalist and the leader of a band with a wide international following.
Chris was born in Welwyn Garden City on April 17th, 1930; his father was a statistician, his mother a school mistress. He showed a liking for music at an early age and in taking up the violin followed in the footsteps of his father who was himself an accomplished violinist. He was also busily engaged in collecting classic jazz records, noting down King Oliver solos and occasionally contributing to specialist discographical magazines. In 1948, while studying to be an actuary he started to learn trombone at London's Guildhall School Of Music and in the summer next year formed his first amateur band playing New Orleans music.
The same year he was to be seen, and heard, on "Riverboat Shuffles" with established jazzmen, enjoying the carefree atmosphere on board Thames pleasure steamers. At the end of 1950 the band opened a new club in London's Great Newport Street, christening it the Lincoln Gardens Jazz Club in honour of King Oliver. (The Lincoln Gardens at 459 East 31st Street in Chicago was where the King Oliver Band opened a residency in June, 1922. Previously the café had been known as the Royal Gardens.) In 1951, music finally won the day and Chris gave up his actuarial studies and entered the Guildhall School Of Music adding double bass to his involvement with the trombone. By the summer of that year the band personnel included the fine cornettist Dickie Hawdon, while Mickey Ashman was on bass. In 1952, Chris took a holiday in Denmark where he made some records with the Danish Ramblers. (These titles will be found on the Chris Barber Jubilee Album Volume One.) In January, 1953 Barber formed a new band, this time with Ken Colyer on trumpet. Ken was also asked to front the band, partly on the strength of his recent visit to New Orleans where he had played and recorded with some of the legendary jazzmen including clarinettist Emile Barnes. Just over a year later there was an internal disagreement in the band and Pat Halcox came in to replace Colyer. At the same time the band became known as Chris Barber's Jazz Band and since then Chris has been a leader. Pat Halcox remains on trumpet, a consistent, reliable and generally underrated soloist with a most important role to play in the ensemble. A number of other Barber sidemen have left the band over the years to form groups of their own including clarinettist Monty Sunshine, bass player Mickey Ashman, guitarist Alexis Korner and the man once known as Tony Donegan but who later made a name for himself as Lonnie Donegan.
From the beginning Chris Barber tried to avoid the more obvious material and was always on the look-out for interesting tunes suitable for jazz treatment. Since then Chris has frequently been ahead of the game. His first record included I'd Love It (by McKinney's Cotton Pickers), It's Tight Like That (Luis Russell) and Bobby Shaftoe (a vintage sea-shanty), the later now being required reading for traditional jazz bands the world over. He recorded a complete album of ragtime works long before the film The Sting made ragtime a very commercial proposition. Then there was an album of previously unrecorded Harlem show tunes and a set of Clarence and Spencer Williams songs. His love for early Duke Ellington music manifested itself in the shape of an extended-play release including Shout 'em Aunt Tillie and Double Check Stomp. Chris's years as an avid record collector have paid off time and time again in his discovery of fresh musical fields to conquer. He played an important part in the "Skiffle" movement when he featured a band-within-the-band, playing bass himself and sometimes harmonica.
Over the years Chris Barber has done a great deal to break down barriers between jazz styles and has made a point of bringing over visitors from America for specific tours and recording dates. One of his earliest concert guests was the West Indian alto saxophonist Bertie King; in later years another alto player from the same part of the globe, the late Joe Harriott, was frequently to be seen with the band. It was no gimmick, Joe genuinely enjoyed the experience. Artists such as Sonny Terry and Brownie McGee, Sonny Boy Williamson, Ed Hall, Louis Jordan and Sister Rosetta Tharpe all were introduced to Europe in their appearances with the Barber Band at a time when it was difficult to arrange for Americans to play with British musicians.
Happily the difficulties have now been considerably reduced and when Chris took his band on his Jubilee Tour of Germany in the autumn of 1974 he was able to feature two guests from the far side of the Atlantic, Ray Nance and Professor Alex Bradford. The latter had first worked with Barber in 1962 when the play Black nativity was touring Europe. Alex Bradford has long been rated as one of the world's leading gospel singers and is an acknowledged influence on the singing style of Ray Charles. In 1962 the Black Nativity singers appearing with Bradford included Madeleine Bell and Marion Williams, but for the 1974 tour Bradford was on his own. His addition to the band gave it a slightly unusual sound in the sense that the Barber Band has never had a regular pianist. The basic simplicity of his style comes across with particular force on They Kicked Him Out Of Heaven where the band is whipped along to a fine climax by this sincere practitioner. A great deal of warmth comes across on Just A Closer Walk With Thee, a traditional song of considerable charm which the Barber Band obviously enjoys playing (and singing). The final Precious Lord is Alex Bradford's personal tribute to Mahalia Jackson and Martin Luther King; no one can question Bradford's deep-seated devotion to his beliefs and the manner in which he projects those beliefs has an obvious link with jazz tradition.
On the first half of the concert the ex-Duke Ellington musician Ray Nance was featured at length in his capacity of trumpeter, violinist, singer and (even if the gramophone is not the best medium to display it) dancer. When Ray was with Duke he was known as "Floorshow", a tribute to his ability to entertain an audience with a varied, one-man show if necessary. Nance's dancing, singing and good-natured clowning sometimes obscure the fact that he is one of the most consistent and versatile trumpeters in jazz. When he joined the Ellington Band in November, 1940, he had the difficult task of taking over from Cootie Williams, a strong and dominant personality. But Nance accepted the challenge and was soon producing the "growl" passages as well as adding a new dimension to the Ellington trumpet palette. Soon Duke was turning out material with Ray in mind and after Nance's first departure in 1945 he has returned to the Ellington fold on a number of occasions (April, 1946 to September, 1963; January, 1965 to June, 1965 and back again September, 1973). As a tribute Chris Barber used Ellington's signature tune Take The "A" Train to open and close the Nance section of the concert. The Duke's music has always played an important part in Chris's book and on Volume Three of this Jubilee Album series the Barber Band plays an extended version of Ellington's I'm Slapping Seventh Avenue With The Sole Of My Shoe, a 1938 composition designed originally to feature the tap dancers in a Cotton Club review. John Crocker plays fine alto after Ray's trumpet and vocal choruses on the opening "A" Train followed by the distinctive Barber trombone.
When Ray was in London prior to the German tour with Chris he was interviewed by the British writer Vic Bellerby and it was to Bellerby that Nance stated unequivocally that the late Louis Armstrong had been his first, strongest and most lasting influence. This is exemplified here by the sensitive and Armstrong-like vocal and trumpet passages on I Can't Give You Anything But Love. The Barber men achieve a closely-knit Ellingtonian voicing on Just A-Sittin' And A-Rockin' for more Nance playing and singing, while Ray puts together a compendium of blues stanzas on Blues For Yesterday. It is on material such as this that the Barber Band comes into its own as one of the finest blues bands of the day with every member demonstrating his knowledge of the twelve-bar format.
At this point of the concert Chris brings Ray to the microphone in yet another role, that of violinist. Like Barber, Nance started out on violin and he told Vic Bellerby "The instrument wasn't loud enough for me so I decided to take up trumpet." Fortunately for jazz he still carries his trumpet and violin cases to concerts and record sessions and the Hannover audience was treated to an extended version of George Gershwin's Summertime as a duet between Ray and guitarist John McCallum, helped by the rhythm section. Nance remains on violin for the following Oh, Lady Be Good, another Gershwin number, this time opening with some fine muted trombone from Barber. The violin-trombone chase choruses at the end are exciting with Ray double-stopping (playing two strings with the bow simultaneously) and the band swinging hard behind the soloists. Nance pays tribute to another jazz violinist, Stuff Smith, with When You're Smiling although he takes his solo here on trumpet. Chris Barber and John Crocker demonstrate their empathy with the musical atmosphere created by Nance in their solos.
After twenty-five years it is obvious that Chris Barber and his band have more than ever to offer. A glance at discographies, or a perusal of the three previous volumes of this series, shows the extended scope of the band's library. Never a man to stand still or rest on his laurels, Chris will continue to forge ahead, actively taking an interest in jazz of all kinds but never once losing sight of the music's heritage. On this album two important facets of the jazz tradition are explored by Chris's guests with the considerable help of the Barber Band. It seems doubtful if any other jazz group working today could have accommodated the varied talents of both Ray Nance and Alex Bradford without losing its own identity.

Chris Barber: The Great Reunion Concert (1975)
Notes by Vic Gibbons and Chris Barber
The "Reunion" at the Fairfield Hall represented something even more special than the 21st anniversary of the Chris Barber Band — as if that in itself were not special enough! It was also really the 21st anniversary of the real beginning of a definitely British style of "traditional" jazz and later "pop" music which evolved from the "skiffle" sound of the first Chris Barber Band.
A packed "standing room only" house was there to share, and indeed contribute to, the occasion. The importance of the audience's role is reflected in the fact that Chris turned down the chance of a TV show on the afternoon of the concert so that a rehearsal of the "old originals" could take place.
Anniversary or birthday "happenings" — especially in music — are so often an anti-climax and sometimes even a great "sham". But not that night. All six original members of the band which played its final engagement at the then Humphrey Lyttelton Club on May 31st 1954 were on parade once more. Lonnie Donegan and Monty Sunshine took leave of absence from their own bands and Kenny Ball kindly released Ron Bowden who flew down from Scotland where the Ball Band was in mid-tour. The only member of the six who had ceased to make a career in music was Jim Bray who spent a number of years teaching in India and recently returned to teach in England, fortunately taking up bass again. Pat Halcox and Chris himself, of course, being the only two remaining founder members of the band, appeared in both halves of the concert.
The first half was taken up entirely by the original band and apart from an original "Fairfield Re-union Blues", written especially for the concert, the band numbers that followed are all unashamedly nostalgic recreations of the most popular concert and recording tunes played by the band in the mid-fifties. In fact probably the only thing that will make this excellent recording sound different to those earlier discs (apart from the near delirious Fairfield Hall audience) is that here, at long last, the 1954 Chris Barber Band appears in full blooded stereo!!!
The present Chris Barber Band have, of course, appeared on countless stereo recordings but that made them no less nervous or apprehensive as they took the stage for the second half following the tumultuous reaction by the audience to the old band. But as you will hear on side three, any doubts were short lived. Repertoire-wise, they started where the first half left off gradually moving more towards the style and sound of today's Chris Barber Jazz & Blues Band with Stevedore Stomp (on side 4).
Unfortunately there the transition came to an abrupt ending with the Fairfield Hall being evacuated through a bomb scare which fortunately turned out to be a false alarm. Amazingly almost all of the 2,000 plus audience patiently waited to take up their seats again but the time lost caused certain recording problems. However the band subsequently went into the recording studio for the final five tracks and the results are well up to the standard that had been set before the Concert had been interrupted.
There was some playing by the combined 1954 and present day band which did take place at Croydon but which we were unable to include on this disc because the session took place outside the concert hall! Those who chose to make for the car park while the bomb check took place were entertained by an impromptu set in the open air. Eventually the police officer in charge after the all-clear said politely: "Thank you. You can lead them all back in again now!" And, Pied-Piper style they all followed the band back into the auditorium. I suspect that more than a few people will still be following the ever forward march of Chris Barber until . . . say, another 21st anniversary?
Vic Gibbons
My opinions on the desirability or indeed inevitability of progress and development in jazz even within the working of a band over a period are well known, so well known indeed as to surprise some fans when they see the contents of this double album. I have been so determined in my rejection of ideas such as "Chris Barber plays Dixie" or even "Chris Barber plays Trad favourites" that my enthusiasm for this album would seem to be illogical. However, every rule has its exception and my policy has always been not to ask our fans to buy yet another version of our original favourite traditional pieces except in exceptional circumstances. We all felt that the concert which created this record was an exceptional circumstance. We hope you think so too!
Chris Barber


Chris Barber's Jazz & Blues Band: Echoes Of Ellington (1976)
Notes by Digby Fairweather
One of the best qualities of Chris Barber, musician, is his imagination; an imagination which as easily moves from breathing life into a tired jazz standard to organising musical projects as ambitious as the 'Echoes of Ellington' tour of 1976. The tour brought together two seminal jazzmen - Russell Procope and Wild Bill Davis fusing neatly with Chris's Jazz and Blues Band and the musical results are here: gloriously weathered Ellington jazz at its best.
It's one of the accidents of jazz history that Russell Procope's long and honourable service in Duke Ellington's Orchestra occasionally hid him in the shadow of Johnny Hodges. An accident and an optical illusion, for as Procope told Stanley Dance in 1962 (The World of Duke Ellington, Macmillan, 1971), "We don't have a first saxophone player or a second — we have things where anybody might be playing the lead." But, no doubt because of Hodges' opulent personality, the sound of Russell Procope, after 1946, became a musical delicacy rarer than it deserved to be. For by the time he joined John Kirby in 1938 Procope had matured from 'a kind of child-wonder' (in Duke Ellington's words) into a master musician; a lythe elegant saxophonist whose tone and fluency recalled great contemporaries like Benny Carter and Hilton Jefferson, and whose contributions to the Kirby sextet would alone have qualified him for jazz immortality. It comes as something of a surprise therefore to learn that for Procope saxophone was, in theory, a second instrument, "I believe there's so much more you can do on a clarinet than on a saxophone," he told Dance in a statement that lends strange credance to an early and much criticised Rex Harris viewpoint. "You have so much more register, so much more tone. I believe that men with all the ideas Benny Carter and Coleman Hawkins had would have found much more room to express themselves on clarinet." An interesting debating point - but for Procope alto-saxophone was always much more than a reluctant double. And these recordings are an invaluable document of his later work and inspiration.
"Russell Procope was a man of dignity and gentility," says Duke Ellington. "What is more he became a conscientious all round musician." The same description applies to his partner on these records 'Wild' Bill Davis, the first great populariser of jazz organ, who by the age of twenty-two had already won a degree in music at Wiley College, Texas. That was in 1938, and nine years later Davis became intrigued with the sound of the Hammond organ, ran into debt to buy one, and began the long battle to win acceptance for his instrument. "Some people still won't accept it," he told Dance, "and in the early days it was tough."
It took fifteen years and two generations of organists - Bill Davis, his pupil Bill Doggett, Jimmy Smith, and a whole cluster of rock musicians - to slowly legitimise the instrument for most jazz ears. Duke Ellington was a big admirer of Wild Bill's work on piano and Bill deputised for Duke many times with the Orchestra when Duke was indisposed. Bill Davis was featured on piano during the 'Echoes of Ellington' tour playing in an intriguing style that occasionally recalled his main instrument. "Most of the time on organ I play in chord form," he told Dance, "like a band, reed, or brass section," and the approach works too at the piano providing a chunky swinging style at times reminiscent of Milt Buckner.
Aside from the contribution of the guests on this set, mention must be made of the new dimension added to the Barber Band by the authoritative, driving and ever tasteful drumming of Peter York captured here for the first time on record with Chris's Band.
Record One of this set - from the Barber Band, shows off all the hallmarks that have for so long kept the Jazz and Blues Band at the head of its field; creative soloing amid witty arrangements that carefully avoid the obvious. After a headlong Stevedore Stomp and ravishing Jeeps Blues, listen to Slapping Seventh Avenue for the best of Chris Barber, a dancing Ellington vignette featuring leathery Lawrence Brown-ish trombone against carefully-crafted background, full-toned pawky Halcox trumpet, and wittily in-context drums from Peter York. Procope and Wild Bill are added to the band for Mood Indigo, a lush four-part arrangement, showcasing Procope's woody clarinet (his approach occasionally recalls Darnell Howard, and it's an interesting coincidence, if no more, that both began as violinists and both play Albert system clarinets), and reflective Davis piano. Shout 'em Aunt Tillie, a jaunty tune calls up the ghosts of jungle-nights in Harlem, this time with Halcox's spritely trumpet against Latin-American rhythm.
Record Two spotlights the Procope-Davis Quartet (with marvellous interplay from Flavelle and York) and from the yearningly sensual Warm Valley to a happy Second Line (introduced with true Ellingtonian sophistication by Wild Bill) this is a set of performances that repays close listening; two master-soloists in maturity playing the music of a lifetime's experience with every track producing magical jazz.
Record Three is a happy equal-terms collaboration between band and visitors. Squatty Roo with relaxed chase choruses gives John Crocker a chance to play some booty tenor and Procope's sensitive Blues for Duke are followed by Take the A Train arranged by Alan Cohen with a cheerful vocal by Chris and climbing trombone to a full-stop coda. A standard Ellington introduction (really from 'The Duke Steps Out') heralds another impressive Cohen arrangement, It Don't Mean a Thing which frames Procope's alto against Barber, Halcox and Crocker's and Just Squeeze Me to follow, with familiar On the Trail under-riff and thick front-line voicing swings firmly and gently. The Mooche, a beautiful recreation combining academic perfection with heat, highlights duets from Crocker and Procope, Halcox and Barber, the latter a masterly brass conversation in appropriate jungle mood. And to conclude, a carefree romp through The Jeep Is Jumpin' propelled expertly by Peter York and Jackie Flavelle.
Beautiful music, and thank you Chris Barber.

Chris Barber's Jazz & Blues Band: Sideways (1974 & 1977)
These tracks are an admirable sample of the varying styles and sounds of Chris Barber's Jazz & Blues Band prior to its recent enlargement to a now eight-man line-up. It would be impossible to portray ALL of the many facets of what Wild Bill Davis described as "THE jazz showband" in even a handful of albums but this compendium does demonstrate just how widely Chris casts his musical net these days to incorporate not only a wide variety of moods but also to allow the talents of each band member to come to the fore.
For those who may consider country blues to be out of context with a 'proper jazz repertoire' (whatever that may mean!) then all one can do is point out that Jackie Flavelle's vocal feature (Me And Bobby McGee) is no less alien to the Barber sound of today than was Rock Island Line in the days when country music, as sung by the band's then vocalist Lonnie Donegan, was about to take us (and many a guitar and washboard manufacturer) by storm! While the 'skiffle' craze was gripping Europe a certain Peter York was taking his first drum lessons with his school Drum & Bugle Band. By the time that skiffle was 'out', the music that Pete had by now become associated with was very much 'in' and his percussive prowess was heard often during the sixties' as a member of The Spencer Davis Group. Since then he has worked with Eddie Hardin, The American Blues Legends, Jon Lord, etc., as well as running his own band, before joining Chris in May 1976. His own composition, Extension 345, gives a clue as to why Russell Procope and Tommy Tucker, among others, rate him amongst the world's leading drummers. Also prominently featured on Extension 345 is John Crocker who also solos on the oldest tune on the album, Dardanella – originally a pre-World War I vaudeville song. Chris Barber, composer, comes to the fore with the inclusion of Messe Blues – written as a signature tune for a German TV programme – and Balkan Grill based upon a Macedonian gypsy song heard when touring Yugoslavia.
Works by, or associated with, Duke Ellington always play a prominent part in the band's repertoire and this album proves no exception. Following the Charleston-style Doin' The Crazy Walk comes Rent Party Blues, which demonstrates just how adaptable to modern day playing his music remains. The tune also highlights just how authoritative the blues guitar playing of John Slaughter has become since joining Chris on the recommendation of John Mayall in 1964. The title track, Sideways, is typical of the powerhouse sound of today's Barber Band in full cry – although the word is far from appropriate in describing the forward direction in which the band has continued to move for nearly a quarter of a century as Europe's leading concert and club attraction. The tracks on this album are just a F EW of the reasons why!


Chris Barber with John Lewis and Trummy Young: Swing Is Here (1978).
Notes by Vic Gibbons and John Lewis
The only surprising thing about Chris Barber - according to BBC jazz presenter Peter Clayton - would be if he failed to surprise. "Surprise" puts mildly the initial reaction of many people when Eumig's "Swing Is Here" package was first announced. After all, The MJQ, The Louis Armstrong All-Stars and "British trad Jazz" are still, in the minds of many so-called jazz fans as musically removed from each other as any three galaxies you may care to name.
Trummy Young does not live exactly a galaxy away from Britain - but he was persuaded away from his haven in Hawaii to join the tour - his first visit to Europe since touring with Louis in 1964. That he had turned down all previous offers of work in Europe is no small compliment to Chris and the Band. John Lewis has for many years been a confessed admirer of the Chris Barber Band - even before they recorded his "Golden Striker" in 1960. The suite that he composed specially for this tour was written with the sound of the original six-piece Chris Barber Band in mind. These days, of course, the Barber Band has evolved to an eight man line-up but the additional reed and string instruments have, naturally, been written into the suite.
In the year that Chris Barber was to form his first amateur band (1949) John Lewis was forming the MJQ and Trummy Young was embarking upon his marathon stint with the Louis Armstrong All-Stars. The backgrounds of John and Trummy in music prior to that time (Swing, be-bop, blues) make their coming together with the Chris Barber Band far less of a surprise than may at first sight appear to be the case.
The biggest surprise during the tour was to learn from John Lewis that when the package played at Southport we were just down the road from a venue where he had played his first ever gig in England: it was a Saturday night hop with a local dance band during the war! The pearls such as "Yes we have no Bananas" and "The Palais Glide" that John played in that Lancashire ballroom are NOT featured on this album!
Vic Gibbons
The catalyst of Jazz and Jazz based popular music in Europe over the last fifteen years has been Chris Barber and his band. He has discovered that wonderful and rare experience of Jazz ensemble playing which can only be achieved by long time association (I know it from my years with the MJQ), and has also developed into one of the great and unique trombone soloists in Jazz. I enjoyed and appreciated the experience of performing with his great institution the Chris Barber Band.
John Lewis


The Chris Barber Jazz And Blues Band: Class Of '78 (1978).
Notes by Vic Gibbons
Most jazz fans, and probably almost every Chris Barber fan, have their pet or favorite period during a Band's evolution if they happen to be collectors of a particular artist's work over the years. The artist himself rarely, if ever, has any preferred sentiment towards a given phase or era of his career — changes either musically or in the personnel of a band are part of an evolution.
The evolution of the Chris Barber Band, which started out as a six-piece all acoustic unit in 1954, has seen many changes over the years including the introduction of electric instruments, the enlargement of the band to seven pieces and then, in 1977 a further increase in numbers to eight when Sammy Rimington joined the band to give it a two-reed front line.
Although this particular line-up has appeared on record before (Swing Is Here, BLP 12182 with John Lewis and Trummy Young) the aggregation has not been committed to disc on a recording in its own right, until now. This live concert, recorded at Birmingham Repertory Theatre, has not been issued on record purely to fill in the gaps for avid collectors although it does, of course cover yet another landmark in the development of the Chris Barber Band. It has been issued primarily because the concert, an annual event promoted by Alan Carter* of Yarcrest Engineering, has produced an exceptionally good live recording, so good that rather than decide which tracks should appear on an album the whole concert has been reproduced in this set. So, if YOUR favorite period in the continuing story of the Chris Barber Band was the initial period of the eight man line-up, then this record is definitely for you. If you don't have a favorite period, then this could be it!
*Alan Carter is a Birmingham Industrialist whose company manufacture gear boxes. He is an avid jazz fan who dabbles with the clarinet in his spare time. Chris Barber has undertaken not to make gear boxes if Alan gives up playing clarinet.


The Chris Barber Band, Come Friday (1979)
Notes by Marc Freeman
Contrary to popular belief, Donald Christopher Barber is not the inventor of the trombone. Sorry, but that one goes to some unnamed Italian instrument builder back in the days of the Renaissance.
Chris doubtlessly is, however, the master jazz trombonist at this time. And the title of inventor seems appropriate, too, seeing as how Chris has, in 30 long and active years on stage and in the studios, created a distinct musical style: The Barber Sound. This record represents Chris' own present to himself on occasion of his 30 year jubilee: After three decades of arranging, playing and recording all over the world, Chris finally decided to produce a document of the special sound he has perfected, utilizing the highest quality recording technique available. And there could be no doubt in the mind of an expert like Chris as to what that meant: direct-to-disc, of course.
Chris and the boys arrived in Ludwigsburg in the late afternoon, having come directly from London where they had been playing with such great British musicians as Mr. Acker Bilk and the Rod Mason Band at a nationally televised jazz festival. Schedules were horribly tight, the plane late and nerves beginning to come apart at the ends. After all, this had to be a once-only shot, the German concert tour having priority over record productions. So everyone knew there was only chance to finish the complete record in one session - and nobody was really sure it would work.
Shortly after six p.m. the musicians at last filed into the studio and began to assemble their instruments, switch strings on guitars and run off a few practice bars to warm up. Brasilian born sound engineer Carlos Albrecht was out there among them, darting around, shouting, correcting microphone placement, helping out everywhere and generally making everybody nervous. His haste, though, was understandable: In a direct-to-disc recording so many things can go wrong that it may take days to transfer a musical performance flawlessly onto the master lacquer. Time was essential.
Two endless hours later, Chris and Carlos sat frowning in front of the monitor speakers listening to the first trial recording of Duke Ellington's Stevedore Stomp, discussing spaciality, timbre and naturalness. Chris kept shaking his head: "It sounds exactly like a Dixieland jazz band. But it doesn't sound like the Chris Barber Band." Finally, he did find the words to describe what was wrong: "The whole group must have a compact, close, tense, yet mellow sound, without individual instruments losing their distinct flavor and personality. That's an effect we've been working on now for years in our live performances. But we've never been able to reproduce it correctly on a record."
This was just the kind of challange Carlos needed. A master craftsman, a true wizard of the circuitry involved in recording complex musical formations, he immediately went back to work, completely revising the settings on the mixing console, adding a microphone here, removing the second mike on the string bass, fiddling with dials and knobs, pushing buttons and keeping up constant communication with the musicians. By ten p.m., both he and Chris were leaning back in the comfortable armchairs with contented grins on their faces. "I don't know how you did it," Chris sighed, "but you did it..."
What happened next will long be remembered among those seasoned salts of the direct-to-disc studios present at the time. You seem to become used to the endless, tedious repetition, just because somebody missed his cue or failed to reach that last high note at the end of his solo. And many are the heartbreaks that occur because a uniquely beautiful side is blown seconds before it is finished when some artist or technician makes that small, but decisive mistake (like breaking out in a sudden sneezing fit). Looking back, what happened on this evening in Ludwigsburg seems almost unbelievable. The eight members of Chris Barber's band marched in, lined up in front on their respective microphones, took the tempo Chris gave them with a slight tapping of his foot - and away they went, swinging in what seemed to be joyful abandon and finishing a perfect first side in one try! No hesitation, no nervous false notes, not a sign of the enormous mental and physical strain normally associated with direct-to-disc recording. Just a truly awe-inspiring degree of professionalism.
Of course, no one was very surprised when, later on, the band went on to repeat this feat, finishing the second side with the same self-assurance as before after taking time out to devour enormous piles of hamburgers and french fries. As somebody observed later, this session probably sets the world record for direct-to-disc productions. Total playing time of this record: 35:26. Total time needed to record it: the same. Lacquers used: two!
This will explain the freshness of the performance you will hear on this record. In the course of a normal direct-to-disc session, musicians tend to become a bit tired of playing and hearing the same title over and over again. Here, though, they hardly had more to do than they would have on stage. And the sure knowledge of their own skill seemed to serve as a stimulant. "I never played the solo in Ellington's Come Friday exactly that way," clarinetist Ian Wheeler admitted later. "I like it. It's the way I've wanted to play it for quite some time. I just never had the right kind of feeling to give it a try." The unforgettable atmosphere of the recording session with some of the best traditional jazz musicians in the world today seems to have left its mark on all who were present. Hopefully, this highest fidelity rendering of Chris Barber's unmistakable, invigorating music will allow you, the listener, to experience the excitement, too.
Enjoy Chris Barber at his best - a jubilant jubilee performance.
About Direct-To-Disc:
This album was recorded in the JBS "direct-to-disc" system employing the most sophisticated audio equipment available. As a result, this recording represents the very best sound quality technically feasible at this time - a fact well worth further discussion.
The long chain of events that starts with the music and ends with the listening ear usually begins in the recording studio. If a conventional recording system is used, the soloists and different groups of instruments (i.e. drums, brass, strings) are recorded seperately on magnetic tape. A multitrack tape machine stores the signals individually. Such machines can possess more than 64 tracks, each of which can later be played back and processed as the recording engineer sees fit. These tracks are then combined down to just two signals representing the left and right stereo channels, which are then recorded on a quarter-inch tape with tracks, known as the final fixing master, or the original master tape. After additional electrical modifications these two signals are transmitted to a cutting stylus, which plows a V-shaped groove through the thin, nitro-cellulose coating on a rotating aluminium disc called a master lacquer. From this master a number of stampers can be made which are then placed in presses where the finished vinyl phonograph record is produced.
As anyone who listens to records regularly knows, there can be a marked difference in sound quality between two different recordings. These sonic abberations are a result of the storage and duplication elements - the tape and the disc itself. Tape can rightly be said to cause the majority of these audible flaws: Each time the tape passes over the recording heads, a small amount of hiss is added to the signal. In modern recordings, a certain spot on the tape may pass over the heads hundreds or even thousands of times during the complicated business of mixing down to two stereo channels.
The JBS "direct-to-disc" system eliminates the fundamental cause of audible distortions by eliminating the tape itself. During the recording session the signals are transmitted directly to the cutting stylus, the master lacquer is produced simultaneously. The result is perfect recording and an almost total lack of hiss.
Of course, this procedure places much greater demands on the musicians and the technical personnel than conventional recording systems as any mistake made by either would immediately be engraved upon the master lacquer. Once a direct-to-disc session begins, nothing may be allowed to go wrong.
Before this direct-to-disc recording was released, all concerned had to give their very best to make sure that you, the listener, can enjoy a perfect reproduction of the atmosphere in the recording studio during the original session. This, coupled with the highly enlarged dynamic range due to the direct-to-disc system, brings to you the most exciting musical experience modern recording techniques can provide.

Chris Barber and Dr. John with Freddie Kohlman and the New Orleans Brass Band, Take Me Back To New Orleans (1980)
Notes by Max Jones and Chris Barber
Whether or not it was the birthplace of jazz in fact as well as legend, New Orleans has for more than a century been the scene of a remarkable amount of musical activity, much of it devoted to the making of jazz — or one of the many music-forms which contributed to it. Of the "city of dear old New Orleans" (as one of them put it), oldtimers will swear there never was another place like it. Fond memories and legends apart, most historians agree that the Crescent City deserves the unique reputation as a pleasure resort and home of jazz it won in the decades before the "twenties".
The importance of New Orleans as a jazz centre declined as the music spread around America, and beyond, and the hometown "musicianers" dispersed to new headquarters out west, up north and even overseas. But New Orleans remained a musical city, a town noted for its band parades and annual Mardi Gras celebrations, its all-night clubs, cabarets and taverns, its dance halls, street performances, picnics and house parties, riverboat excursions, country clubs, restaurants-with-music, ballyhoo wagons, theatres and circuses and, of course, the Voodoo, Holy Roller and other churches, especially those "spiritual churches" whose rhythmic singing and clapping was such a vital ingredient of early black jazz.
For jazz fans, nurtured on the stories of Buddy Bolden and Kid Ory, Jelly Roll Morton, King Oliver, Sidney Bechet and Bunk Johnson, Freddie Keppard, the Original Dixieland Jazz Band and all their disciples it must often have seemed that New Orleans had lost much of its special distinction as the best of its jazz players left town. But jazz swung on, the funeral parades and second lines went on. Blues and Barrelhouse musicians continued to entertain, and the ethnic churches continued to heal the soul with music.
Certainly a large part of the city's music-making has changed: funk and rock and what is sometimes called "gumbo music" have taken over from pure jazz (if jazz was ever pure) as saleable musical commodities. But the best of these popular forms, at any rate, have their roots in the old stuff. There is still an authentic New Orleans sound, and one man who is deeply interested in this singular flavour (not to say obsessed with it) is Mac Rebennack, otherwise pianist-percussionist-composer Dr. John. "The Night Tripper", also known as Doctor John Creaux — a corruption of his real full name, Malcolm John Michael Creaux Rebennack. Mac digs everything about New Orleans from Gris-Gris to Gumbo, Dixieland to "Healin' Church" music, Boogie Woogie to Black Indian dancing.
Through the years, as he has worked to bring real New Orleans music and the names of some of its gifted exponents, like the late Professor Longhair, to the attention of a wider public, Dr. John has himself made an impression on Crescent City freaks around the world. Few were more impressed than bandleader-trombonist-connoisseur Chris Barber, also interested in every aspect of the city's popular and folk music from the turn of the century to today. Being Chris Barber, he did something about it. Mac Rebennack came to London to produce and perform on this album of New Orleans Music by Chris and his Jazz and Blues Band, plus the Brass Band, and accept an invitation to tour in Europe with the band.
Thus, one day in July 1980, I found myself in the Marquee Studios in Soho listening to Dr. John, Day Tripper, who is seasoning a parade number (already on tape) with the right beats to inspire second-liners to leap and prance. At the conclusion of this undemanding chore, the good Doctor tells me he has written music for the album and also sung on it and played Longhair-style piano, as well as assorted percussion. As he relaxes, smiling, I can guess that all this has been a labour of love. So I took the chance, while he was "taking five", to ask Dr. John, Jazz Tripper, a few questions relating to him, Chris and good old New Orleans.
"What is the connection between me and a British band like Chris Barber's?" — Dr. John smiles a tolerant smile: "Well. now", he says, "it all ties in because it's New Orleans music, it's part of the original tradition of jazz music, it ties in with spiritual church music, the Mardi Gras Indians. It all ties in because we're talking about New Orleans music and this album with Chris is about different aspects of that. It's all related anyhow, at any level you look at it, 'cos funk music, Dixieland, spiritual church music, Voodoo music, all comes from that two-four pulsation. When you hear that in any setting it's got one common root.
"In my look at it — which is distorted, of course, from the point of view that I'm inside of something I'm being asked to look into — I see that the funk patterns, the rhythm patterns, of Cuban music, South American music, African music and so on migrated and became at some point New Orleans music by way of church hymns, quadrilles and all this. And it later developed to a thing where most of the musicians that played either traditional or progressive jazz, progressive blues or any forms of funk music — which is an isolated part of rhythm-and-blues — have the common belief that New Orleans rhythms are original and separate. Basically it's the syncopations that make New Orleans music distinctive, but anyway it is distinctive and remains so although every now and then you II hear one song that will cross over and be accepted as pop — or whatever all that is called these days.
"There is a direct correlation between these forms of syncopation. What makes the New Orleans thing different is that the bass lines are much simpler, and not so Latin-oriented. This separates New Orleans music from the others, as do the elements of spiritual church and voodoo church which it always contains."
The seeds of Mac's own career were sown in his father's record and appliance shop, and he soon decided not to waste a lot of years on academic studies. He was working as a studio guitarist when he was 14 to 15 years old. he recalls.
"Music was the only thing I was interested in. I left school very early to travel with road bands, and I guess I'd already made up my mind to make my living from music. To tell you the truth, it was one of those unusual incidents that decided me quite suddenly: 1 saw snow one day in New Orleans and resolved to quit school and go on the road and see the world, 'cos I never saw snow before!" Someone Rebennack acknowledges to have been not only the father of funky rock and roll but a teacher and also, for him personally, a substitute parent at one time was the indefatigable Professor Longhair. "He was a sweetheart. My father passed, and 'Fess' was like a father to me for many years. No, I can't tell you his exact age either: I've seen so many conflicting birth-dates for him that it's hard to say. I mean there are ten years difference in some of the dates suggested. He may have seemed older than he was because he'd been in a lot of pain over the years from a number of physical problems.
"The magic ingredient in much of Longhair's music was his use of "second line" rhythms", Rebennack still insists. "These are rhythms inspired by the dancers following New Orleans street parades, and Roy (Professor Longhair) Byrd cut his first jazz teeth among such second-liners." "A lot of his stuff was directly second line. There were three beats, as it were, that propelled the dancers. They could dance very slow or half-fast or very fast to the one piece of music because the rhythm could be sub-divided three different ways. It's that Afro-Caribbean influence that became a really relaxed method of playing music excitingly."
His whole point, Mac goes on to say, is that the essential spirit of the music, whether it be New Orleans funk or Dixieland jazz, is what needs to be handed down and saved. "And it will survive as long as there are guys that take some real interest in preserving not only the form and structure but this special quality. It's like if there's one guy that's doing it right, that is better than a hundred of them doing it wrong."
Without stirring up those dangerous waters, we step lightly into another trap-door. Does Rebennack believe that white musicians can get the "feel thing", to use his phrase, that makes New Orleans music? He replies that he thinks there are a lot of people that can play a music which is true to themselves.
"The way I look at the thing, you understand, is that no matter what the breakdown is — black, white, yellow, green or whatever — if the music feels true to them, I can accept it. For instance 1 have picked up on things over here that sound 'true', you know what I mean."
Mac Rebennack. as you may guess from his involvement with Chris Barber, is keen on the preservation of tradition if it is done right. He says it's wonderful to see guys over here take such an informed interest in the New Orleans way of playing.
He remembers being in London a few years ago. and hearing a brass band in the show at the Rainbow. "It was a brass band like Chris has on this record, and it impressed the hell out of me. I went back to New Orleans and told the cats: 'Man. they got some guys over in London that can cut you guys to ribbons'!"
Max Jones, courtesy "The Melody Maker"
The music of New Orleans has always been our primary inspiration and our recent meetings with Dr. John, Alvin Alcorn and Freddie Kohlman, followed by a visit to the Crescent City in summer 1979 served to rekindle enthusiasm for this project, which had been at the back of our minds for some years. We wanted to express our love of the New Orleans heritage from the original Brass Band style to its descendant, the music of today, which transcends the narrow view of Jazz. Since Brass Band music is played for marching we take the opportunity of offering a walking tour of the French Quarter starting with a short service of dedication and ending with the departure of the band in a homeward direction.
The band marches up to the cemetery, each musician stopping playing as a mark of respect as he walks through the gates. After Dr. John's oration and the hymn Freddie Kohlman strikes up "When The Saints" and the band marches off to Canal Street, joined by the inevitable "second line" with their tin-cans and tambourines. On Canal Street the band alternate with some blues musicians in an impromptu concert and later, on Bourbon Street, we hear Freddie Kohlman's homage to Louis Armstrong and Dr. John's to Professor Longhair.
The other LP presents our thoughts, aided and abetted by Dr. John, on the present day aspects of New Orleans music in its various guises — from the conscious revival of ragtime to the relaxed groove of Decatur Drive — a celebration of the joy and life of the City of New Orleans!
Chris Barber

Lonnie Donegan Jubilee Concert (1981)
Notes by Lonnie Donegan
I have now been a professional singer for 25 years and during that 25 years the question I have been asked most is "how did it all start?" So I decided to set rhe record straight and show everybody who wasn't around then what great fun it was. I managed to assemble all the original cast of characters for three great days.
We did one concert in Berlin, one in Hamburg and this one in London. It was a wonderful success and all of us had a great time -- a fan presented me with a commemorative silver disk, all the band heckled Chris, and Bill Colyer kissed me. That's what I call living!
On this record I have tried to retain some of the great atmosphere of togetherness that existed that night between audience and band. The atmosphere that had Monty dancing in the aisle during numbers and had the audience coming on the stage to shake my hand at the end of three hours of sheer happiness. As I said at the end of "Goodnight Irene" -- "it was worth waiting 25 years for!"

Chris Barber's Jazz & Blues Band, Barbican Blues (1982)
Notes by Chris Barber
The Barbican Centre, opened in March 1982, cost some £150 million and is certainly one of the most impressive buildings of its type in the world. It houses not only the concert hall (home of the London Symphony Orchestra) but also the Theatre, home of the Royal Shakespeare Company and the Guildhall School of Music, which I attended in its old home not far away between 1951 and 1954. The opening of so prestigious and expensive a Cultural Centre in 1982 at a time of severe economic restraint in most of the industrial world is evidence not only that the value of the Arts is finally beginning to be accepted but perhaps also that no one could have foretold in its planning stages all that has happened to alter social and economic conditions while it was being built!
We were honoured to be the first jazz band invited to perform a concert at the Barbican Centre and, indeed, the concert, which is presented here almost in entirety, is said to be the only jazz event which has actually achieved "standing room only" in the first six months of the centre's operations.
The music at our concert was basically our current concert programme of the time but many of the pieces are heard on record for the first time. One piece not regularly in our programme was a blues, improvised for the occasion on an eight bar theme harmonically similar to the old Trouble in Mind and featuring the eloquent guitar of Roger Hill. "Quote" spotters may notice a hint of Stranger on the Shore, which is based on the same harmonies! Of the regular features note John Crocker's Rose Room (also featuring Johnny and Vic); Basin Street Blues includes another quote, Midnight Serenade, which draws attention to Glenn Miller's reputedly having written the verse of the song in collaboration with my favourite trombonist Jack Teagarden. On our forthcoming visits to the Barbican Concert Hall we can only hope that we are seeing the establishment of a tradition; its atmosphere, and acoustics are among the very best for us.

The Chris Barber Jazz and Blues Band, Concert For The BBC (1982)
Notes by Brian Priestley
The wonderful thing about the Chris Barber Band - apart from their superb music - is the number of crazy myths they have exploded. They long ago helped demolish the romantic notion that traditional jazz is best performed by musicians who dress like dockers, hold lengthy conversations on stage about the programme...and occasionally fall over!
Here now - bringing the blues back into jazz - is Chris Barber, once again setting the pace for British jazz!
Ever since becoming leader of what had been the Ken Colyer band in 1954, Chris Barber has continually caught the public ear, and over the years has provided an object lesson in how to update your sound without losing your identity. On his very first album, he created two famous singles: Bobby Shafto applied the traditional New Orleans band style to a British folksong, and Rock Island Line, of course, launched the solo career of his then banjoist, Lonnie Donegan. Although, in the latter, Chris himself played the double-bass, his more accustomed role as trombonist has always remained the focus of the band's music, rather than the main attraction. Generous to a fault in his featuring his co-workers, he found his best selling record ever in a piece totally dominated by the clarinet of Monty Sunshine, namely Petite Fleur.
In a similar fashion, Chris Barber's open-mindedness about music in general not only led to his involvement in the skiffle movement, but encouraged him to invite American artists to tour in Europe with his band, and not just the expected jazz instrumentalists. He startled the natives by introducing them to the electric blues of Muddy Waters back in 1958 - a full five years before that sort of thing became popular - while in 1962 (more like 15 years before the latter's posthumous fame) Louis Jordan was unleashed on his one and only British tour at Chris's insistence. Not surprisingly, his own performances began to show the influence of such authentic and original sounds, as well as those of the Black Nativity gospel group whose leader (Rev. Alex Bradford) he also brought to Europe more than once. An avid listener to music of all kinds, Chris bought a job of several thousand gospel records not long ago, but he is just as likely to incorporate rhythms from the Balkans into his playing!
The period in the mid-1960s when it finally became clear that there was no chance of Chris Barber remaining confined by the tenets of New Orleans-style jazz, caused as much dismay among Trad fans as the folkies felt when Bob Dylan went electric. The addition of a plug-in guitar alongside the banjo, and later even an electric bass, has made possible the diversification of the band's music so amply demonstrated on this recording. For instance, the guitarist heard in Georgia on My Mind is Roger Hill, who used to contribute to Fairport Convention's brand of folk-rock, an area of influence also felt when clarinettist, Ian Wheeler, switches to harmonica for Ride On. And the rhythm section as a unit is capable of coming over all funky on Perdido Street Blues, which sports some raunchy saxophone by John Crocker.
But note the name of that blues, for his performance there are no less than four numbers inspired by the streets of New Orleans, plus Chris's own guided tour on the place concocted for a recent concert series with the New Orleans rock-and-roller, Dr. John. Add to these the inclusion of When You Wore A Tulip and Whistling Rufus, two songs beloved of the marching bands of that city, and you will realise that Chris Barber has not moved very far from his musical roots after all. He has, however, given jazz the benefit of his intelligent musicianship and wide-ranging enthusiasm, and the results are here for all to see and hear.


Ottilie Patterson with Chris Barber, Madame Blues And Doctor Jazz! (1983)
Notes by George Melly
In my view Ottilie Patterson is and always has been our finest blues singer. I first heard her many years ago at the Royal Festival Hall, her official debut I believe, and couldn't believe my ears. This small, slight, clearly rather nervous girl emerged tentatively into the middle of that vast, somewhat impersonal stage, opened her mouth, and out came the great raunchy soaring growling voice of my then and ever idol, Bessie Smith. It was an uncanny experience.
Now if Ottilie had continued to sound like a carbon Bessie I would have been happy enough, but she hasn't. In the interim, approximately thirty years, she has not only absorbed many other influences, but digested them. Ottilie now sounds like Ottilie; the voice is her own, the phrasing is her own. Her choice of repertoire covers not only the classic and vaudeville blues, but also gospel and R.&.B. with equal conviction. She is an assured and fulfilled artist.
Nevertheless the incongruity remains. Still physically small and temperamentally nervous, clearly white, as soon as she starts to sing it's like some form of possession. She doesn't sound like a Black imitation, or someone paying homage, however sincerely, to the Black Soul. She sounds Black.
Here she has been recorded live in a variety of venues, principally Croydon, not a place one associates immediately with jazz legend. The choice of numbers is imaginative and varied. Several of the numbers are highly charged sexually and here too this slightly prim-looking Northern Irish girl is a revelation. She never titivates or teases. She demands, pleads, suffers, seduces, provokes. "Easy, easy, baby!" she growls, and we'd better believe her. Likewise on Salty Dog, she makes a very bold, cheerful and uninhibited offer of satisfaction; hers as much as anyone's; of sex without strings. The reverse side of the coin is realised with remarkable, painful intensity on Baby Won't You Please Come Home. This is a much recorded song; Bessie herself offered a formidable interpretation; but Ottilie turns it into an anthem of deprived longing. As a coda she screams, groans and shouts her misery with such bravura that she risks collapsing into incoherence. She doesn't though. She manages to shape her anguish without inhibiting it.
I have chosen these numbers of the album to indicate what I believe to be her qualities. There is no need I think to describe the rest. She simply applies herself to each of them with that balance of intuition and intelligence which is the hallmark of the true artist. The Chris Barber Band accompany her with the empathy that comes from a long association with both her and the music itself. They too respect the idiom; they have never been content, not even in the early days, to remain corralled within the Trad formula. It is however Ottilie's album. She has never sounded better.

Chris Barber & Dr. John, Mardi Gras At The Marquee (1983)
Notes by Gerard Bielderman
In 1983 the famous London music venue the Marquee celebrated its silver jubilee. One of the founders in 1958 (it was then in Oxford Street, now situated in Wardour Street) was Chris Barber; so it was fitting that he should do something special with his Jazz & Blues Band to mark the occasion. He therefore asked well known New Orleans musician Mac Rebennack, better known as Doctor John, to tour again with his band and to give two special concerts at the Marquee which would be recorded for future audio and video release; the recordings being made on the second night.
Julian Purser, co-compiler of the Chris Barber Discography, was there and reminisces: "When you enter the Marquee for the first time it is amazing, almost as though time has stood still for a couple of decades; it is cellar like and small; the dressing room is not much more than a broom cupboard. On the night of the 15th of April it was standing room only, and with the cameramen, technicians, cameras and cables there was hardly space for the very large crowd, and how the band managed to march around and through the audience was astonishing. Doctor John was a very tall, striking figure, with his carved walking stick and had a magnetic stage presence. He was happy to be either band pianist or solo vocalist and pianist."
Both evenings were sold out, and fans of Doctor John and Chris Barber all enjoyed themselves listening to the feast of music. Alexis Korner was there on the second evening immersed in the music. It was an evening full of interesting and differing New Orleans Jazz and Blues. Listening again brings the memory of the evening very much back to life.
About Dr. John
Mac Rebennack, better known as Dr. John The Night Tripper, was born in New Orleans, in 1944. He has an adventurous life behind him. His father owned a record shop and that strongly influenced his musical interests. At 15 Mac was already active as a professional musician in and around New Orleans. His first instrument was the guitar and he cut his first single record around 1958 for the Rex label.
In 1960 he switched to electric bass after being shot in his finger. Mac was working nights with a traditional jazz band and soon started concentrating on piano and organ. For some time he worked as a session musician.
Mac was very much influenced by New Orleans blues singer and pianist Roy Byrd, better known as Professor Longhair. However, Mac learned more than just music. He became a drug addict, got involved in a shooting and in the end was sent to prison after having swindled a record company he worked for. In prison he developed the scenario for a show interlarded with voodoo and other sensations. Out of prison he put these into practice. Mac's show had great success, especially at pop festivals. He made some hit records such as Right Place, Wrong Time (1973) and did a European tour.
Scarves, hats, feathers, an ivory earring, a carved walking stick, assorted necklets, crosses and good luck amulets, smoke, glitter dust and a touch of voodoo were the distinguishing marks of his image.
However, at the end of the seventies it looked as if Mac would retire from music. But luckily that proved to be untrue. He kept on playing but abandoned the extrovert shows of earlier years.
In 1979 Dr. John met Chris Barber who at that time was thinking about a project to express his love of the New Orleans heritage. In April 1980 the Chris Barber Band and Dr. John recorded the famous album Take Me Back To New Orleans. On this they presented their thoughts on the present day aspects of New Orleans music in its various guises.
During February and March of the next year the band and Dr. John made an extensive tour which was repeated in April 1983.

Can't We Get Together (1984 with some tracks recorded in 1957)
Notes by Chris Barber
The music on this album spans 28 years of our career, from 1957 to 1984.
On side 1 we present the band of 1957 recorded for Holiday, an advertising film by British Transport Films. The purpose of the film was to advertise, in a subtle way, the advantages of travelling by rail and it describes the possibilities of a holiday in Blackpool in the north of England. The text in the film was spoken by a famous British movie actor, Robert Shaw. The arrangements played on the soundtrack were specially modified to fit sequences already filmed and are therefore quite different to those of the same pieces on released records at that time.
Side 2 presents the band of 1984 in studio and live. We feature a brief glimpse of one of the most influential and charismatic musicians from New Orleans: pianist/vocalist/composer Mac Rebbenack, known on stage as Dr. John. His meaty piano style adds enormously to our Ellington/Hodges favourite Good Queen Bess. However, with our New Orleans Memorial presentation in honour of At The Jazz Band Ball illustrate our personal opinion of the importance of tempo selection for jazz performances.
Sides 3 and 4 bring 1953 and 1984 together, in that they unite on record again the frontline of the band which, to the amazement of some and the dismay of others, changed European revival jazz history and whose influence is felt still wherever traditional jazz is played.
The band had its beginning in 1952 when Monty Sunshine and I, frustrated by the apparent impossibility of playing often enough with our amateur bands ever to achieve the standard we were convinced could be attained, decided, over poached eggs and spaghetti in the Rex restaurant, to form a professional jazz bond.
Monty and I had the advantage of being students (he of art, I of music) and thus able to devote a lot more time to playing jazz than most amateur musicians, who usually have 'normal' jobs to go to every day. We each knew some other amateur musicians of like mind (Ron Bowden from Monty's band, Lonnie Donegan from my band and Jim Bray from Lonnie's band) who saw no future in their current 'normal' daytime occupations in any case.
Emboldened by the knowledge that fine jazz had been recorded by groups with the same or similar instrumentation to our trumpet- and piano-less quintet we began rehearsing. Naturally several pianists and trumpeters fancied us but none seemed to produce the desired effect: eventually Pat Halcox showed up and was clearly the man for the job.
Our plans advanced: we were to rehearse as often as possible until we 'turned pro' in March, starting with our 'out-of-town tryout' on a three-week trip to Denmark. However by mid January, Pat Halcox had had second thoughts ... his parents had supported him during his chemistry studies for some time and he felt he owed it to them to persevere with the job he had in chemical research. Fortunately and almost immediately afterwards we heard of Ken Colyer's impending return from New Orleans, where he had been lately a guest of the U.S. government, so we invited him to join the already rehearsed band and give it his name. The band's success was instant in 1953 terms: we began right away to earn a meagre living and build a following.
One year later disagreement between Ken and the rest of us led to Ken's forming his own new band and my becoming leader of this one. Pot Halcox now having seen the error of his ways joined in with alacrity and we first played in the new form on May 31st, 1954 at 100 Oxford Street, London.

The Chris Barber Jazz And Blues Band, Live In '85 (1985)
Notes by Don Aldridge
If it is not possible for you to get to a concert given by your favourite band, the next best thing is to listen to a recording made 'live' at that concert. And even if it is possible to get to the show in question, what better than to re-live a part of the concert at your leisure and in the comfort of your own home.
I was not in Bremerhaven when this recording was made and it is probably true to say that I get to see the Chris Barber Band 'live' on no more than a handful of occasions throughout any given year, although I have known them for 30 years. Listening to this 'live' performance of the band was therefore just as great a pleasure for me as it will be for you.
Throughout Britain and Europe, there are many jazz bands which have much in common in their sound and a great deal of similarity when it comes to ensemble playing. But this band stands above all the rest. Chris Barber is a master musician whose technical knowledge has few peers; and he has assembled a band with a very definite individual sound. It is only to be expected that a musician of the calibre of Chris would not be content to surround himself with inferior sidemen, a fact which no doubt accounts for the personnel of the band being unchanged now for so long.
There is a veritable array of musical instruments on the bandstand at any Chris Barber concert; John Crocker and Ian Wheeler with clarinets as well as alto and tenor saxophones, also lan's harmonica. And Pat Halcox with trumpet, cornet and also flugelhorn. The rhythm section has Vic Pitt with tuba as well as bass while Johnny McCallum and Roger Hill have banjo and guitars. As for Chris, himself, trombone, trumpet, tuba and double bass are but a few of the many instruments he plays. There is even a rumour that drummer, Norman Emberson, can double on spoons.
With such a variety of instruments at their command, is it any wonder that the band does, at times, give the impression of being much larger than just eight musicians and could justifiably be called 'the biggest small band on the jazz scene'.
On this recording, John Crocker is heard on clarinet only on one track, Bourbon Street Parade, a number which Chris adopted as his signature tune and which must be familiar to all regular attenders of the Band's concerts. On all other tracks Ian Wheeler is the featured clarinetist and John Crocker alternates between alto and tenor saxophones.
Straight from the signature tune the band zips into Do What Ory Say. Played much faster than one would normally expect, this up tempo version may surprise you. The more I hear it, the more I like it, for despite its pace, it never gets hectic nor does it run away with itself. In fact, I feel that it is this very tempo which proves, conclusively, what a great set of musicians make up the Chris Barber Band. Excellent solos come from Ian, Pat, and John, before Chris, on trombone and bassist Vic Pitt combine. There are also breaks from Johnny McCallum, Roger Hill and Norman Emberson.
Jambalaya and Lead Me On are of a similar, more easy going tempo and both tracks feature trombone and clarinet duets. John Crocker plays tenor on Jambalaya and alto on Lead Me On while Pat Halcox is well to the fore on trumpet and Vic Pitt weighs in with an excellent bass chorus in Lead Me On.
The only blues style number featured on this recording is Nobody Knows You When You're Down And Out. This is sung by Chris and, as is his wont on occasion, his topical wit and humour lead him to add a reference to 'Glycol' among the 'champagne and wine'. No doubt his eyes showed a more genuine sparkle than the German wine infiltrated with an overdose of the stuff from Austrian sources. Solos are in evidence from Pat Halcox, Ian Wheeler, John Crocker (on tenor) and Roger Hill before a final solo from Chris this time on baritone horn, otherwise known as Wagner tuba.
Some Of These Days is a vehicle for the trumpet playing of Pat Halcox. Backed by three piece rhythm, Pat's treatment of the number, somewhat faster than Sophie Tucker's, is very tasteful and Vic Pitt, than whom there is no better bass player on the scene, is again to the fore with an excellent solo. John McCallum on guitar and Norman Emberson on drums make up this superb quartet. The recording ends, as it begins, with a marching type number, this one coming from the pen of the great Dr. John. On A Mardi Gras Day brings Chris Back to the microphone ably backed up by the rest of the front line in vocal support and the whole ensemble bows out in real carnival spirit.
It is at this point that the audience in Bremerhaven and those in the comfort of their armchairs must go their seperate ways. For those at the concert there was still more entertainment to come from the Chris Barber Band while, for those listening to their Hi Fi at home it has to be a case of 'Play it again, Chris'.

Van Morrison, Lonnie Donegan and Chris Barber, The Skiffle Sessions
Notes by Van Morrison, Lonnie Donegan and Chris Barber
My interest in music and a strong determination to learn the guitar had been inspired at an early age by listening to my father's vast record collection which included Leadbelly, Sonny Terry and Brownie McGee, etc., etc. Later I would hear Lonnie Donegan and Chris Barber covering songs made many years earlier by Leadbelly and others and it gave me an immediate connection with them. Little did I know that nearly 40 years down the line I would be singing with both of them on a live recording made in my own home town of Belfast.
Given the geographical distance between me and my heroes, skiffle arrived where and when I needed it. It was too good to be true. What had once been an eccentric taste in American folk-blues was now a popular hit. Music was the common denominator and skiffle provided a bridge between what I had always been listening to and what everyone else was suddenly discovering.
Although he doesn't get credit for it, Donegan was a major motivator, not just for me, but for many kids with musical ambitions. It wasn't that just anyone could do it, because that would deny Donegan's real skill as a musician and a vocalist.
When I formed my first band with my friends, we called ourselves the Sputniks and began playing at youth clubs and school concerts. We had a washboard, guitar, tea-chest bass and a type of kazoo called the zobo.
From then on I worked my way through various beat groups and showbands, through the blues band Them in the mid '60's and on to my solo career spanning the last 30 years.
And here I am again, "back on the corner" playing skiffle once more, with my old/new friends who so inspired me.
Also see the following books: Skiffle by Chas McDevitt; The Skiffle Craze by Mike Dewe.
Van Morrison
This is "Skiffle As She Was Wrote", - you might say! or "She Was Poor, But She Was Honest!"- or "Any Man Who Wants More Than This, Is Evil Minded!" Whatever! - but at the end of the day, we sung it, it went down the wire, and now you've got it! No "overdubs", no tricky echoes, no rehearsals, no mirrors.
I love Frankie and Johnny (not a sexual preference, but a musical one!). In my view this is a perfect example of the genre - "Skiffle". It is a Folk Song, it has strong Jazz overtones, it has a very mixed instrumental accompaniment and it Swings Like Mad!!!! Largely due to a great rhythm section and the incredible rapport between Chris Barber on his native trombone, and Nick Payne on his even more native harmonica. A brilliantly exciting rendition of the first Folk Song I ever learned.
Another great swinger is Good Morning Blues. This one is powered by the rocking piano of Dr. John, who just dropped in on us from his own gig across town, sat down and boogied! This was my first experience of his sensational talents. However, he was well known to both Van and Chris Barber, so we had no trouble in persuading him to become a temporary "skiffler".
Another rare treat was the capture of a blues guitar solo from Van. This was on the old blues track Outskirts Of Town. I had never heard him play like this before, and I was really thrilled. Van has an unusual solo guitar style, somewhere between early Muddy Waters, and, when he adds the unison voice, 1940s Slam Stuart.
Jessie James himself, must be proud of this charismatic presentation of one of America's best-known outlaw legends, sung and played by one of Britain's best known musical legends. Aided and abetted by "The Skiffle Gang", Van growls his way from robbery to grave, pausing only to listen to the sympathetic whine from the harmonica played by pallbearer Nick Payne. This is, undoubtedly, the definitive version of Jessie James.
I feel I must mention the extraordinary originality of Van Morrison's version of Goodnight Irene. While I approach this song as a slightly introverted lament, Van's approach is much more "Macho" and "in your face". An intriguing mixture typical of the whole session.
We all hope that you enjoy yourselves as much as we did.
Lonnie Donegan
I first heard Jazz and Blues music when I was about 13 years old. I heard it on the radio and looked for records of it. At that time the total catalogue availability of Single Jazz records was around 25 and of Blues more like 6! I bought those (and I've still got them!) and never looked back.
By the time I was 19 (1949) I got together an amateur band to play Jazz and Blues - the blues side being led by guitarist Alexis Korner (in his first band, too!).
A couple of years later Lonnie Donegan and I met up when he joined my band and we started performing together what we (and the world) called skiffle. Little did we know that the young Van Morrison in Belfast was already drinking in this music too - at first through the greats such as Leadbelly, Big Bill, etc., and then quickly discovering our versions.
Van has become such a remarkable performer of this music that it has been a real pleasure and great experience making music with him - especially the great concerts in Belfast 1998. As they say in the House of Commons "I commend this record to you all".
Chris Barber

Chris Barber's Jazz Band, Chris Barber International, Vol. 3, Barber At The London Palladium (Philips re-issue edition).
Notes by David Berkwood
Chris Barber's Jazz Band ranks high in the annals of British jazz. In the early 'fifties it was the standard-bearer of the traditional jazz revival which swept not only Great Britain but also the Continent. And, thanks to the phenomenal success of its interpretation of Sidney Bechet's lovely composition Petite Fleur, with which it won no less than three gold discs, it pioneered the breakthrough from the specialised sphere of jazz to the more indulgent world of popular music. By the time this particular recording was made in March 1961 it had achieved full maturity of that plangent and forthright style which remains its hallmark to this day.
The occasion of this recording was the "Jazz News" Poll Winners' Concert — a poll in which Chris Barber's Jazz Band had romped home to victory in its particular category, and the choice of the London Palladium (Britain's most famous variety theatre) was both daring and spectacular for such an event. For the Palladium holds a kind of mystic excitement within its gilded walls — an excitement that can inspire or crush a performer. Just which it is to be depends entirely upon the skill and stature of the artist. Faced by a sea of banked faces, a mental hangover from the advance publicity, and, ultimately, by the shattering expertise of the stage technicians, it is only the best and most experienced performers who overcome their nerves.
But by 1961 Chris Barber's Jazz Band was much more than a mere jazz club attraction. Fresh from their second American visit, and with almost a dozen transcontinental tours to their credit, the musicians had become seasoned veterans of the concert platform, with the experience and ability to rouse even the largest audience to a fever pitch of excitement and enthusiasm. This recording is living evidence of that ability.
It is also something of a personal triumph for Chris Barber himself, and a tribute to his own innate ability and deep sincerity. The programme he chose demonstrated the range of his musical ambitions and the targets he set the band. It also proved the completeness of his success. In fact, as a programme for a poll winners' concert it could scarcely have been improved, wide-ranging as it was in both mood and material, from the "go-lightly" strut of Fidgety Feet to the intense indigo of Ottilie Patterson's Too Many Drivers; from the "evergreen" strains of George Gershwin's 'S Wonderful to that classic piece of Ellingtonia, Creole Love Call. And then there's what was probably the first British public meeting of tradition and modernism in Joe Harriott's jazz waltz, Revival.
The inclusion of Jamaican Joe as special guest artist — Harriott had been chosen as top alto saxophonist in that same "Jazz News" Poll — is typical of Barber's adventurous approach to traditional jazz. Chris's musical heritage goes back to King Oliver and Jelly Roll Morton. Harriott, on the other hand, is a modernist whose greatest inspiration is Charlie Parker, founding father of the modern alto saxophone school. (Later in '61 Revival went on to win a coveted Ivor Novello Award as an outstanding contribution to popular instrumental music.)
Such has always been the splendid team spirit in the Barber band — there were only two changes of personnel during its first five years of existence — that it is invidious to single out individual players for special mention. But it would be unfair not to draw attention to the warmth and fine taste of Pat Halcox's trumpet playing, or to the expressive fluidity of Ian Wheeler's clarinet.
This may well be considered a historic record, though it is by no means "dry as dust" history. It is living music (in every sense of the word), and just as lively to-day as it was that evening of March 30, 1961 when, to thunderous applause, the curtain rose to Chris Barber and his Jazz Band "on stage" at the London Palladium.

Getting Around
Notes by Stan Britt
The Sixties was a particularly productive period for the Chris Barber Band, thus enabling it to capitalise on both the individual successes and the ever-increasing popularity it had achieved during the previous decade. Much of this had been due, of course, to the Traddy-Pop boom in the UK, which took place from the tail-end of the 1950s and lasted through most of the first-half of the Sixties. Frankly, a lot of inferior sounds - sometimes falling into the category of pseudo-jazz - emanated from this extraordinary period. Barber, to the surprise of very few, never attempted to sell his (jazz) soul, neither was he guilty of prostituting his art. He just kept on producing the basic-Barber brand of music...which continued to attract newer audiences, while retaining the loyalty of his long-standing admirers. True, he mightn't have achieved the on-record triumphs of some of his major rivals. Invariably, though, the consistency in performance of his outfit - in-person, as well as from inside the recording studios - was, invariably, superior.
(In fact, Barber had but one local Hit Parade success during the 1960s - the previous Barber record to chart had been the delightful Lonesome, a Top Forty entry in '59 - this time with Revival, a gospel-tinged swinger by the great modern altoist Joe Harriott, who also appeared on the live recording LP version).
Certainly, there was no lack of recording opportunities during the Sixties - but mostly in a 'normal' way...without wondering if either the number being recorded, or the overall sound made by the band, were likely to persuade pop deejays to help find another trad-based pop hit. Between 1960-1963, in fact, the Barber Band made an astonishing 33 different record dates, including the '63 sessions which produced the contents of this always-interesting LP.
The togetherness of this particular line-up is due totally to the fact that it had been a working unit for so long. Barber apart, the sidemen - with the exception of clarinettist-saxophonist Ian Wheeler, who had joined two years before - had played together for at least five years. Drummer Graham Burbidge, for instance, had replaced Ron Bowden in 1958; the two Smiths - bassist Dick, guitarist-banjoist Eddie - had been with Chris since 1956; vocalist Ottilie Patterson had first recorded with the band in 1955; and trumpeter Pat Halcox first worked with Barber as far back as '54.
The recording projects notwithstanding, the most important aspect of the Chris Barber Band's many activities involved continuous touring, both home and abroad. In the latter category, 1963 found the band touring/recording in Europe, which is from whence most of the repertoire to be found within this sleeve emanates. Half the tracks were taped in Prague - at two separate dates in March - during a most successful visit to Czechoslovakia. It wasn't the first time the band had recorded behind the Iron Curtain. The year before, it had recorded in Budapest, for the Hungarian Qualiton label (Storyville SLP 408). On that occasion, the band rose to its best form. Same with the Prague sessions. A mostly classic early-jazz repertoire, with Ottilie Patterson's Bessie-influenced singing registering especially well on items such as the traditional Freight Train Blues, the dynamic Sister Rosetta Tharpe opus, Strange Things, Tommy McLennan's touching I Love My Baby, and the immortal See See Rider (with the lady from Comber, Co. Down, Northern Ireland evidencing a predictable bias towards her major influence).
Instrumentally the band is nicely relaxed throughout the Prague dates. Individually, and not for the first - or last - time, it is Pat Halcox who consistently takes solo honours. He follows some fine muted obbligato behind the vocal on I Love My Baby with a much-too-short cup-mute offering.
Solo-wise, he dominates a vibrant Tishomingo, delivers particularly exciting contributions to a delightful Tight Like That and a buoyant, friendly Magnolia's Wedding Day. Ian Wheeler plays as fluently as always, whether using clarinet or alto. Assisted by brisk chording from Eddie Smith's banjo, he is particularly effective on the former instrument during Magnolia's. And he certainly seems to have George Lewis in mind - most appropriately - for Tishomingo. Not forgetting the important role which leader Barber's trombone plays throughout, whether structuring the ensemble figures, or bringing forth a really torrid solo - following his typical light-hearted vocal - that highlights the infectious Tight Like That.
The brace of items recorded in Munich almost three months later, show no diminution in quality from the Czech dates. Indeed, the carefree spirit of these two performances compares with the very liveliest studio recordings of any period. After Pat Halcox's firm, declamatory thematic statement, When My Sugar Walks Down the Street becomes a splendid Barber recorded document, helped no little also by Wheeler's short, jaunty interlude, followed by a lively ensemble passage, a droll Barber outing ('ambling' is another apposite adjective one might use to describe his delicious piece of tromboning), and, finally, a short break from Burbidge. The leader is in similar mood for an equally uplifting Bonsoir, Mes Souvenirs. The band itself is at its most relaxed as it produces what can truly be described as 'good-time jazz'.
Back in more familiar territory, Barber & Co. tackle a somewhat different set of tunes, including Chris' own The Great Bear, which results in yet another performance that is high on basic communication, and one which has definite R&B derivations. Halcox is at his most extrovert; Wheeler, on alto, appears to be enjoying himself immensely; and the composer is absolutely in his element....more's the pity he decided on a solo of such inadequate length! The Neapolitan love song, O Sole Mio, is transformed - mercifully - via a tango rhythm, to an archetypal traditional jazz format. Note, here, Halcox's fine lead: nothing new, of course, but it serves as a timely reminder of how important he's been to Barber ensembles for so long now.
Perhaps the most intriguing of all the London-recorded items herein is the quartet of Kurt Weill compositions. Barber is just one of numerous jazzmen who have been intrigued by this unique writer's contributions to classical, near-classical, and even standard-pop music of this century. For anyone remotely aware of the music of Weill, his Die Dreigroscftenoper (much belter-known as The Threepenny Opera) will be very familiar. Especially Mack the Knife. A number that is marvellously descriptive of the folk opera's anti-hero, Macheath, Mack was to achieve worldwide hit-record status, years after Die Dreigroschenoper's premiere performance at the Schiffbauerdaimn Theatre, Berlin, in 1928. First, through Louis Armstrong (1959); then, via recordings by Bobby Darin (same year - and again in '60), and Ella Fitzgerald ('60). The four tunes chosen by Chris Barber for recording in '63 sound just right for the band. Listen, for example, to How To Survive, with the band retaining a Teutonic feel throughout, and with Halcox (muted), Wheeler (clarinet), and the leader easing nicely through their respective solos. After a languid opening, Halcox takes his colleagues on a spirited, up-tempo romp that makes Army Song a delight to the ear. Individual highlight here, is the fiercely-blown trumpet statement. A more lively Useless Song (now, there's an inspiring title for any composer with aspirations!) is accorded a suitably jaunty interpretation. Leader Barber's trombone - muted during the opening ensemble - shows the way for his mates. Mack the Knife, rather unsurprisingly, sounds ready-made for this band. Chris himself introduces the well-known theme, with Burbidge's near-martial drumming complementing an almost-dirge-like overall mood. Again, though, both tempo and mood change, from the doleful to a predictable joie de vivre. This is essentially a group performance - even guest pianist Freddie Poser makes but a minimal solo contribution to proceedings - and as such is admirable, in every way.
Today, as in 1963 - and indeed in the years before that - the Chris Barber Band continues to carry on relaying the vital message of jazz. Never afraid to incorporate fresh devices within an ever-expanding repertoire - just as long as they're valid, they're musical, and they fit - Chris himself continues to be the arch-enthusiast for the music he loves dearly. He's become such an established figure in European jazz circles, that sometimes he's tended to be taken for granted - especially in his home country. And even after all these years, Barber wouldn't change that situation. Nor, for that matter, would we...
As he also told this writer: "I don't want to come on, saying our band's the greatest in the world. But I'd rather play in it than any other one. When I think of the many things we've accomplished - over a lengthy period in time, now - I'm more than pleased..."

Notes by Chris Barber
Louis Jordan was the greatest thing that ever happened to our band. We can swing with the best of them, but playing with Louis when he was fifty seven years old was like being dragged along by a wild horse!
People don't realize that the old Chick Webb band of the thirties didn't have just one singer named Ella Fitzgerald, but two singers, with Louis Jordan being the other and equally renowned. Louis' name got rubbed out in the re-writing of history that goes on so much these days. Let's hope that with this album we can play our part in putting his name back where it belongs.

Touring Musically With The Chris Barber Jazz Band (Compilation of tracks released on the German Metronome label).
Notes by Tony Standish
For years Pat Halcox's fiery solos during his feature spots with the Chris Barber Jazz Band have occasioned favourable comment. Now we are given the opportunity of hearing him, that same role, wending his melodic way through some very fine tunes, over a warm, pulsating beat from the regular Barber rhythm section. It is a rewarding experience — proof positive that Pat Halcox has developed the last few years into one of the finest trumpet players in British jazz.
Here is a man who has gathered in his head the sounds and devices of many great jazz players: Louis Armstrong, Kid Howard, Ruby Braff, Thomas Jefferson, Ken Colyer and Sidney de Paris are but a few to whom he has obviously paid heed. Yet what emerges is no copy, not even a patchwork of styles, but an entirely new sound, unique to this one artist, yet having all the essential qualities of the jazz tradition.
Notes by Peter Leslie
Within days of joining the famous Chris Barber Jazz Band in the early spring of 1961, clarinettist Ian Wheeler was being enthusiastically talked about all over the traditional jazz world in Britain. Soon, the critics were talking too — and, to a man, they were unanimous in their praise. Fluidity, expressiveness and control in the ensemble; individuality, strength and imagination as a solo voice: these were the points singled out for especial mention from among the many facets of Ian's artistry.
Originally a guitarist, Ian took up the clarinet when he formed his own River City Jazz Band in 1952. A year later he joined Mike Daniels and from 1954 he played for five and a half years with the Ken Colyer Band until he became co-leader of the Sims-Wheeler Vintage Jazz Band. It was from this group that he graduated to the Chris Barber personnel: a fitting position for an artist in whom enthusiasm, jazz "feel" and instrumental brilliance burn with equal brightness.

Chris Barber and his Jazz Band, Vol. 2 (Compilation of tracks released on the French Vogue label).
Chris Barber hasn't got yet his statue at Trafalgar Square -- but don't worry, this won't take long. It might be difficult for us French listeners to imagine how popular his band is in Great Britain and most of Northern Europe.
Just remember what a tremendous success the band had at their previous German concert tours for instance. You probably know that it is this band which made a hit of Sidney Bechet's Petite Fleur, long before it became popular in France. After Germany this number hit England, then the States, before it flowed the world over.
What undoubtedly made Chris Barber's band such a success was the violence and the enthusiasm of his musicians' style. It is its explosive ferocity which enthused the various audiences the band played for, and which made the orchestra popular for many years.
Even having seldom played in France, Chris Barber has gained in this country an amazing number of fans during the last few years.
It is for them, as well as for you, that we released this record which features some standards of the twenties which we hope you will enjoy. They have all been revamped by the full band as well as the quartet led by the orchestra's clarinet Monty Sunshine, and so with no further ado, we'll let you go on using your turntable's needle instead of our pen's point.

Hushabye (Compilation of tracks released on the French Vogue label).
Chris Barber's orchestra has a reputation in England, as well as Germany, like that of Claude Luter's in France. This reputation has spread in many other continental countries, including America and Australia too. It's mainly due to Sidney Bechet's Petite Fleur that Chris Barber end his jazz band gained such great acclaim.
It's odd that in Germany this rendition first became a hit – later coming to Britain and recently hitting America. But in France, where Sidney Bechet's original recording was made eight years before, it was only discovered after the composer's death.
Chris Barber's band is one of the last to come from the many post war neo-New Orleans bands. It owes its popularity to the power and enthusiasm which captures all their audiences. In a very few years, this band has out-shined all other British combos – and we know how many there are! Their popularity has spread outside the island shores which explains why the group is continually touring the Northern continental countries up to the United States.
The new Chris Barber album features some New Orleans evergreens such as Everybody Loves My Baby, Bill Bailey, and High Society, along with their ever popular hits, Hush-A-Bye and Majorca. In short, you, have an explosive, gay and lively record here, which by no means will allow you to settle in a melancholy mood – after all, this is not uncommon these days.

Chris Barber's Jazz Band with Ottilie Patterson (Compilation of tracks recorded in 1954 and 1955).
In the early spring of 1954, the jazzband led by Ken Colyyer, which had come together under his leadership the previous year on his return home from New Orleans, split under pressure of internal disagreement over musical policy. Colyer was left to pursue his own path, while the remainder regrouped under the supervision of the young trombonist Chris Barber. With the addition of Pat Hale ox from the Crane River Jazzband on cornet the Barber band embarked on a career that has, for the last decade, kept them in the vanguard of the British Jazz scene.
From the very first their brand of bright, lightly swinging and tasteful music appealed to the rapidly growing jazz audiences and within a few months the band was firmly established as one of the most popular groups in the country.
Among their first public appearances were two concerts organised by the National Jazz Federation and presented at the Royal Festival Hall in July and October of 1954. At the first of these the band was obviously still heavily influenced in their playing by the rigidly purist approach which Colyer had so strongly impressed upon them, but during the four months preceding the second concert the individual members settled more firmly into their respective places and the sound that was to hallmark the Barber band began to take shape. The second concert was notable for two reasons. Firstly, the infectiously gay swinging performance of Tight Like That (with a particularly fine solo from Halcox) was released shortly after as a single and achieved sales approaching hit parade status — something of a feat in the days well before the more recent 'trad boom', and one which encouraged many people to take a closer look at what had hitherto been regarded as very much a field of music with minority appeal.
Secondly, Chris Barber displaying an adventurous spirit which was to manifest itself on many other occasions, invited alto-saxophonist Bertie King to sit in with the band for several numbers, one of which, Skokiaan is included on this album.
The decision came as something of a shock to the traditional jazz 'purists' in the audience to whom the inclusion of a saxophone was tantamount to musical blasphemy. King, however, acquitted himself nobly and his playing added colour and force to the already cohesive and driving front line.
In the following January the band appeared at a third concert under the same auspices and which was again recorded by Decca. This time Barber introduced Ottilie Patterson, a slim young Irish girl from Belfast to sing with the band. The critics and fans were stunned by her powerful and vivid blues singing as she swept majestically through Handy's St. Louis Blues. George Melly, reviewing the concert for one of the musical papers, likened her to a reincarnated Bessie Smith, and her magnificent vocal talent has since proved one of the most satisfying treats that British jazz has to offer.
During the past decade the crisp, incisive sound of the Barber band has gained legions of admirers, not only in this country but also in Europe and the States where they have toured extensively. One of the band's greatest achievements is to have produced a brand of jazz which owes no obvious allegiance to any American style; the music it produces might honestly and justly be called British jazz. Although there have been many attempts to emulate them, the band is still musically far ahead of its imitators and it is as a tribute to the important part that Chris Barber and his musicians have played in British Jazz history that these recordings from the early days have been reissued on the occasion of the band's tenth anniversary.

Chris Barber's Jazz Band, Barber's Best (Compilation of tracks recorded in 1954 and 1955).
There is no need to introduce Chris Barber to British jazz fans. The crisp, incisive and ever lively sound of the band has attracted a very large following. One of the band's greatest achievements is to have produced a brand of jazz which owes no obvious allegiance to any American style; the music it produces might honestly and justly be called British jazz. This is emphasized by their very successful treatment of Bobby Shaftoe, a Dixieland equivalent of Spike Hughes' earlier experiments with Irish folksongs.
Chris Barber himself is a consummate musician, a serious student of music, and as excellent a bass player as he is a trombonist. He formed his first band in 1949 and a second in 1950. But it was the present band that brought his greatest success largely through the LP New Orleans Joys (LF1198) from which a number of titles are included in this present selection.

The Chris Barber Band, Here Is Chris Barber (Compilation of tracks recorded in 1955, 1956 and 1958).

Notes by Brian Nicholls To a British writer like myself, the concept of explaining Chris Barber freshly to a record audience is basically absurd. In Britain, and in most European countries, he is a national figure, and the music that he symbolises and represents has been adopted and accepted as no other "Art Americain" has been. Of the three great gifts to the World of Pleasure that America has made, two are widely lauded and at their strongest at home. These are the Western film and Coca Cola. The third — the truest and simplest Art of this century — has won a status far beyond the dreams of the bordello blues pianists or the cornet players of the speakeasies. Yet this acceptance of the wonderful emotion, jazz, is strongest away from its birthplace. In Britain, in France, in Germany and Sweden; in Denmark and in Poland and in such an unlikely place as Japan, jazz has found respectability and its place in the sun.

When Chris Barber plays, he has no background to live with or down, for he creates in an atmosphere of goodwill towards the rugged and often primitive jazz that he makes. It is recognised as an Art Form and patronised — not tolerated.

The story of jazz in Britain began really only ten to fifteen years ago, and it began with a small, unorganised group of youngsters, not long out of school, and mostly looking like Chris Barber — freckled, nervous in the manner of adolescence, but suddenly excited by the very personal discovery of jazz. Chris found King Oliver on obscure imported records, and his contacts with other jazz fans were through the secret passwords "Okeh" and "Gennett". I remember that I entered the domain through a door marked Jelly Roll Morton.

In the beginning we were all record collectors; writing in and reading from scruffy little magazines made more scruffy by the paper rationing of the time. What prompted the change from listeners to creators will probably never be known, but certainly around the years 1943 and 1944, a spontaneous movement broke out in most of the major British cities, and young men in about the same age group as the Austin High School Gang bought, stole or hired instruments and sat down in the back rooms of Church Halls and bars to annoy the neighbours and recreate the music of New Orleans. Chris Barber bought a trombone.

It was an exhilarating experience, for jazz had become suddenly the freemasonry of youth. To be a jazz fan then was to be someone set apart and above — on the inside, so to speak; and this, as much as anything, helped to spread the music throughout the nation. When the youth of a nation adopts something as its own its future is assured, especially when that something is jazz, with all its special properties, which apparently ensure a lifelong allegiance.

In Britain in 1959, jazz has a unique position. There are several hundred jazz clubs in the London area alone — meeting once or twice a week in a local hall, to dance or to listen to the local band. In many places, the centre for the young people of a locality has shifted from the dance hall, with its strict tempo of waltz and quickstep, to the exuberant sound of New Orleans marching and the chain gangs singing. Outside London, countless thousands of clubs and bands meet and perform. National tours by American jazzmen can fill concert halls and achieve reverent mention in the national newspapers with circulations of up to and over four millions. (The Modern Jazz Quartet tour prompted a full page feature in the Daily Express.) The Queen herself, when she was Princess Elizabeth, went to the first jazz concert at the Royal Festival Hall, London's concert centre; and her sister, Princess Margaret, heard three concerts by the Basie Band on its last tour. Across the whole scene, organising, encouraging and protecting its charge, stretches a national body — the National Jazz Federation.

Carried high on the crest of this wave is the Chris Barber Band — undoubtedly the most popular band in Britain (and that statement includes all comers from America). Chris has succeeded in bringing jazz — not a watered down version — to the whole of Britain. That peculiarly autocratic Body, the British Broadcasting Corporation, controlling as it does all air time throughout Britain with just one network, has allocated a regular weekly programme to the band. Also in hand at present are film appearances, concert tours and stints in the jazz clubs. The band's booking sheet is filled to capacity for six to nine months ahead, with some special bookings as far away as two years.

It is impossible to explain the phenomenon of Chris Barber and his Band. It just has to be accepted. Chris himself is only 28 years old; likeable and excitable when convinced of a point, and completely convinced on the subject of jazz. He believed in the future of the banjo against all our sneers and predictions and he proved his point. He is a born leader, and, though the band operates as a co-operative venture, it is his band without doubt. Pat Halcox on trumpet is a humourist and Monty Sunshine on clarinet is the idol of the girls. (This fact I gleaned not from Monty, but the Band's secretary who keeps a motherly eye on requests for photographs.) The rhythm section returns to the early days of jazz with its lack of piano, and consists at present of Dick Smith on bass, the extrovert Graham Burbidge on drums and Eddie Smith on banjo occupying the chair once reserved for Lonnie Donegan. (Some idea of the hold that jazz has got on the young people of Britain can be obtained from the fact that Lonnie, who left the Band when the success of his Rock Island Line forced him into the position of an international "pop" star, came home to that banjo chair to play as a rhythm section man, on the first free night he had after six months' absence.)

Singer Ottilie Patterson has been hailed as the best to emerge on the British scene. Her natural feeling for the blues is enhanced rather than handicapped by touches of her Northern Ireland accent. She is the Boswell of the band, writing light pieces on its life in the monthly magazine of the Chris Barber Club.

The Band's greatest asset is its enthusiasm, for they are all young and boundlessly happy at being allowed to earn a good living playing the music they love. They represent the voice of jazz in Britain — expanding, improving, full of life and longing to tell America that its Art has found a home.

Chris Barber Plays 'Trad' (Compilation of tracks recorded in the mid-1950s).
The current rage in England is Trad. Trad, short lor "traditional," is the English twist on our own Dixieland jazz. The leading exponent of the craze is the Chris Barber band. The name Chris Barber is synonymous with the contagious and relaxed brand of jazz — along with Acker Bilk and Kenny Ball, who are also known to American listeners via their recent hits, "On the Shore" and "Midnight in Moscow."
Barber first introduced Trad to this continent a few years ago with a hit record, "Petite Fleur." He is a versatile musician who plays violin, bass and trombone. He formed his first band in 1949 and the current group in 1954. Since then, the 32 year-old Barber has become one of the top figures in British music, and the Barber band is one of the best-known British jazz orks.

The Best of Barber and Bilk, Volume 1
Traditional jazz is at the height of its popularity in Britain. Who is responsible for this? The two names which spring immediately to mind are those of Chris Barber and Acker Bilk, for these two bands have made the greatest contribution to the present British Trad jazz 'revival'. Here, on one record, are collected some of the best recorded works by these two great units.
CHRIS BARBER has been a leading jazz figure for years, and has enjoyed tremendous success – both in his world-wide appearances and in the recording field. Perhaps his greatest achievement was in 1959 when he received a gold disc for a million sales of Petite Fleur. His band has included such well-known jazz figures as Lonnie Donegan, and Monty Sunshine.
MR. ACKER BILK is a current phenomenon. His present success is in no small way due to the formative years he and his band spent in the cider producing West Country. He plays a happy form of jazz which has hoisted him into the best selling charts on several occasions.
Here they are – Barber and Bilk on one record – sit back and enjoy it!

The Best of Barber and Bilk, Volume 2
This record is the second volume containing examples of the early work of two of Britain's most successful traditional jazz groups—Chris Barber's Jazz Band and Mr. Acker Bilk and his Paramount Jazz Band.
These two were largely responsible for the present revival of Traditional Jazz in this country—playing as they do—thrilling, swinging jazz, with some of the most accomplished musicians in Britain in their bands—such well known figures as Lonnie Donegan, Monty Sunshine and Micky Ashman.
Here then is the Best of British Jazz—The Best of Barber and Bilk Volume 2 —and if you haven't already got Volume I—buy it now. Everybody else has!

The following notes appeared on all three volumes of The Chris Barber Story:
There have been a number of turning points in the development of jazz, each usually resulting in the creation of a new style generally referred to by the name of the town or area where it originated. Some young white musicians of Chicago were hypnotised by the great King Oliver band in the early twenties: musicians in New York were influenced in turn by the Chicagoans. Later West Coast musicians were inspired by visiting beboppers, and there are many more examples.
One such development took place in England in the middle nineteen-fifties, largely as a result of the activities of seven musicians, six men and a girl, who were called Chris Barber's Jazz Band. If proof of their influence is needed, the number of bands and singers still emulating their British style all over the world is enormous.
The members of the 1954 Barber band would never have claimed that their almost unprecedented success (even encompassing the general public) had much to do with their actual playing (and singing) ability. In their eyes they were merely learners in the school of jazz, learning the hard way by working over 300 one-night-stands a year.
They ascribed their success to "being in the right place at the right time with the right sound" and that is certainly a part of the story. On the other hand history has spared them the embarrassment of claiming greatness: the world has judged and applauded their talent ever since.
The band's activities between 1954 and 1957 produced many hit records and separate success stories for several of them but the availability and popularity of those recordings has tended to obscure the true developing talent of the band. This, one of a 3 album set, is intended to help redress the situation and traces Chris's story from his amateur bands of 1949-52 and then takes up the story again in 1958 to 1976.

The Chris Barber Story, Volume 1: In The Beginning
Chris Barber's first bands made a conscious attempt to emulate the classic jazz of the twenties and this along with the then newly revived archaic New Orleans style of Bunk Johnson and George Lewis formed the basis of the eventual "Chris Barber style" of British jazz. Leaving the well documented recordings of 1954-7 to one side we find here on Side One, two examples of Chris's amateur era and then from Track 3, Side One onwards the story is taken up in 1958.
Sing On is a spiritual, first recorded by Sam Morgan in the twenties—almost the only example of so-called archaic New Orleans Jazz recorded before the 40's revival. Ottilie Patterson contributes How Long Blues, the Leroy Carr classic assisted by American guests Sonny Terry and Brownie McGhee (of whom more on Record Two). Then follows alternative recordings 1958-9 of three of the band's classic 1954 titles—two of them recorded without the band's knowledge in Detroit during their first U.S. tour.
Side Two see clarinettist/saxophonists Ian Wheeler and later John Crocker replacing Monty Sunshine in the front line; the alto saxophone has been an important feature of the band ever since 1960 when Wheeler joined. Original Charleston Strut is a typical result of Chris's record collecting—found on an old Clarence Williams recording. 1966 saw the production of a few records for release only in France, then an outpost of jazz appreciation in a sea of European beat music! The linked march-style treatment of Gloryland and Tiger Rag was one side of an E.P., "Jazz March." Lastly on Side Two we have two of the last titles recorded by Ottilie Patterson before her untimely retirement due to ill health. They were recorded at the 1970 Prague Jazz Festival—an event which due to entry-visa mix-ups involved just the kind of endless delays and frustrations that made Ottilie give up touring!

The Chris Barber Story, Volume 2: Visiting Influences
The complex relationship between the Musicians Unions of the U.K. and the U.S.A. made opportunities to learn about this music at first hand very hard to come by in the 1950's. Chris and the band persevered to overcome the difficulties and as a result benefited from many visiting influences. Their first import was the great Gospel singer Sister Rosetta Thorpe (unfortunately not recorded with the band) but the second such tour featured the two guests already heard on Record 1 Side One, Sonny Terry and Brownie McGhee, who here assist Ottilie in When Things Go Wrong by Tampa Red.
The Gospel song-play Black Nativity was a great influence and the Alex Bradford Singers from that show recorded with the band in 1962 (Alex returned as soloist in 1974, see Side Two). Instrumentalist guests feature next: first the great Edmond Hall from New Orleans, shortly after he left Louis Armstrong's All Stars (incidentally Ed rated Ian Wheeler, with whom he duets on High Society, as the best performer he had heard on that difficult tune); and secondly Louis Jordan, star of the old Chick Webb Band and hit-maker with his own Tympany Five. Blues singer Sonny Boy Williamson followed in 1964 and by this time Chris's promotional efforts for his favourite blues music had resulted in the U.K. blues boom and indeed in a local blues style—heard here from fine Irish guitarist Rory Gallagher. The track on which Rory plays is produced, written and arranged by another visitor, Steve Hammond from Canada, who joined forces with the band in 1969 to assist in those capacities and later played banjo and guitar from 1971 to 1973. This expressive guitar is to be heard on Record 3 Side One as well as here on Side Two Track 1 in Bone and Bread (a typically atrocious Barber pun) which also includes pianist Pete Robinson, now with Stanley Clarke's band.
We return closer to the roots with ex-Ellington guests Ray Nance (Sittin' and Rockin') and Russell Procope and Bill Davis (The Mooche) and the return of Alex Bradford, this time solo, for Couldn't Keep It To Myself. Finally, reverting to type as it were, the entire 1954 band is captured live at their 21st anniversary concert in 1975 with Lonnie singing Quinton Redd's Jenny's Ball.

The Chris Barber Story, Volume 3: The Seventies
Notes by Henry Hudson
This third record features the fruition of the band's development, recorded between 1971 and 1976. Chris feels that each piece the band plays should be kept in an appropriate style rather than reducing all to an identical mish-mash. So we find performances clearly influenced in turn by Johnny Hodges' smooth mainstream swing; by Balkan folk music (a favorite of Chris's); by jazz rock groups like Blood, Sweat and Tears; by 30's urban blues; by Bix Beiderbecke and his gang; by the white New Orleans style of the 30's and of course by Duke Ellington.
The stylistic identification of each performance is not so rigid as to preclude cross-pollination between influences: Chris's own Cortina Run owes something to jazz rock, something to Balkan music and also to Modern Jazz in the last section. Chris composed Oro with the intention of displaying three different uses of the same time signature simultaneously. The jiggy trombone-banjo-bass figure in broken 9/8 time (2-2-2-3) typical of Balkan music; the even quaver 9/8 (3-3-3) of Pat's flugelhorn pattern and the clarinet melody over the top virtually bringing the whole thing into waltz time.
This fascination with simultaneous contrasting time is also to be heard on Jazz Me Blues (the trombone solo) and in the gradual subdivision of the time in Shout 'Em Aunt Tillie from the clarinet to the trombone and guitar solos, a theme from Duke Ellington's Koko -- emphasising the relationship between the rock-blues beat under the guitar solo and Latin American rhythms.

Chris Barber's Jazz Band, The Entertainer
Notes by Charles Fox
For a jazz bandleader to notch up a sizeable anniversary needs guts as well as talent, that special kind of tenacity which can overcome the hazards of financial hang-ups and one-night stands and clashes of artistic temperament. It enabled Duke Ellington to keep perambulating around America and the world for almost half a century before his death in 1974. Count Basie and Woody Herman are two other American bandleaders who are still able to keep going. And over here in Europe, Chris Barber celebrates twenty years spent as a professional bandleader — and a quarter of a century since the day he played his trombone in front of his very first group.
For many people Chris Barber's band is virtually the incarnation of the trad jazz boom of the early 1960s. In fact, its scope and achievements are much broader than that. Very recently, Barber has been exploring that territory where jazz and rock music overlap. Earlier on there were forays into African-based pieces, some of Duke Ellington's orchestral compositions, even, long before "The Sting" and the concert-hall enthusiasm for Scott Joplin, an album of classic ragtime. In the 1950s Barber helped to create the "Skiffle" craze. And the vogue for blues which took place during the following decade was originally sparked off by him bringing a selection of American performers over to tour with his band. Among those who came were Sonny Terry and Brownie McGhee and the gospel singer, Sister Rosetta Tharpe, while Muddy Waters arrived at a time when British blues aficionados were still wary of electric guitars.
Even before he was in his teens, Chris Barber had listened to records by Louis Armstrong, Coleman Hawkins and other great jazz soloists. He learned to play the trombone and studied the double bass at London's Guildhall School of Music. But by the mid-1940s the New Orleans jazz revival was well underway. The semi-pro band which Chris Barber got together in 1949 was typical of what was happening, taking as its model King Oliver's Creole Jazz Band, that classic group which had created new standards of collective improvising at the start of the 1920s. By 1952 Monty Sunshine was playing clarinet with Barber, while Pat Halcox was his trumpeter.
Another young musician who virtually dedicated himself to the re-creation of New Orleans jazz was the cornet player, Ken Colyer. He actually joined the Merchant Navy in order to be able to hear the music as it was played in New Orleans itself. When Colyer returned to Britain in 1952 it was to lead a band which Chris Barber had organized (it was, in fact, Barber's semi-pro group). But those were years when theorising about New Orleans music aroused passions as intense as those provoked by theological disputations in the Middle Ages. The upshot was that Barber eventually took the band over himself.
That was in 1954, the same year that a young Irish student teacher, Ottilie Patterson, walked into a club one night and asked if she could sing with the band. She was soon to be the most celebrated British blues singer (and Mrs Barber as well), while the band itself was to achieve a popular success that none of its members could have dreamed of in those early days.
This LP reflects most of the genres which the band explored during that period. Take My Hand, Precious Lord was recorded not very long before Lonnie Donegan ceased to be Chris Barber's banjoist and became a celebrity in his own right. Monty Sunshine, another of Barber's protégés who went on to make a career for himself, is featured in Lonesome (Si Tu Vois Ma Mère). Chris Barber's fondness for classic rags is illustrated by the versions of The Entertainer and Elite Syncopations, both composed by Scott Joplin in 1902. Ice Cream, a pop-song of 1927, and the gospel numbers, I Shall Not Be Moved and Down By The Riverside, were all popular with the revivalist bands. The last-named song features Ottilie Patterson, who can also be heard in Squeeze Me, composed by Fats Waller. Going To Town was written by Duke Ellington and his trumpet player, Bubber Miley, and first recorded by Ellington in 1926. The veteran Hollywood songwriter, Harry Warren, composed Cryin' For The Carolines for "Spring Is Here", a film musical of 1930. O Sole Mio gets treated in New Orleans style, while Vini-Vini (Let's Do The Tamoure) might be described as a Polynesian follow-up to the Twist.
In addition to leading the band, Chris Barber arranged quite a few of the pieces and is also heard playing the trombone. Perhaps his instrumental work has tended to get taken for granted simply because the band itself has been so popular. He is a flexible yet precise soloist, especially adept at playing rags, almost a specialised craft in itself. And as well as caring for tradition, Chris Barber continues to be eager to try his hand at new things. He is, in short, one of the most accomplished and adventurous of British jazz musicians.

The Original Chris Barber
"My first band in 1950 had a King Oliver style front line with two trumpets and a guitar and we were doing Texas blues even then. Incidentally, I was at school with Alexis Korner and we used to collect jazz records from when I was 12. The first record I ever had was Coleman Hawkins' "Body and Soul". Music to me was a living, developing thing and I didn't want to stay in 1905 forever."
Chris Barber's own description of his musical beginnings and the direction he is headed gives an indication of what has been written about time and again in the course of his almost 30-year career: the steadfastness, personal enthusiasm and for the music business rare longevity which have made the Barber band a European jazz band par excellence.
New Orleans jazz was never a question of purity for Barber, but always proved a framework for his far-reaching stylistic activities: he was one of the first to appear in the Rhythm and Blues revival, and it was the skiffle group in his band that introduced the then famous Lonnie Donegan. Barber played with modern musicians like Joe Harriot, went into the studio with rock stars like Rory Gallagher — and scored his greatest success with Monty Sunshine's solo in Bechet's Petite Fleur and songs such as Ice Cream.
Complaints that he continuously played the same kind of music can come only from people who aren't really listening. Pat Halcox, Barber's trumpet player for over 23 (!) years, sets such listeners straight: "Having been with the band so long, it's perhaps worth pointing out that our music changes enough to keep the musicians interested and encourage them to improve. You do get better, and after all this time I feel I'm getting nearer to what it ought to be." Why is that so? As one of a very few, Chris Barber has been doing his thing wholeheartedly from the very start. As bandleader he also functions as organiser and promoter — but nothing else. He has remained loyal to the jazz flag, not having gotten himself involved in composing, drawing, giving lessons, his own club or agency — or any of the other varied activities his colleagues pursue as an alternate means of earning a living within the business. In so doing, Barber undoubtedly foregoes many interesting but at times uncertain sources of income, but he is able to devote himself fully to jazz and jazz alone. With only 13 changes of musicians in 23 years, with his logical conception of the public's need for entertainment ("People pay money to be entertained, and if they find themselves in the wrong concert they'll stay if it sounds enjoyable enough."), and with his step-by-step "conquest" of the concert and record market of Western Europe, Chris Barber was able to become a great survivor of the last three European jazz decades. And much of that was already evident at the very beginning of his career, as these recordings from the years 1959-62 indicate.

The following notes appeared on all three volumes of The Chris Barber Jubilee Album:
Notes by Vic Gibbons
It would have been the simplest of procedures merely to re-issue well-tried recordings on an album to commemorate the 25 years in music of Britain's foremost jazz leader. But instead, through extensive research, Black Lion have produced this three-part set of double albums which features many of the high spots in the career of Chris Barber and which, moreover, presents them in recordings many of which have not been released in this country.
PART ONE contains the first ever recordings by a Chris Barber band, made with his King Oliver-style amateur unit in 1949, and some tracks made on Chris's first ever trip abroad in 1952, when he guested with The Ramblers in Denmark. It is from Side Two of this set that one can really begin to plot the development of Chris's present band, which was formed in 1954. Sides Three and Four comprise a Detroit live concert recorded on the band's first American tour in 1959. Chris, in his own notes on the Part One sleeve, tells an interesting story about this. The sleeve of Part One includes a photograph of Monty Sunshine with George Lewis taken at the Monterey 1959 jazz festival, and that of Part Two shows Ed Hall with Ottilie and Chris during their tour of Germany in 1962, although George and Ed themselves are not heard on these albums.
PART TWO does include an impressive array of other famous American guests who have worked with Chris over the years; Alex Bradford and his "Black Nativity" gospel singers, Sonny Boy Williamson and Louis Jordan. PART TWO also sees the real emergence of the Barber Band with a style and sound of its own; a process which has since progressed even more rapidly. Here, with her Shakespeare adaptations, we hear Ottilie Patterson, having progressed well beyond her so-called early, 'imitative' years, demonstrating once and for all to her critics that there are many more strings to her bow than a Bessie Smith sound. There are many original tracks highlighting the strong blues feel of the band and it is during this period that the band's complement was increased to seven with the addition of John Slaughter's blues guitar. If one had to isolate any one of the three albums as a prized collector's piece then this would be it. There are two rare pieces showcasting Chris's trombone with a string orchestra, and tracks made with Ronnie Scott and Jimmy Deuchar showing that, amongst musicians anyway, there are fewer, if any, barriers than many jazz fans seem to think.
PART THREE is made up almost entirely of recordings, made since 1970, with the band as it sounds today. Sadly, it also contains what were to be the last tracks by Ottilie Patterson before her retirement. Two tracks on this album are particularly interesting for different reasons. One, Oro, demonstrates clearly the emergence of the Barber Band from the ranks of mere imitators and the other, Canal Street Blues, presents a fine opportunity for comparison with the version in PART ONE. The 1951 version shows clearly Chris's confessed admiration for, and re-creation of, the King Oliver sound. The admiration is still there, of course, but the Canal Street Blues of PART THREE shows that the sound is a modern day one, and very much the sound of Chris Barber.

The Chris Barber Jubilee Album, Vol. 1
Notes by Chris Barber
I began playing the trombone in 1948, when I was 18, and early in 1949 I met clarinetist Alex Revell, who was to be co-organizer of my amateur band until the end of 1952, when I joined with Monty Sunshine in forming the band which became first the Ken Colyer Jazzmen and in 1954 the Chris Barber Band which still continues today.
Alex Revell and I at first simply organized a band of amateurs who could play technically just well enough to play together at all and with this band I made my first recordings in 1949, a little of one title of which is to be heard here. It was not very good (except perhaps cornettist Hugh Middleton) but it was a beginning.
By the beginning of 1950 we had arrived at a more permanent and effective group, dedicated rather to the music of the great King Oliver Band of the 1920's, and made several recordings of which those included have only recently come to light. It is also interesting to note that for the first part of 1950 we had guitar and banjo in the band (as we have today) and with our guitarist Alexis Korner, we presented a Blues group within the band.
In 1952 I made a personal visit to Denmark, my first overseas trip, and then played with an amateur band called The Ramblers. We had a lot of fun and some of that comes across on the records. Among the titles is my first recording of Down By The Riverside which can be heard here and which is based on a different traditional version of the melody to that which I used in the well known 1954 version. All these recordings were of course monaural and I feel it better to present them as they are rather than give an artificial stereo effect.
The present-day band was formed in January 1953 with Pat Halcox on trumpet but he decided not to become a professional jazz musician at that time and we persuaded Ken Colyer, just returned from New Orleans, to join the band and lead it. By May 1954 there were some disagreements with Ken and finally on May 31st, 1954, I assumed leadership of the band and Pat Halcox became trumpeter. The second side of the first record here contains hitherto unreleased recordings made in the late 1950's in England by the band.
In 1959 we made our first visit to the U.S.A. and played among other places in New Orleans and at the Monterey Jazz Festival, California. One concert we gave was in Detroit, Mich., where the sound system was rather strange. The only microphone was hanging from the roof at the front of the stage two feet above Ottilie's head so she could not sing at the concert and is not heard on the record. We accepted the explanation of the organizer but the following year found an album on sale in America by the "All American Ramblers" which turned out to be a recording of our concert in Detroit. This in its entirety is the second LP in this set and we must apologize for the quality as it was recorded with one microphone!

The Chris Barber Jubilee Album, Vol. 2
Notes by Chris Barber
Within a few months of the beginning of the Chris Barber Band in May 1954 we began to make recordings and by the next year they were very successful. We played nearly every day, fifty weeks every year and soon came to have an individual style and a recognizable sound of our own.
At the same time we could see bands in other European countries, particularly France, having the good fortune to play with authentic American jazz artists which opportunity seemed to be denied to us owing to the disagreement between the British Musicians' Union and the American Federation of Musicians. In late 1957, however, we realized that the effective exclusion of American musicians did not prevent singers who contributed to their own accompaniment from appearing. We were naturally practised in the art of blues and spiritual accompaniment since Ottilie specialized in just these styles and we realised that she and all the band could learn just as much from self-accompanying singers as from instrumentalists, since the Negro vocal styles are the very foundation of all our music. Ottilie and I searched our records for the artists who seemed most suitable and our first two suggestions, Sister Rosetta Tharpe and Brownie McGhee & Sonny Terry, appeared with us during the 1957/8 season with enormous success. Unfortunately at this time we do not have a recording of Sister Rosetta (whose duets with Ottilie were extraordinarily good) but we do have some, included in the first record of this set, of Sonny and Brownie with Ottilie.
After these artists we were able to bring over Muddy Waters (in whose club on Chicago's South Side the band and Ottilie were later to appear several times), Memphis Slim, Champion Jack Dupree and Sonny Boy Williamson. We were also later able to organize European Tours (outside England) with musicians such as Edmond Hall and Louis Jordan. On the first record of this, the second volume of our Jubilee series, the great Louis Jordan is to be heard and also the Alex Bradford Singers, one of the greatest gospel groups of our time, who appeared in Europe in the play "Black Nativity".
The second record in this set includes some rare tracks with Sonny Boy Williams recorded at a concert in Manchester in 1964. That year also saw the 400th anniversary of William Shakespeare. Ottilie, always a great admirer of his works and an enthusiast for literature, composed some musical settings of the bard's works for releasing during that year and two of these are to be heard here. Also to be heard is a recording of one of the rare occasions when I had time to record with other kinds of support, namely a string orchestra, in two pleasant melodic pieces, one of which was the theme music from a highly regarded film of the time.
During the early to middle 1960's we recorded for the British E.M.I. concern for their Columbia label under the guidance of Norrie Paramor and Bob Barrett. Interestingly enough the engineer at these sessions was a former session trumpeter named Norman Smith who later achieved considerable popularity as a pop-singer under the name of Hurricane Smith. All the recordings made for this label were kept to a suitable length for single release although most were only released in an album. One of the singles, Wini Wini, had some success as a single and still seems to stand out among the others. On one session, just after our holiday in 1964, Pat Halcox was delayed on his return journey from Spain by a car breakdown and we were fortunate enough to find Jimmy Deuchar, one of our leading modern jazz trumpeters who has also played with Kurt Edelhagen, available to replace Pat. We added Jimmy's colleague, tenor sax star Ronnie Scott, giving the band an interesting change of sound.
Two of the instrumental pieces on the record were composed for a film about motor racing. Brands Hatch is the race track nearest to London and has been the scene for the British Grand Prix in alternate years since 1964. The recording Brands Hatch was the theme music for motor racing reports on Radio London, one of the short lived "pirate" stations in England in the middle sixties.

The Chris Barber Jubilee Album, Vol. 3
Notes by Chris Barber
By the 1970's the Chris Barber Band had become a household word throughout Europe and we continued every year making regular tours of Germany, Switzerland, Denmark, Sweden, France, Austria, and also to East European states such as Czechoslovakia, Hungary and East Germany.
In this set you will find what were to be the last recordings made by Ottilie Patterson with the band, at the Prague Jazz Festival of 1970, including her classic Baby Won't You Please Come Home (with Chris on trombone) on record at last. The visit to Prague was a very tiring one, because of hours of delay at the Czech border due to someone's failure to send the necessary papers to the border post. We arrived in Prague at the Lucerna Hall about thirty minutes after we should have been on stage. Luckily the audience waited patiently but we found playing very difficult after such a rush and we were very surprised indeed at the quality of recording and performance which finally emerged. The balance of the instruments is at times somewhat imperfect but the atmosphere and spirit seem to make up for it. If you know the melody of the first theme of Savoy Blues you could sing along with the record and make up for the under-recording of Pat Halcox.
We are fortunate enough to have enthusiastic supporters who come to see us with their tape recorders in all kinds of unlikely places, and sometimes even under adverse conditions they are able to produce very acceptable stereo recordings. The second and third side of this set were recorded in Denmark, Germany and Switzerland during the band's 1972-3 touring season and include a variety of pieces in different styles.
Pat Halcox's fluegelhorn is featured in one of our Balkan-influenced compositions, Oro; we pay hommage to Bix Beiderbecke and his Gang in Jazz Me Blues; Jackie Flavelle sings Give Me An Old Fashioned Swing In The Evening, which was one of Woody Herman's first recordings when he had virtually a dixieland band. New Orleans Wiggle is a composition of the legendary New Orleans band leader and violinist, Armand Piron, and Duke Ellington is represented by I'm Slapping Seventh Avenue With The Sole Of My Shoe, which was written to feature tap-dancing in his Cotton Club Show of the 30's.
On the last side we bring matters right up to date with a recorded session from one of the many successful British clubs, the Allestree Jazz Club at the Pennine Hotel, Derby. Once again the mixture of old and new pieces is evident and we end of course as on all our concerts with Goodbye and the now inevitable Ice Cream.
During our researches in the production of these three double albums we have found much more previously missed material and we hope to be able to bring out the best and most interesting of these recordings to the public later on. Until that time we thank you for listening for some or all of 25 years and we hope to be around for a long time yet!

Chris Barber / Papa Bue Bestsellers
It is now more than ten years since Chris Barber formed his first band, and since then the following of the band has increased steadily to such an extent, that one has to face the fact, that Chris and his sympatic sidemen are today the most popular recording artists in the world of jazz.
It is not necessary to mention the fantastic line of record-breaking successes on his many tours of Europe and USA, or the tremendous figures of his record sales in all parts of the world, but anybody with the slightest interest in jazz, however sceptical they may be towards the special Barber music, must confess that Barber brought jazz into a lot of places, halls, homes and clubs where this music has never before been played.
On this record you will find a selection of his recordings done for the Storyville label in 1954. They have all been bestsellers. The Barber tracks on this record furthermore give you a very good idea of the special musical style that made the Barber band an institution in so many people's minds. Don't miss the exciting sounds of the two different versions of one of Chris's all-time bestsellers, "Ice Cream" - A standard in revival jazz!

Chris Barber's New Orleans Jazz Band and Washboard Wonders: B + B + B
Notes by John Wilson
Last on the bill, but certainly not least, that pillar of the New Orleans School, Chris Barber, born 17th. April 1930, in Welwyn Garden City, Herts. Educated at King Alfred School and St. Paul's School, London as well as the Guildhall School of Music, he could have earned an equally successful career as an actuary, being a particularly astute business man as well as a fine multi-instrumentalist.
The four Barber tracks are the earliest on the album, coming from the Festival of Britain Year 1951. They are also taken from ihe original 78s rather than L.P. material. To me they are the most evocative, for entirely personal reasons. What Chris refers to as his "amateur" band was originally patterned on the King Oliver Creole Jazz Band, with its two trumpet lead. By one of those curious coincidences, only last year, during the Second Annual Birmingham Jazz Festival, I was discussing the Chris Barber New Orleans Jazz Band's participation at "The Jazz Band Ball," held on 19th. March, 1951, at the Hammersmith Palais dc Danse, with their one-time trumpeter, Ben Cohen.
Ben, who still plays very melodic trumpet, was visiting Brum, with the excellent Brian White Magna Jazz Band. During one of the intervals, Ben asked me if I could recall "the other trumpeter" in that early band. "The tall thin one with the pencil-line moustache?" I queried, "that was Keith Jary, surely?" One-by-one we recalled the rest of the original personnel, little thinking that only the next year, some 36 years later, "Esquire" would be coming up with the original 12-inch, 78 rpm version of Oh, Didn't He Ramble, on an L.P. re-issue! Oliver's Snake Rag, from the same concert but previously un-issued, has also been included.
The group also had a "band-wilhin-a-band," then called "Chris Barber's Washboard Wonders." Chris plays string bass on these last two items and Ben is on solo cornet, which come from a visit they paid to Norton, on the Isle of Wight. Distant memories too, of a shy young man with a slight stammer, who used to assist my choice of vintage "private label" 78s, at the book & record counter of the old London Jazy Club circa 1949/50. Except that the sign used to read simply "Mack's Restaurant" in those days. Records used to be played during the intervals for it was then a "dry" club, whilst Humph, Wally & Co used to repair to the nearby "Blue Posts," for some stronger liquid refreshments. One night the affable "assistant" politely refused my request to play one of my purchases. "Bit of a guest spot tonight," he mumbled "perhaps next session?"
To my surprise, he mounted the empty stand, picked up an old trombone (which legend now has it, was purchased from Harry Brown for £8) and proceeded to play a solo version of Careless Love Blues, accompanied by a banjo and piano.
Little did I realise then that "Chris" (for I didn't know his surname then) would go on to become one of the leading luminaries in the National Jazz Scene, taking up Humph's hallowed "Traditional" Crown, when he flexed his musical wings and soared onwards and upwards. "The Barber Story" has been repeated so often now, by the various media sources, but it is interesting to reflect on these very early beginnings.

The London Trad Scene
When in 1951 Chris Barber recorded the numbers on this record he had just reached his 21st birthday. Barber was born in London in 1930, studied trombone and bass at the Guildhall School of Music and founded his first band in 1949. In 1954 he took over Ken Colyer's band and since then has been amongst the most respected English jazz musicians. The conception of the Barber band of 1951 is still completely adjusted to the illustrious idols of jazz from the New Orleans and Chicago of the 1930s.

Chris Barber & His Jazz Band Featuring Ottilie Patterson & Monty Sunshine: Chris Barber Plays
One of the most wonderful things about jazz, apart from the actual sound of it, is its history. In place of the ordered succession of composers' lives that forms the good, stiff, upright spine of academic music, you find a wild jumble of social history, big business, personal eccentricity, economics, faulty memory, downright lies, and a romantic streak wide enough for Ethel M. Dell to have danced a jig on!
A closer look will reveal an orderly principle underlying all this confusion, for like an amoeba, which multiplies by splitting into two parts, and each part into two again, jazz bands have been dividing and multiplying since before Buddy Bolden shaved his last customer! A band is formed. It does well or not, as the case may be. Sooner or later somebody decides to leave or is thrown out. Either way, the result is the same - a new band starts to form around him and the whole process begins over again.
The result of this process is that jazz groups in general are seldom in existence long enough to acquire a corporate life of their own. In a world where even two years is a long time for any aggregation of musicians to stay together, the exceptions tend to be conspicuous. In America, one immediately thinks of Duke Ellington and then of Count Basie; in Britain, of Chris Barber.

Chris Barber's Jazz Band: Attention!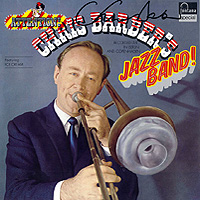 Just imagine anybody prophesying at the height of the beat craze that one fine day old-time jazz would return and flourish again - he would have earned nothing but a sympathetic smile. Dixieland or New Orleans Jazz seemed to have gone for good and with it the "revival" movement of Englishmen like Ken Colyer, Chris Barber, Monty Sunshine, Kenny Ball or Acker Bilk, which had swept Europe in the fifties. But here it is, back again. Oldtime jazz turns up more and more often in the programs of concert agents, clubs and theatres celebrate it on Sunday mornings with plenty of beer and good cheer - fans get going again when they hear trumpet, trombone and clarinet playing the Tiger Rag or Sweet Georgia Brown, at the sound of banjos or honky-tonk pianos - instruments forgotten in dusty cellars during the Beatles era, when innumerable amateurs and hobby-musicians bought electric guitars and amplifiers. But the professionals of oldtime jazz - especially those mentioned above - never lost heart and went on playing their music as before. Even half-empty auditoriums and negligible record sales couldn't make them lose faith in their music.
Meanwhile they are all in their forties and since all of them have had to fight hard and with optimism in the years of the big drought the oldtime-boom of the seventies seems a justified reward. It all fits in with the general trend towards nostalgia, of course, and it isn't always easy for a musician like Chris Barber to play Ice Cream or Down By The Riverside over and over again. After all, he has become an accomplished musician with electric guitar and electric bass and his repertoire includes skilful blues titles and modern arrangements. But there it is - a great many listeners long for the good old days and to them this album has been dedicated. It contains the most typical and the best known recordings of those years with Barber, Halcox and Sunshine. May everybody take to heart the motto of their most famous title Ice Cream: "I scream - you scream"; people were already that crazy in those days.

Notes by Ren Grevatt
It was a little over two years ago that the rather commonplace name, Chris Barber, first burst on the American disk scene. The British bandleader who specialized in a strictly American product, traditional dixieland jazz, at the time was enjoying a rather far-flung record hit, Petite Fleur. The tune, written at an earlier time by the late Sidney Bechet, and performed by the venerable soprano saxophonist with his Paris-bound combo, came to be, in the musical vernacular of Barber, a symbol of his sound, the sound of early Bourbon Street.
It took a British combo, it seemed, to awaken Americans to the happy, rhythmic, 100 percent American commodity of dixieland from its heyday period. And so it was that the Barber group, a howling success and an established legend on Her Majesty's soil and that of the Continent, set out for the dark and frightening no man's land (for British bands) of America.
Barber and his colleagues soon put the myth on the shelf for keeps. They literally took America by storm during that initial 32-day tour, filling houses wherever they appeared. Virtually no British artists have enjoyed the luxury of an American encore within the year, but six months later, in the autumn of 1959, Barber and Company returned to repeat their earlier successes, appearing at the famous Monterey (California) Jazz Festival among other locales. Since then, Chris Barber has never lost his close rapport with American dixie fan-dom and to this day remains a favorite and frequent poll winner. Only a few months ago, in May 1962, the Barber group returned here again, to perform at a special series of cultural exchange concerts in Washington, a strictly invitational affair. Barber and his great but simple interpretation of a basically simple form, it is safe to say, helped pioneer the rugged Stateside path for later "trad" (traditional) dixie phenomena from Britain, in the persons of Kenny Ball, Mr. Acker Bilk and the Temperance Seven, the while keeping his own special hold on American dixie fanciers.
What are the elements of success in the Barber formula? Perhaps his own words to an American interviewer at the conclusion of his first tour here, are as true now as then. "We think our music has humor, pathos and melody," Barber asserted. "What's more, we see ourselves as entertainers. You know that so many jazz groups today get themselves into a huddle on a stand and forget all about the audience. We never stop communicating."
Or, put another way, in the words of British jazz writer, Jeff Aldam, "The reason for the band's enormous popularity is that they offer a simple, New Orleans formula from which the worst of the rough edges have been removed. It is harmonically very simple and easy to digest."
There are, frankly, many elements to the Barber success story, not the least of which are the maestro's own trombone sound and the clarineting of Monty Sunshine. All these choice ingredients are generously represented in this fine collection. The songs range from Gonna Build a Mountain, written by another Britisher, Anthony Newley, for the London and Broadway musical, "Stop the World, I Want to Get Off," to such traditional standards as Basin Street, Lazy River and I Can't Give You Anything But Love, to some intriguing originals as well.
As has been said, it's all here for the playing. We suggest you flip the switch and get set for a happy, trad dixie ball, turned out by one of the true virtuosos of this admittedly fine art.

Chris Barber's Jazz Band: Petite Fleur
Notes by Leonard Feather
Petite Fleur ... The Million Seller
The success of Petite Fleur is a story unique in modern musical history, and one with international ramifications. Written by an American musician who lives in France, it was recorded in England, picked up by a Swedish company, but first became a hit in Germany.
Chris Barber has been a leading name in traditional jazz circles in England for several years. In selecting material for his recording sessions he has frequently drawn on early jazz standards and on material created and recorded by some of the New Orleans pioneers. In the latter category was Petite Fleur, a composition by Sidney Bechet. Though the veteran soprano saxophonist had written and recorded the song some years bach, there had been no particularly violent reaction. Bechet however, living in Paris for the past ten years, has enjoyed continuous success not merely as an expatriate jazz figure but as a beloved favorite of the French public. His Petite Fleur was taken up by Barber in 1956, and it was not until two years later that the unexpected sucess of the recording in Germany led to the acquisition of the American rights by Laurie Records and the tremendous success of the record in this country.
Although Petite Fleur was recorded under the name of Chris Barber's Jazz Band and was supervised by Barber, the leader himself does not take part in this performance, which is mainly a vehicle for the clarinet of Monty Sunshine.
On the strength of his unprecedented American success with Petite Fleur, Chris Barber was invited to visit the U.S. By the time these words are read he will have made his first concert appearances in this country, on an exchange deal involving a visit to England by Woody Herman's orchestra. This is the first time in Jazz history that a small English combo, playing in a style admittedly borrowed and recreated, has made such a remarkable impact in the native land of jazz.
... About Chris Barber's Jazz Band
When Chris Barber's name first became familiar to the American record-buying public, the commercial success immediately associated with it had no relationship to the background of achievements in England and on the Continent. Nothing was known beyond the music itself and the evident fact of its immediate appeal to audiences in this country.
The Chris Barber story can best be illustrated by a few typical events of the past couple of years, as reported in the London Melody Maker. In Berlin, over 8,000 fans packed a concert hall; at Hamburg, a similar concert attracted some 6,000; in Hanover, police had to stop an incipient riot at the close of one of the most successful shows the city had ever seen.
The same reaction was common to every town the Barber quintet visited in Denmark, Belgium and Sweden; and in its native Britain promoters who had begun to find it difficult to organize successful concerts found that Barber's presence on the bill was their best insurance. One promoter said: "His name on a poster virtually means that you have a sellout on your hands."
A curious aspect of this phenomenon is that throughout the British Isles, where it had never been thought that a native-bred jazz combo could ever achieve such colossal financial rewards, the Barber group immediately became the subject of the kind of fierce controversy that has often divided British fans. Many of the critics, professional and amateur, pointed to the group's harmonic and melodic simplicity and concluded that Barber's efforts were musically jejune; but even the most skeptical were willing to grant that there were understandable causes for the quintet's acceptance.
"The reason for the band's enormous popularity," commented jazz writer Jeff Aldam, "is that they offer a simple New Orleans formula from which the worst of the rough edges have been removed. It is harmonically very simple and easy to digest." A fellow-bandleader, Eric Delaney, added: "The Barber band deserves to do well. Lovely beat and exciting; and it plays good tempo." Critic Sinclair Traill, pointing to the group's renunciation of subtlety, said: "If I have to listen to that sort of jazz I would rather hear Chris than anyone else. Chris and Monty Sunshine are first class musicians and they know the traditional stuff backwards."
As for the Melody Maker readers, their views ranged from ecstatic ("the only band in Britain that has captured the real authentic New Orleans sound") to vitriolic ("dreary and repetitious book; fiendish, clanging rhythm section"). Any musical unit thus capable of stirring up blood pressure in the pro and con factions can usually count on a strong measure of public interest.
Though most of the controversy is of recent origin and has been as much the effect as the cause of the band's success, Barber started his bandleading career a full decade ago. Born Donald Christopher Barber in London April 17, 1930, he studied violin and soprano saxophone, later taking up bass and trombone at the Guildhall School of Music. His early groups were modeled after his ideal traditional band—King Oliver's Creole Band—complete with two trumpets a la Oliver-and-Armstrong. (One of his original trumpet men, ironically, was last reported taking refuge in the orchestra of a strict modernist, Johnny Dankworth.) An early collector of Oliver, Kid Ory and Louis Armstrong discs, Chris had a collection of more than 2000 78s by the time he was 17.
Chris and Monty Sunshine evolved the idea of forming a traditional jazz band, the first fully professional group of its kind in England. Around that time Ken Colyer, a well known British trumpeter, returned from a trip to New Orleans and was selected as the ideal man to front the group. After a year Colyer dropped out and Chris took over as leader with Pat Halcox coming in on trumpet.
Despite the unquestionably traditionalist orientation of the Barber group, Chris points out that "all of us in the band have wide tastes in jazz. For example, I like Gerry Mulligan, Basie, the Modern Jazz Quartet and Charlie Parker."
Asked why he tended to use banjo instead of guitar, he replied: "I happen to like the instrument. It wouldn't be right for Basie, of course, but it's right for us."
In his search for suitable material Barber, like most revivalist-traditionalist leaders (Turk Murphy and Conrad Janis in the U.S., Humphrey Lyttleton and others in England) has dug into the remoter recesses of the early discographies to find some of the more obscure and adaptable items that originated in the first quarter of this century.
The Selections
Side One
1) Petite Fleur, though it has done more than any other item to establish Barber's name in this country, paradoxically does not include Chris in the performance; it is simply a clarinet solo by Monty Sunshine accompanied by the rhythm section, with Dick Bishop switching from banjo to guitar. Sidney Bechet, clarinetist and soprano saxophonist prominent on many American jazz records with Louis Armstrong and others in the 1920s, has been a resident of France for the past decade, though one may detect a Creole rather than Gallic influence in title and music here.
2) When the Saints Go Marching In, by now so familiar in jazz circles that it is simply referred to as The Saints, actually goes back at least 60 years, though its modern career is believed to have started with a recording made by Louis Armstrong in 1938.
3) Olga is a reflection of Barber's admiration for the late King Oliver; "Papa Joe" was responsible for the original, a Victor recording made in 1930.
4) Sweet Georgia Brown, a composition of the veteran songwriter Maceo Pinkard (best known for Sugar) has been a standard with jazzmen of every school since its appearance some 34 years ago. This track is used as a solo vehicle for Barber's trombone.
5) Wabash Blues, written by Chicago-born Fred Meinken, dates back to 1921. British writer Brian Rust recalls that it was used as a theme in an early production of Rain and has been recorded by many early bands such as the Benson Orchestra of Chicago and the Charleston Chasers.
Side Two
1) Wild Cat Blues is credited to Clarence Williams and the late Thomas "Fats" Waller. Monty Sunshine's clarinet on this track is backed by Chris Barber on bass along with the banjo of Lonnie Donegan, an original member of the Barber group, who emerged to acquire individual fame as a recording artist and came to the U.S. in 1958 to follow up the surprise hit made here by his Rock Island Line.
2) Texas Moaner, composed in 1924, is credited to Clarence Williams, a veteran pianist and music publisher with whom Louis Armstrong made a number of records in the early '20s, and Fay Barnes, a little-known blues singer who recorded for the long-defunct Paramount label.
3) Thriller Rag is an ancient and honorable item, the exact origins of which are uncertain but may go back even farther than the turn of the century. The Barber unit recorded this track October 9, 1956; most of the items in the present collection, including Petite Fleur, date back to the fall of that year.
4) Bugle Call Rag, which consists basically of the traditional twelve-bar blues pattern with the first four measures used for a break that initially recalls the bugle arpeggio, was first recorded by the Friars Society Orchestra in 1922.
5) The Old Rugged Cross, though it will be familiar to most listeners as a result of the Jo Stafford recording, actually goes back much farther. Chris and Monty remember hearing it many years ago and classify it as a genuine folk hymn.

Chris Barber's Jazz Band: Golden Hour Of Chris Barber's Jazz Band
"Petite Fleur" richly deserves pride of place on this Golden Hour album since it was this Sidney Bechet classic that gave the Barber band its first million-selling disc back in 1959. Bechet had written the tune in Paris seven years before but the single that the old Pye-Nixa label issued which featured Monty Sunshine on clarinet really captured the imagination of record buyers everywhere.
It had been recorded in 1956 and was first issued in Germany where it attracted enough attention for the Americans to become interested; within a short space of time it had climbed to the top of the American charts and subsequently brought the Barber band bookings on television in the States.
It was all a great triumph for Barber whose expertise as a trombonist had taken him into several bands before deciding in 1950 to form his own line-up. But that didn't work and it was only later on when he was invited to join Ken Colyer's Jazz Band subsequently taking over the band when Ken left, that Barber's success story really began to take form. For not only did the jazz band become a success, it also sparked off an off-shoot in skiffle and began yet another success story, this time for Lonnie Donegan.
This Golden Hour album recaptures some great musical moments in the history of the Chris Barber band and the band apart there are some wonderful musical highlights from vocalist Ottilie Patterson, Monty Sunshine and the guv'nor himself, Chris Barber.

Ken Colyer's Jazzmen: Ken's Early Days
Notes by Pat Hawes
Storyville Records are pleased to present a collection of vintage jazz recording made by Ken Colyer's Jazzmen, recorded a decade ago while the band was on a European tour.
These, however, were not the first records to be made by Ken. Between 1949 and 1951, Ken cut a considerable number of sides with the Crane River Jazz Band, of which he was a founder member, and the Christie Brothers' Stompers, who were jointly led by brothers Keith and Ian Christie. Late in 1951 Ken left the Stompers and re-joined the Merchant Navy, visiting many parts of the world and eventually reaching his goal, New Orleans, the birthplace of jazz. Here Ken was able to play with the George Lewis Band and other veteran New Orleanians and his playing won not only their wholehearted approval but also their amazement that anyone from 3,000 miles away could play their kind of music with such obvious sympathy and understanding.
On his return to Britain, Ken formed his own band, which included Chris Barber (trombone), Monty Sunshine (clarinet), Lonnie Donegan (banjo), Jim Bray (bass and tuba) and Ron Bowden (drums). After only a very short period of rehearsal they left for a tour of Denmark, where the band was extensively recorded. On returning home the Colyer Jazzmen very quickly became one of Britain's premier jazz attractions and recorded a fine L.P. for Decca ("London to New Orleans") which did a great deal towards popularising not only Ken but also Donegan whose solo "skiffle" version of "Rock Island Line" launched him as a solo act. But just when it looked as if Ken and his Jazzmen were set to really go places, differences of opinion within the band as to musical policy and clashes of temperament led to Ken leaving the band, which was taken over by Chris Barber, Pat Halcox replacing Colyer on trumpet.
Undaunted, Ken soon reformed the group including on clarinet a then unknown musician named Acker Bilk, and with various personnel changes he has continued to lead a band which has always been one of the most popular and influential not only in Britain but throughout Europe.
In recent years bandleaders have often complained about the re-issue of their early recordings, on the grounds that they are no longer typical of either their own or the band's style or musical capabilities. Such a criticism could not be levelled at the present issue, in fact it emphasises how little Ken's own playing and the general sound of his band has altered during the past decade. It is a case of the whole being greater than the individual parts, for Ken's conception of jazz is based upon mutual musical co-operation, in which there is little room for individual fireworks. His own playing has, from its earliest days, been astonishingly mature and subtle and he has the ability beyond any other British trumpet player I know of, of swinging along an ensemble without resorting to blasting. Having such a keen perception of the part he has to play himself Ken expects his musicians to know without undue explanation what they should be doing. It is unfortunate that Ken has not always had around him musicians capable of responding to the subtle approach which he always employs in his own playing, but the recordings on this L.P. demonstrate an excellent degree of understanding between those involved. The repertoire of the band strikes a happy balance between the expected marches, blues, spirituals, rags and stomps and various other numbers which over the years Ken has found to be suited to his style of playing -- tunes like The Miner's Dream Of Home, Cheek To Cheek, Over The Rainbow, The Barefoot Boy unusual numbers which have become an integral part of the Colyer Band's list of more than 300 playable numbers. But Ken has never resorted to the choice of the outlandish or unsuitable, merely for the sake of being different. What appeals to fans of the band is that there is no concession to commercialism or to what might be called the pop-jazz approach and even Ken's severest critics have never questioned his musical integrity or sincerity.
Many people imagine Ken to be a musical reactionary, who has no time for any jazz other than the kind which his own band plays. I have known Ken for many years and nothing is further from the truth -- he has listened over these years to all kinds of jazz and retains a high regard for the Ellington and Basic Orchestras, early big bands like McKinney's Cotton Pickers and Bennie Moten and has a soft spot for the Eddie Condon groups of the 30's and 40's. Indeed, he still talks today of the impression Wild Bill Davison made upon him in 1948 when he visited New York while in the Merchant Navy. It was about that time that he told us about an unknown piano player -- he had heard in Toronto, Canada. His name? Oscar Peterson!
This is the man, then, whose band provides the music on this L.P. A man who has influenced and probably inspired more young jazz musicians than any other European musician, who has continued over the years to keep alive the spirit of the music he loves. Often imitated, but never equalled in his own sphere, Ken Colyer is a man who knows what he is doing and where he wants to go in the world of jazz.

Ottilie Patterson: Back In The Old Days
Notes by Ottilie Patterson
It's a very peculiar sensation to go back in time via the music on this LP and listen to myself in my youth - untutored, inexperienced and exploring a musical dimension about which I knew relatively little, but to which I was utterly enslaved. It is almost like listening to a stranger as, in the 30 years since, I feel I have learned a great deal more and I'm sure I would treat the material rather differently now.
However, in the early days, which is what the present record is all about, I had just begun my seemingly impossible odyssey of trying to express myself in an alien cultural and musical idiom. I wasn't much helped by the critics in the 'Musical Establishment' of the 1950's, whose comments were more hostile than encouraging and generally suggested that an 'Ulster Schoolteacher' (and white, of course) couldn't, shouldn't and ought not to approach Black Music at all.
Whether I couldn't or shouldn't was irrelevant to me because Blues was the one thing with which I was obsessed (and still am) and which I loved more than anything else (and still do). In the 1950's, though I really wanted to sing and lead a Boogie & Blues group on piano, I somehow ended up singing in the piano-less Barber Band, which nevertheless was my favourite Jazz group. And so I did my best with the Blues, accompanied by Chris and armed with the innocence of ignorance, I continued in my dogged determination to get at the Blues by any means at my disposal; and since Chris himself loved the Blues every bit as much as I did, the Barber Band became my life.
But, however unusual the combination may have sounded to the critics, a lot of people appreciated and understood what we were trying to do, not least the many great Black artists whom we met and worked with, both in Europe and the United States.
My eternal gratitude goes to them, because if I have nowadays managed to get closer to my early ideals, it is directly due to their taking me under their wings and, with unstinting generosity, passing on to me as much of their music as they could, endlessly urging me NEVER give up: Big Bill Broonzy, Sister Rosetta Thorpe, Muddy Waters, St Louis Jimmy, Jimmy Cotton, Howling Wolf and Alex Bradford to name some; never forgetting also the countless unknown Black people of Chicago, Washington & Garry, Indiana, who accepted me unreservedly in many wonderful ways and who heard beyond my whiteness into the core of all that I tried to express. I am forever indebted to them; they made me so happy.
To this day, my most treasured possession is a letter from Big Bill Broonzy, dated Nov. 1955, in which he wrote 'Keep up the good work for me. I know you can do it'. Well, I hope I did; and on this LP, 'BACK IN THE OLD DAYS' which marks my embryonic beginnings, I hope maybe you can hear what Big Bill heard all those years ago.
With Love
Ottilie

Notes by Alun Morgan
"Trad", that peculiarly British jazz format, threw up a host of bands and musicians, several of whom withered on the vine after one or two record releases. But Chris Barber, trombonist, bass player and occasional vocalist, has remained at the forefront of jazz for nearly four decades and the reasons for this extraordinary longevity are not difficult to ascertain.
First there is the sheer professionalism of the bands which Chris has led. As a graduate of the Guildhall School of Music himself, it is hardly likely that he would suffer fools or incompetents gladly, or at all. Secondly his own background as a jazz record collector (and embryo discographer) has meant a greater knowledge of the entire history of jazz; the Barber band's repertoire has consistently placed the emphasis on the rarely heard or unhackneyed tunes, such as early Duke Ellington material. Thirdly, Chris has always acknowledged the importance of the blues and has done a great deal to promote the European appearances of blues and gospel artistes who were in great danger of neglect.
Born Donald Christopher Barber in Welwyn Garden City, Hertfordshire, on 17 April, 1930 Chris had turned his record-collecting enthusiasm for jazz into more tangible form when he took up the trombone and formed his first band at the age of 18. The following year he found himself playing alongside some of the big names in British jazz circles on a Riverboat Shuffle. His band played regularly at what Barber called the Lincoln Gardens Jazz Club, Great Newport Street in London. (The name chosen for the club was a tribute to the late King Oliver.) When that band broke up Chris joined a newly formed band under the leadership of trumpeter Ken Colyer who had won the admiration of the locals by actually working in New Orleans for a short time in the early Fifties. That particular Ken Colyer band contained Monty Sunshine on clarinet and a banjo-guitarist known at the time as Tony Donegan. A difference of opinion about the musical direction the band should take resulted in the band, literally, leaving Ken Colyer! And that was the beginning of what was soon to become the internationally-known Chris Barber band.
With Lonnie (no longer Tony) Donegan leading a skiffle group from within the band itself Chris decided to extend the scope of the unit by adding a singer. He chose Ottilie Patterson, an ex-art teacher from Newtownards, Northern Ireland, who brought the audience to its feet at the Royal Festival Hall in January, 1955 when Chris introduced her to British fans. As Brian Rust wrote later "they were completely bewildered, amazed, captivated, by the extraordinary sight of Miss Patterson, a tiny little fairy-like figure in a white frilly dress, looking as though she might manage Bless This House in a quavery soprano, but in fact moaning the blues with a rich, sombre majesty that recalled the heyday of Bessie Smith, Sara Martin and Margaret Johnson".
The rest is history and Ottilie, who sings on three tracks here, certainly lived up to Brian Rust's praise. Even greater success awaited the band when their version of the Sidney Bechet tune Petite Fleur was taken off the album "Chris Barber Plays, Volume 3". It went to the top of the charts in Germany, America and Britain and sold over a million copies. On the strength of it, Chris became a household name (although, in fact, he did not actually play on Petite Fleur, which was by Monty Sunshine, Dickie Bishop, Dick Smith and Ron Bowden). In March, 1959 the Barber band became the first British Combo to televise live in the USA on the Ed Sullivan show.
This LP gathers together 15 of the band's popular performances from the mid-Fifties and demonstrates how well the music has stood the test of time. Good things do not date and this is not simply a record to file under the catch-all title of "Nostalgia".

Notes by Denis Preston
A saga, according to my dictionary, is "a story of heroic achievement or adventure". This may seem a somewhat florid description of this collection of recordings, but for the pioneers of the traditional jazz revival in Great Britain in the latter 'Forties and early 'Fifties it is both apt and fitting, for theirs was a three-way battle: to achieve the musical standards necessary for their chosen form of expression, to create and enlarge the public following for their kind of music and, last but not least, to influence the largely indifferent commercial interests of the entertainment business - most especially the major recording companies!
Chris Barber was one of these pioneers, inspired by the recordings of such New Orleans jazz veterans as Bunk Johnson, Kid Ory and Henry Reno which had been made possible by the research and enthusiasm of American jazz antiquarians like Eugene Williams and William Russell in the late 'Thirties and early 'Forties.
Chris was virtually a founder member of the now historic Ken Colyer Jazzmen, and he could not have worked with a more dedicated devotee of New Orleans jazz. (Even to this day Colyer is affectionately referred to as "The Governor" by traditionalist musicians!) When Colyer made a musical pilgrimage to New Orleans in the early 'Fifties Chris took over leadership of the band, later forming his own outfit, the nucleus of which remained with him for more than a decade to come. The achievements of Chris Barber's Jazz Band are now legendary. With his banjo playing guitar-strumming vocalist, Lonnie Donegan, he developed and popularised so-called "Skiffle" to the point of achieving, with Rock Island Line, a Number One "hit" in both Britain and the U.S.A. And only shortly afterwards his recording of Petite Fleur, featuring Monty Sunshine on clarinet, won even greater popular acclaim, becoming a smash hit in Britain, America and Germany ... indeed, throughout the world. His international concert tours became a byword and his name synonymous with the best and most adventurous in traditional jazz.
This collection of titles covers the period 1959-1962, a period when traditional jazz reached its acme of success with the public and when the Barber Band (as then constituted) recorded some of its most musically successful tracks.
Side I: "Chris Barber at Lansdowne" is a selection of titles recorded at Lansdowne Recording Studios in London, where all his studio recordings were made during this period. Whistlin' Rufus, a British "Hit Parade" success in its day, is a deft transformation of a novelty song into a thrusting, marching jazz tune. Hoagy Carmichael's haunting Lazy River, in contrast, is a showcase for the Barber trombone. St. George's Rag (composed by Chris Barber) is a lively piece set in a style dear to the writer's heart. Creole Song reflects yet another aspect of New Orleans music (what Jelly Roll Morton called "The Spanish Tinge") whilst Gonna Build A Mountain reveals Chris's aptitude at adapting a song from a popular musical show of the time. Stevedore Stomp is vintage Duke Ellington, a composer and bandleader for whom Chris Barber has always had the greatest admiration, despite his own traditionalist leanings.
Side II: "Chris Barber in Concert" is a living demonstration of the enormous enthusiasm with which packed houses everywhere responded to the Barber Band's stage performances. Market Street Stomp (shades of Tiger Rag!) was recorded in Copenhagen; Chimes Blues and Ice Cream (with its Saints ending) in Berlin. Revival, which was recorded at the famous London Palladium, is an excellent example of Chris's sense of musical adventure, even within the confines of traditionalism which was his chosen metier. It is a jazz waltz, composed by and featuring the modernist alto saxophone virtuoso, the late Joe Harriott, and largely thanks to this performance the composition won one of the most coveted awards in British popular music business, the "Ivor Novello Award" for one of the outstanding orchestral compositions of that year.
Side III: "Chris Barber in America" consists of four titles from albums which Chris organised and recorded during American concert tours in 1959 and 1960. The 1959 sessions, which produced Prune Juice Blues and Slow Blues-Getting Faster (from the album entitled "Harlem Washboard") were a truly nostalgic experience for the bandleader, an attempt to re-create Clarence Williams' famous Washboard Band of the Twenties. The attempt was eminently successful not only in bringing together such stalwarts of the original recordings as Floyd Casey on washboard and Cecil Scott on clarinet but in the atmosphere engendered and indeed inspired by Chris's wholehearted enthusiasm for the project.
"Chris Barber's American Jazz Band" (as it was called) was composed of musicians of a different calibre, men with Hbig band experience going back to the Thirties, like Edmond Hall with the Earl Hines Orchestra, Sidney de Paris with Don Redman and bassist Hayes Alvis with Mills' Blue Rhythm Band. Hank Duncan plays the excellent "stride" piano, de Paris is delicate and sensitive, with or without mute, Edmond Hall (the most unusual of New Orleans clarinettists) throaty yet incisive as ever. And to quote the distinguished British jazz critic, Charles Fox, "One of the noticeably good things ... is the trombone playing of Chris Barber himself. In this distinguished company he slips in some solos that must be as shapely and relaxed as anything he has ever put on record".
Side IV: "The Barber Stars" features those outstanding solo performers of this period, who, although members of the band, were given every opportunity to "spread" themselves, whether in concert or on record. The singer Ottilie Patterson (later to become Mrs Barber) is to be heard in two favourites of the time, Down By The Riverside and that virtual anthem of trad bands, When the Saints Go Marching In. But it is the ballad, Blueberry Hill, which reveals the real depth of Ottilie's talent, aided and abetted as she is by a sensitive and beautifully conceived trumpet backing by Pat Halcox. Halcox, too, is to be heard in a gay little swinging original, Phil's Late. Ian Wheeler (who replaced Monty Sunshine in the band) is featured on clarinet in that lovely ballad Sweet Lorraine. Burgundy Street Blues is a showcase for Monty Sunshine (incidentally with Chris himself on string bass) and a direct tribute to the veteran New Orleans clarinettist, George Lewis, who was Monty's first and most lasting inspiration. Bagatelle is a lightweight little piece with a French West Indian flavour, written, in Paris, by that great New Orleans reed player, Sidney Bechet.
Of Chris Barber himself, what can one say? He is a man of many talents: a record collector who knows his discography as well as his discs, a sports car enthusiast who indeed raced cars from his own stable at major motor-racing circuits in England, a trombone player, a string bass player, a composer ... but above all a truly authoritative bandleader who stamped his personality on whatever band he led or record he made. I was closely associated with him in the production of all his recordings for a decade or more, and the compilation of this collection brought back many memories of that long relationship.

Ottilie Patterson: Ottilie's Irish Night
Notes by Ottilie Patterson
Some bright comedian once said that there were no Irish people left in Ireland any more, that they were all abroad singing about it. While not actually true, such a statement is very near the truth, for, after some years as a singer with Chris Barber's Jazz Band I myself began to feel the pull of "The Oul' Country". I just wanted to forget jazz and city life for a little while, and have the pleasure of singing a few of the old songs that all Irish people like to sing when they get together, and also to sing one or two which might all too soon be forgotten.
Once this idea got into my head, I was unable to think of anything else, and I eventually coaxed Denis Preston, my Recording Manager, to give me his support in the production of an Irish record. He agreed, or rather capitulated, submerged under the wave of my enthusiasm. Having now gained permission to go ahead with the plan, I found myself lacking in one thing -- the right kind of accompanying music; but after a distress signal to George Boyd (a trusty friend at home) I was able, on his recommendation, to obtain the services of an accordionist and a drummer -- Norman Connor, and Martin Fitzsimmons. These two courageous gentlemen agreed to free themselves from their commitments for two days, and set out for London to have a shot at recording with me. And they were courageous, too, as this was their first excursion beyond Ireland's shores, to the somewhat "Great Unknown".
Consequently, there I was, on a dull Thursday in November, at Euston station, looking for a man with an accordion case, for I had never before met either Norman or Martin. The instrument case was my only means of identifying them among the other passengers alighting from the "Shamrock Express". Well, I wasn't mistaken, I did find them; and that afternoon at my flat, when they first played to me, I discovered that my friend had not been mistaken about them either. He had found me two great musicians, who to me, were nostalgic reminders of Christmases and happy Saturday evenings spent with my whole family, in the little white-washed County Down farmhouse of my grandfather -- himself a skillful melodeonist and fifer.
My plans for recording were at first no more ambitious than to sing a few plain vocals with musical accompaniment, and to bring along my sister and two Irish friends, to help counteract the paralysing effect that the studio always has on "First-timers" and perpetually nervous people like myself. However, when I heard Norman's first few bars on the day of his arrival I knew that I couldn't let them go back to Ireland without giving a few more of my compatriots a musical treat. So, after some hurried last-minute telephoning, other friends were rounded up, and invited to join us the next evening in the studio.
At seven o'clock then, on Friday, we all trooped into a big bare studio, which seemed to us more like an operating theatre—just a handful of us, some microphones and a piano. It was enough to intimidate even the most blase professional. But the thoughtful Denis Preston, anticipating this, had kept something on hand for those of us who needed warming up, and for those others who "liked a wee taste" anyway.
Thus the evening began. The record apparatus was switched on and left to run without let or hindrance, for the next two hours, while we had a really "Irish-night", as it indeed turns out to be; for no sooner had the music struck up, than everyone immediately forgot to be overwhelmed by the disquieting atmosphere of a studio, and started to have some fun. I am glad to say that any spontaneity captured on this disc is completely genuine and we did not re-record things time and time again, in order to "get them right". Voices can be heard singing out of tune, and certainly my own voice could not have held out a minute longer than the time allotted to the recording, owing to all the singing, squawking and shouting I contributed during those two mad hours. Yes, there was plenty of hilarity with plenty of Irish rowdyism, and after all what could be more truly "Irish" than to start off the whole proceedings with a Scot's Tune!
NORMAN CONNOR, our 34-year-old accordionist comes from Holywood, Co. Down, and when at home is busy with his mobile grocery business by day, and quite a few evenings each week can be heard with his own six piece band, well known to dancers throughout many Counties.
MARTIN FITZSIMMONS, our drummer, a 23-year-old clerk in a Belfast shipping office, plays in Norman's band, and as well as playing in Irish traditional style is a jazz drummer besides. Indeed, we had some trouble to keep him and Chris Barber (our bass player for that evening) from breaking into jazz duets!
CHRIS BARBER was a last minute musician on this occasion, and turned up late (a personal idiosyncracy of his) through having had to dash across Town to borrow a double-bass. But we could not possibly refuse him admission to our party for, after all, his grandfather was a Monaghan man!
I don't really know how I got mixed up with playing the piano -- but anyhow I did, so that any heavy handed vamping on this record must be attributed to me. The evening started off with mostly accordion and vocals by myself, but as time passed a few guests became less self-conscious and "did their piece".
GEORGE CAMPBELL and GERARD DILLON are both well-known artists living in London, but as can be judged from this record painting is not their only accomplishment. Both have a natural unaffected style of singing with richly flavoured Irish voices, and also the faculty of producing very funny asides -- which unfortunately had to be left out of the finished record! Gerard, although known to me by name, I had not met until that night when he was brought along by George, his close friend. George, from Wicklow, I met one day nine years ago at a Belfast exhibition of his and Gerard's paintings. We chatted together for a while, but I never saw or heard from him again until one night last year when he was re-introduced to me by a reporter friend in a London jazz club. Gerard is also an excellent guitarist in the Spanish idiom, and he, accompanied by his wife Madge, spend six months each year in Spain painting and playing the guitar.
MADGE CAMPBELL and Gerard Dillon danced for us, and all the performers were encouraged and egged on further by my sister and two wild young Irishmen, RON CUNNINGHAM and WALTER "DIXIE" FISHER. Ron is a lorry driver, shortly to turn professional motor cyclist and "Dixie" at this moment is another unemployed Irishman with a capacity for loquaciousness and liquid intake equalled only by George Campbell!
All these people joined in the choruses, "yeeooghed" and yelled and whistled with characteristic Irish abandon, and one or two quiet English visitors who had dropped in soon crept off looking dazed and bewildered.
Not to be overlooked in the making of our record are the recording engineers who sat patiently working during our two hours of fun.
Well, that was our night out, and I hope you'll enjoy joining us.

Cecil Scott and his Washboard Band: Chris Barber Presents Harlem Washboard (1959)
THE SESSION — Described by CHRIS BARBER:
I first became aware of the existence of jazz towards the end of the war, when I was still at school. At this time there was no live American jazz to be heard in Europe and I, like so many others, had to buy records to find the music I loved. Long before the British jazz revival had taken shape I had amassed quite a collection of classic jazz recordings and so it was only natural that, years later when I had the good fortune to visit America, I should search for the music I had enjoyed so much and the musicians who had made those wonderful recordings.
Among my favourite records are many made by Clarence Williams, a great musician and arranger, who is still better known for his compositions. He made a series of records between 1925 and 1935 with his washboard band which have always had a special appeal for me — and which all possess a very characteristic sound and spirit.
During my Band's first tour of America in 1959, I had the privilege and pleasure of meeting Clarence Williams himself in his Long Island home, and my conversation with him and his wife, Eva Taylor, who sang on many of his old records, gave me the idea of trying to interest somebody in making an LP of a contemporary Clarence Williams Washboard Band. Unfortunately, Clarence himself had been very ill and had not been outside the house for many months, and so it was impossible for him to make any more records then.
However, I had already found three members of his original washboard band in New York, Cecil Scott, Eddie Allen and Floyd Casey, and I was able to leave the date in the capable hands of clarinettist Cecil Scott. He found a fine pianist, Don Frye, in place of Clarence, and a very skilful bassist, Leonard Gaskin, who plays on this session in place of tuba player Cyrus St. Clair, who died some years ago.
We also had the addition of trombonist T-Bone Jefferson, a friend of Cecil's who came along to listen — but ended up playing on three tracks.
We felt that, in this session, we had recreated the atmosphere and spirit of the old washboard band without actually moving backwards in time, and we enjoyed all the tracks very much. We hope you do too.
THE MUSICIANS — Thumbnailed by BRIAN RUST:
CECIL SCOTT: Born in Springfield, Ohio, November 22, 1905; moved to New York to play with brother, Lloyd Scott, and his orchestra. Recorded widely with Clarence Williams — on clarinet and tenor. Also worked with Fletcher Henderson and Teddy Hill. Freelancing since 1940. Known for his big, rich tone on tenor, and for typical "Mid-West" growl style on clarinet.
ED ALLEN: Born in Nashville, Tennessee, December 15, 1897. Raised in St. Louis; took up cornet in 1907; professional debut, 1914. Moved to Chicago, 1924, and the following year to New York, where he worked with Clarence Williams on many record dates and with Leroy Tibbs's orchestra. Freelanced during the 'thirties and has played a taxi-dance hall in New York, on 14th Street, since 1945. One of the great unrecognised men of jazz, possessed of a splendid tone, both open and muted.
DON FRYE: Another little-known great. Plays piano in Harlem "stride" style, but can also play "sweet." First recorded with King Oliver in 1929, then freelanced for years around New York, where, for the last eight years, he has played regularly with Wilbur de Paris at Ryan's — or has provided the relief work there to this band.
LEONARD GASKIN: Born in Brooklyn, N.Y., August 25, 1920. Has played bass with many of the "modern" pioneers, such as Dizzy Gillespie, the late Charlie Parker, Charlie Shavers, and also with violinist Eddie South. Joined Eddie Condon in 1956; still with him, and also engaged on radio and TV work.
FLOYD CASEY: Veteran drummer and washboard player of the old Clarence Williams records of 1927-1935. Born in St. Louis; first recorded there with Powell's Jazz Monarchs, 1926.

Chris Barber Meets Rod Mason's Hot Five: "Jazz Holiday"
Notes by H.C. Draper
Chris Barber and Rod Mason, respectively Europe's leading jazz trombonist and cornettist, at last on a record together! This album is the result of an idea from the Chris Barber Band's Dutch agent, Wim Wigt. Chris was invited to play as a guest with Rod Mason's Hot Five at the Loosdrecht Jazz Festival in Holland, a date which fell during the Barber band's annual summer holiday. At this time, Chris -- longtime enthusiast of, and sometime participant in -- motor racing, was visiting the Nurburgring for the 1985 German Grand Prix. The festival was within reasonable driving distance ... the session was on. The evening at Loosdrecht was packed to the doors with traditional jazz lovers, full of excited anticipation to hear Rod Mason's Hot Five on its first Festival appearance in the Netherlands. Rod is very popular in this country, partly due to his years with the Dutch Swing College Band. The excitement was increased even more by the presence of Chris Barber as guest. Mason has deliberately stepped back stylistically into jazz's history with the formation of his drummer-less Hot Five, basing the group firmly on the music of King Oliver, Louis Armstrong and Jelly Roll Morton as recorded in the nineteen-twenties. Perhaps not all of the audience that night knew that Chris Barber's first band (formed in 1949) also aimed at a recreation of the classic period of jazz. Sufficient to say that the session was a huge success, finishing to a literally standing ovation. It was obvious that this music must be placed on record -- and you now hold the results in your hand.
The musicians met up on a rainy August afternoon at the picturesque Studio National, in the woods of Solingen, West Germany. A quick chat over tunes to play, and recording was in full swing. Jazz Holiday is a most appropriate opener for the disc, the tune coming from the 1928 repertoire of the Ted Lewis Orchestra. Chris pays due trombone tribute to Honore Dutrey and Kid Ory on most numbers, but is very much himself on the trio version of Lazy River ... even here, however, he nods a respectful slide to Ory with a little quotation from Morton's Smokehouse Blues. When Chris sat down for his famous cup of tea the Hot Five's regular trombonist Klaus Dau took over, helping Rod to re-create two of Louis Armstrong 's most famous pieces, Cornet Chop Suey and Big Fat Ma. It was Chris Barber who had the idea to record You Gotta Beat Me To Keep Me, a song originally recorded by Trixie Smith with Fletcher Henderson. 'I'm not singing THOSE lyrics' said Rod. 'Neither am I' said Chris -- and so you have here an instrumental version. Rod's solo is taken on a vintage echo-cornet, which Chris happened to have in his car; so don't think this is 'double-track' recording. In fact there is no tape-surgery whatever on this album! The record closes with two numbers always associated with Louis Armstrong's Hot Five, both Kid Ory compositions, both well-known, but making a most fitting conclusion to a remarkable and enjoyable LP.
Special thanks must go to the members of Rod Mason's Hot Five who play splendidly throughout the session. Helm Renz emulates his idol, clarinettist Johnny Dodds, without descending to mere imitation, producing the leathery tone and rhythmic phrasing essential for this form of classic jazz. Ansgar Bergmann is certainly one of the most accomplished 'Jelly Roll' pianists in the jazz scene today. His left hand more than compensates for the absence of the customary stringbass or tuba. Did you even notice that there was no bass instrument on this record? And, of course, Germany's well-known banjoist Udo Jägers performs with his usual excellence. What delightful little banjo solos on Jazz Holiday and Mama's In Town! Udo is also doing the talking on the intro of Big Fat Ma -- his first recorded vocal!
On this album Chris Barber and Rod Mason demonstrate their continuing regard and affection for the jazz tradition. With his Hot Five, Rod has returned professionally to the music of his original inspiration ... whilst Chris most surely enjoyed visiting old musical pastures on his 'Jazz Holiday'.

Muddy Waters In Concert 1958
Muddy Waters was brought to England on tour by the Chris Barber band, who are to be heard at the end of the album. Chris Barber was responsible for first bringing many bluesmen to England and generally found that they preferred to have the band backing them. This concert was one of the few occasions when the Barber band was able to persuade the bluesmen to play on their own some of the time.

The Gabadela Jazz Band with Chris Barber
On Saturday morning the 15. of Nov. 1986, Chris Barber departed by the ordinary airline from Dusseldorf to Copenhagen from where he immediately continued to Aalborg in a private airplane. Chris Barber was invited by the jubileeing jazzband, GABADELA JAZZBAND, as gueststar in "Symfonien" in Aalborg. The concert audience had a musical experience, which for many years hasn't been heard in Denmark. The friends and supporters of the traditional jazzmusic experienced a brilliant Chris Barber and a GABADELA JAZZBAND in good form, playing a lot of the most popular tunes of the traditional jazz and a few less well known. Chris Barber opened his session with Bourbon Street Parade and played a marvellous trombone especially in the beautiful classical New Orleans. The concert, of course, ended with Barber's favorite tune Ice Cream, which brought the spectators on the verge of ecstasy.

LP covers main page || Quick reference guide || Recordings page || Menu page